Welcome to the Centre for Languages and Philology
ASQ: Language Centre
Notice: Online Enrolment for language courses
Consultation and Advice Day at the Language Centre
18.04.2017 | 09:00 h - 12:00 h and 13:00 h - 16:00 h | N 24/159
Launch event for ASQ / HSZ / Language Centre:
18.04.2017 | 13:00 h | H 16
Enrolment summer semester 2017
Enrolment takes place online from 18.04.2017 using CoronaNG
Staggered enrolment has been introduced in order to reduce the load on the CoronaNG system. Enrolment commences on 18.04.2017:
from 16:00 h: ASQ (basic, practical, orientation skills) and courses offered by the Humboldt Study Centre;
from 16:30 h: ASQ (only English and Business English courses)
from 17:00 h: ASQ languages / all further courses offered by the Language Centre.
Enrolment for ASQ language courses at the Language Centre ends Friday, 21.04.2017 at 12:00 h noon.
If you have not already done so, please register prior to enrolment. Students of the University of Ulm will need their KIZ account details.
Courses will start in the week beginning Monday, 24.04.2017.
The language course program in summer term 2017 can be found online in the Vorlesungsverzeichnis der Universität. Please note that changes are possible and you are advised to check again before courses start.
New publication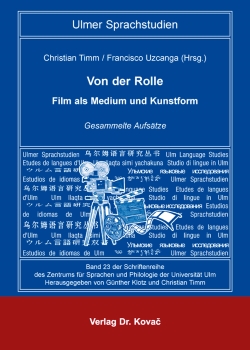 Christian Timm / Francisco Uzcanga:
Von der Rolle
Film als Medium und Kunstform
Further information about the book