Institute of Analytic and Bioanalytic Chemistry

Research areas:
Our interdisciplinary researches concentrate on the development and the practice of innovative (micro- and nano)analytic methods. Those develop new paths and technologies in sensoring, diagnosing and in depicting complex molecular processes in environmentally relevant, process analytic and medicinal/biological field of application.
Furthermore, the IABC runs the Focused Ion Beam Center UUlm, a research facility for the micro- and nano-production and -chararterization via dual electron beam and ion beam miscroscopy.
Infrared sensor technology and spectroscopy.
Application of sensors in process, environmental and bioanalytics
Molekulare detection by bio-mimetic materials
Multifunctional scanning probe microscopy
Multifunctinal analytic platforms in bioanalytics
Charakterization and application of nano-materials in trace analysis
Modern flow injection procedures in environmental and bioanalytics
Head of Institute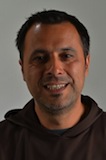 room: O26 / 327
phone: +49 731 50-22750