Prof. Dr. Christian Montag
| | |
| --- | --- |
| seit 09/2014 | Heisenberg-Professor für Molekulare Psychologie, Universität Ulm |
| 04/2012 - 09/2012 | Vertretungsprofessur, Allgemeine Psychologie II, Universität Bonn |
| 07/2009 - 09/2009 | Forschungsaufenthalt, SCAN Center von Turhan Canli, Stony Brook University, USA (SCAN = Social, Cognitive, and Affective Neuroscience) |
| 10/2006 – 09/2014 | Wissenschaftlicher Mitarbeiter, Rheinische Friedrich - Wilhelms - Universität, Bonn: Abteilung Differentielle Psychologie und Persönlichkeitsforschung, Lehrstuhl von Prof. Dr. Martin Reuter |
| 13.12.2011 | Privatdozent, Verleihung der Venia Legendi für das Fach Psychologie |
| 27.06.2009 | Abschluss der Promotion, Thema: Experimentell-biologische Überprüfung der revidierten Reinforcement Sensitivity Theory |
| 10/2001 - 09/2006 | Studium der Psychologie auf der Justus - Liebig - Universität, Gießen |
Kontakt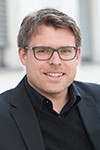 Christian Montag
Leitung der Abteilung Molekulare Psychologie
Christian Montag
+49-(0)731/50 26550
+49-(0)731/50 32759
1.57 Helmholtzstraße 8/1
Sprechzeiten
Semester: donnerstags 10:00 - 11:00 Uhr
Wir bitten Sie, sich einen Tag vorher anzumelden.
Forschungsinteressen
Molekulargenetik von Emotionalität und Persönlichkeit
Psychobiologische Grundlagen des Stotterns
Neuroökonomik
Psychoinformatik, insb. der Einfluss von Internet, Mobiltelefonen und Computerspielen auf Emotionalität, Persönlichkeit und Gesellschaft
Auszeichnungen & Preise
Reisestipendium der European Association of Personality Psychology (2010) für die Fachtagung ECP in Brno, Tschechische Republik
Reisestipendium Dresden Spring School (2010) zum Thema "From vulnerability to resilience: Molecular genetics perspectives"
Stipendium der G.A. Lienert Stiftung (2009) für einen Forschungsaufenthalt im SCAN Center von Turhan Canli, Stony Brook University, USA (SCAN = Social, Cognitive, and Affective Neuroscience)
Promotionspreisträger der Universitätsgesellschaft Bonn (2009)
Reisestipendium der European Association of Personality Psychology (2008) für die Fachtagung ECP in Tartu, Estland
Goldener Geist für das beste Seminar (2007), verliehen durch die Fachschaft Psychologie der Universität Bonn
Gutachtertätigkeiten
Journal of Affective Disorders
American Journal of Medical Genetics Part B: Neuropsychiatric Genetics
American Journal of Psychiatry
Annals of Depression and Anxiety
Archives of General Psychiatry
Behaviour & Information Technology
Behavioral Neuroscience
Behavioural Brain Research
Behaviour & Information Technology
Biological Psychiatry
Biological Psychology
BioPsychoSocial Medicine
Brain and Behavior
Brain and Cognition
Brain Research
Brain Sciences
Cerebral Cortex
CNS Spectrums
Cognitive Neuropsychiatry
Cognitive, Affective & Behavioral Neuroscience
Comprehensive Psychiatry
Computers in Human Behavior
Cortex
Culture and Brain
Cyberpsychology & Behavior
Cyberpsychology: Journal of Psychosocial Research on Cyberspace
Diagnostica
European Child & Adolescent Psychiatry
European Journal of Psychology

European Journal of Psychological Assessment

Frontiers in Human Neuroscience
Genes, Brain & Behavior
International Journal of Neuropsychopharmacology
International Perspectives in Psychology: Research, Practice, Consultation
JAMA Psychiatry
Journal of Addiction Research & Therapy
Journal of Addictive Behaviors, Therapy & Rehabilitation
Journal of Clinical and Experimental Neuropsychology
Journal of Fluency Disorders
Journal of Individual Differences
Journal of Neuroscience, Psychology, and Economics
Journal of Personality Assessment
Journal of Psychiatric Research
Journal of Psychiatry
Journal of Psychiatry and Neuroscience
Journal of Psychopharmacology
Journal of Sport and Health Science
Logopedics Phoniatrics Vocology
Neurobiology of Aging
NeuroImage
NeuroMolecular Medicine
Neuropsychobiology
Neuropsychologia
Neuropsychology
Neuropsychopharmacology
Neuroscience
Neuroscience Letters
Nicotine & Tobacco Research
Personality and Individual Differences
Perspectives on Psychological Science

Pervasive and Mobile Computing

Pharmacogenomics Journal
PLoS ONE
Progress in Neuro-Psychopharmacology
Psychiatric Genetics
Psychiatry and Clinical Neuroscience
Psychiatry Research
Psychiatry Research: Neuroimaging
Physiology & Behavior
Psychoneuroendocrinology
Psychopharmacology
Psychophysiology
Rejuvenation Research
Scandinavian Journal of Psychology
Schizophrenia Bulletin
Scientific Reports
Social Cognitive and Affective Neuroscience
Social Neuroscience
Social Psychological and Personality Science
Social Science and Personality
Stress

Translational Psychiatry

World Journal of Biological Psychiatry
Drittmittelantrag-Begutachtung
Deutsche Forschungsgemeinschaft
Health Research Board
German-Israeli Foundation
Herausgaben / Bücher
Zusammen mit Martin Reuter ist Christian Montag Herausgeber der internationalen Buchreihe Studies in Neuroscience, Psychology and Behavioral Economics (Springer-Verlag). In diesem Kontext erscheinen im Jahr 2015 unter anderem die Bände
Neuroeconomics und
Internet Addiction.

Zusätzlich veröffentlichen Martin Reuter, Jaak Panksepp, Ken Davis und Christian Montag im Jahr 2015 die deutsche Version des Testmanuals "Affective Neuroscience Personality Scales" im Hogrefe Verlag.
2016 veröffentlicht Christian Montag sein erstes populärwissenschaftliches Buch mit dem Titel
"Persönlichkeit - Auf der Suche nach unserer Individualität".
Publikationen mit Peer-Review
Eine Übersicht über alle Publikationen mit Peer-Review findet sich
hier.
Publikationen ohne Peer Review
| | |
| --- | --- |
| 16) | Laricchiuta, D., Markett, S., Reuter, M. & Montag C. (erscheint voraussichtlich Ende 2016). Personality Individual Differences and Brain Recovery. In Manto.: Series in Contemporary Clinical Neuroscience. Springer. |
| 15) | Montag, C. & Panksepp, J. (erscheint voraussichtlich Ende 2016). In the search for the neuroscientific basis of personality: why it is of importance to include primary emotional systems. In Zeigler-Hill, V. & Shackelford, T.: Encyclopedia of Personality and Individual Differences. Heidelberg: Springer-Verlag. |
| 14) | Montag, C. (2016). Psychoinformatik: Verrätische Spurren. Wirtschaftspsychologie aktuell, 3, 32-36. |
| 13) | Montag, C. (2016). Persönlichkeit - Auf der Suche nach unserer Individualität. Heidelberg: Springer-Verlag. |
| 12) | Montag, C. & Becker, B. (2016). Recreational use of ecstasy (MDMA) and hippocampal memory. In: The Neuropathology Of Drug Addictions And Substance Misuse. Kings College London. Elsevier. |
| 11) | Reuter, M. & Montag, C. (Hrsg.) (2016). Neuroeconomics. Series in Neuroscience, Psychology & Behavioral Economics. Heidelberg: Springer Verlag. Inkl. Kapitel: Reuter, M. & Montag, C. (2016). Neuroeconomics. An introduction. Inkl. Kapitel: Reuter, M. & Montag, C. (2016). Genes and Human Decision Making. Inkl. Kapitel: Reuter, M. & Montag, C. (2016). An introduction to molecular genetic techniques. |
| 10) | Markett, S. Montag, C. & Reuter, M. (2016). Harm Avoidance. In Absher, J. R. & Cloutier, J.: Neuroimaging Personality, Social Cognition and Character. Elsevier. |
| 09) | Montag, C. (2015). Smartphone & Co.: Warum wir auch digitale Freizonen brauchen. Wirtschaftspsychologie aktuell, 2, 19-22. |
| 08) | Markett, S., Montag, C. & Reuter, M. (2015). Machen uns unsere Gene schlau? Über die molekularen Grundlagen der Intelligenz. The Inquisitve Mind, 6. Nur online verfügbar: http://de.in-mind.org/article/machen-unsere-gene-uns-schlau-ueber-die-molekularen-grundlagen-der-intelligenz |
| 07) | Montag, C. & Reuter, M. (Hrsg.) (2015). Internet Addiction: Neuroscientific approaches and Therapeutical Interventions. Series in Neuroscience, Psychology & Behavioral Economics. Heidelberg: Springer Verlag. Inkl. Kapitel: Montag, C. & Reuter, M. (2015). Molecular Genetics, Personality and Internet addiction. Inkl. Kapitel: Montag, C., Duke, É & Reuter, M. (2015). A short summary of neuroscientific findings on Internet addiction. Inkl. Kapitel: Montag, C., Reuter, M. & Markowetz, A. (2015). The impact of Psychoinformatics on Internet addiction. |
| 06) | Léger, P.M. & Riedl, R. (2015). Fundamentals in NeuroIS. Information Systems and the Brain. In: Reuter, M. & Montag, C. Series in Neuroscience, Psychology & Behavioral Economics. Heidelberg: Springer Verlag. |
| 05) | Reuter, M. & Montag, C. (2015). The molecular genetics of positive emotionality. In Canli, T. The Oxford Handbook of Molecular Psychology. New York: Oxford University Press. |
| 04) | Markowetz, A. & Montag, C. (2014). Psychoinformatik - Eine Revolution. Digitale Welt, 2, 40-43 |
| 03) | Montag, C., Haas, B. W. & Reuter, M. (2013). Emotions and genetics. In: Mohiyeddini, C. & Eysenck, M. Psychology of Emotions. (S. 171-186). Hauppage: Nova Publisher. |
| 02) | Montag, C. (2009). Die revidierte Reinforcement Sensitivity Theory. Eine experimentell-biologische Überprüfung. Hamburg: Kovac. |
| 01) | Hennig, J., Reuter, M., Montag, C., Netter, P. (2007). ISSID 07, Giessen: Abstracts of the 13th Biennial Meeting of the International Society for the Study of Individual Differences. Göttingen: Hogrefe. (Herausgeber) |