We are pleased to announce the
SALVE 2D23 Symposium
taking place in presence at Ulm University, Germany from
September 25th - September 28th, 2022.
The symposium is dedicated to research on
low-voltage S/TEM for low-dimensional materials, their fabrication and property calculation and modification.
Sandra van Aert, EMAT, Antwerp, BE
Claudia Backes, Uni Kassel, DE
Elena Besley, University of Nottingham, UK
Kecheng Cao, Shanghai University, CN
Fu-Rong Chen, University of Hongkong, HK
Rafal Dunin-Borkowski, FZ Jülich, DE
Maria Drndic, Uni Pennsylvania, USA
Xingliang Feng, TU Dresden, DE
Irina Gregorieva, Uni Manchester, UK
Lothar Houben, Weizman Institute, ISR
Pinshane Huang, Illinois University, Urbana, US
Colin Humphreys, Queen Mary University of London, UK
Wolfgang Jäger, Uni Kiel, DE
Ute Kaiser, Uni Ulm, DE
Andrei N. Khlobystov, University of Nottingham, UK
Christoph Koch, Humboldt Uni Berlin, DE
Jani Kotakowski, Uni Wien, AT
Arkady Krasheninnikov, HZDR, Rossendorf, DE
Tatiana Latychevskaia, Paul Scherer Institut, Villingen, CH
Martin Linck, CEOS GmbH, Heidelberg, DE
Joachim Mayer, RWTH Aachen, DE
Jannik Meyer, Uni Tübingen, DE
Kristian Mølhave, DTU, DK
Valeria Nicolosi, Trinity College, Dublin, IR
Eva Olsson, Chalmers, Gothenburg, SE
Jungwon Park, Seoul National University, KOR
Thomas Pichler, Uni Wien, AT
Quentin Ramasse, SuperSTEM Labs, Daresbury, UK
Gregory Schneider, Uni Leiden, BE
Rasmus Schröder, Uni Heidelberg, DE
Robert Sinclair, Standford University, USA
Viera Skakalova, Uni Wien, AT
Michael Stöger-Pollach, TU Wien, AT
Kazu Suenaga, Uni Osaka, JP
Toma Susi, TU Wien, AT
Erdmann Spiecker, Universität Erlangen-Nürnberg, DE
Francis Ross, MIT Cambridge, USA
Peter van Aken, MPI Stuttgart, DE
Marc Willinger, LMU München, DE
Zhou Wu, Chinese Academy of Science, CN
Lena Yadgarov, Ariel University, ISR
Xiaoyan Zhong, Hongkong, University, HK
Yimei Zhu, Brookhaven University, Upton, USA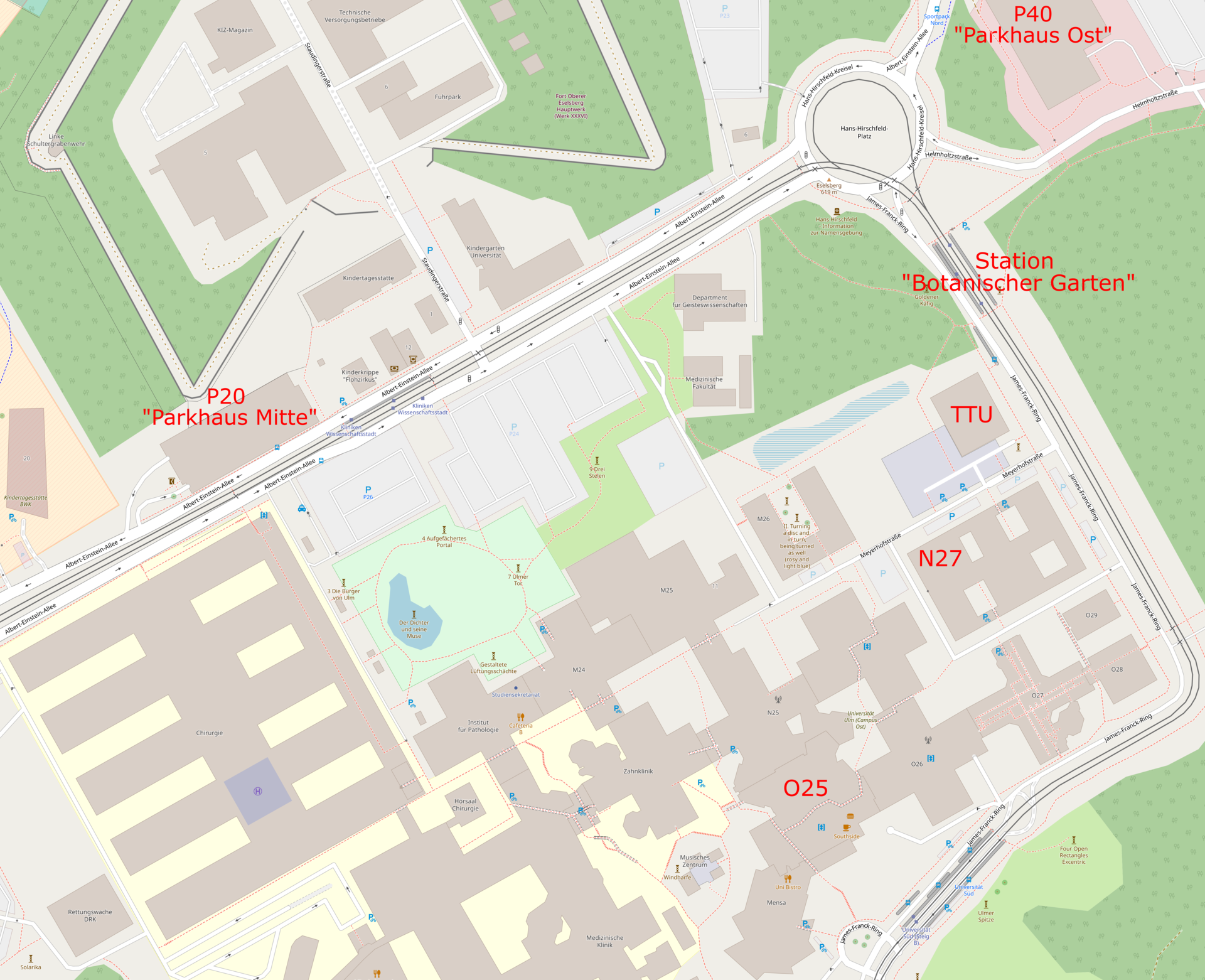 The buildings N27 and TTU (To Train U) are located 2 walking minutes away from the tram station "Botanischer Garten". The two buildings are just next to each other.
Public transport is the easiest way to reach this destination. The tram number 2 and the bus number 5 and number 13 each stop at the "Botanischer Garten".
Limited fee-based parking spots are available in front of N27 and TTU. Further away are the covered car parks P40 and P20, that are also fee-based.