Videoconference room (VK room)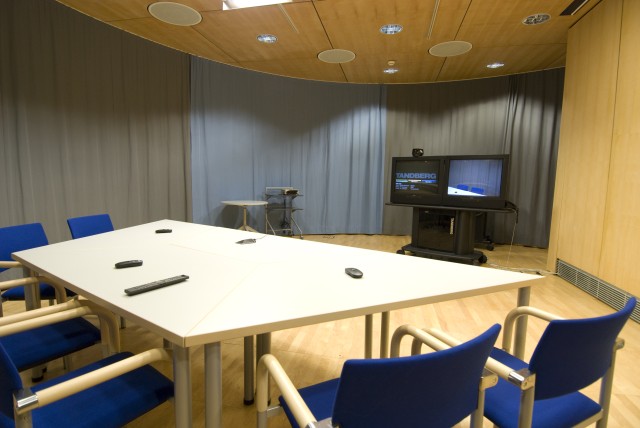 Location
kiz University West
Albert-Einstein-Allee 37
Building Central Library, 1st floor, Room 1.101 (Elevator level 1A)
Directions and maps
Equipment
Codec: Receives analog signals from camera and microphone, digitizes and compresses them and sends them to remote partners. Conversely, corresponding signals are received, decoded and displayed on a monitor and loudspeakers.
Monitor(s): When using two monitors, one monitor displays for control purposes its own image from one of the local image sources (main camera, document camera, PC). The other presents the image of the distant partner.
Main camera: Records the image of the local caller. Can be rotated and angled. Multiple preset positions adjustable, with zoom lens.
Microphone: A sensitive microphone is generally used. Speak in a normal voice. An automatic volume adjustment ensures the correct level.
Remote control: This controls the complete VK technology, e.g. switching between different video sources.
Optional components
If optional components are required please let us know in advance:
Documentary camera: E.g. for recording small 3-D models.
Computer: for presentations. A beamer can be used if several local participants take part. Various techniques can be used to transmit the monitor image.
Video recorder: If required a recording of the conferences can be made or videos can be passed on.
Streaming Server: On request a conference can be broadcasted via the internet for a wide circle of a passive audience.
Internal MCU (Multipoint Control Unit): Up to four locations can participate at the conference.
Communication and Information Centre (kiz)
Helpdesk

Please contact us if you have questions or problems related to the kiz services:
Mon - Thu: 8 a.m. - 6 p.m.
Fri: 8 a.m. - 4 p.m.
Tel: +49 (0) 731 / 50 - 30000
(University intern: 30000)
helpdesk(at)uni-ulm.de
Support Portal
[more]

Service Points

Service Points are locations where you can visit us personally.
[more]

Identity Management

Using self-service functions of the Identity Management System (IDM):

Administer permissions
Subscribe to services
Change passwords
...

Literature Search

kiz from A to Z