Recognise official emails
Sending information and documents by e-mail is an integral part of official and business correspondence. The university management, the central administration, the kiz and other university facilities communicate with each other and with employees and students officially by e-mail. Unfortunately, phishers, spammers and scammers also try to make their emails look as official as possible and thus inspire confidence in the recipient. The contents of emails are easy to copy and it is also easy to forge senders.
Fortunately, there is a simple way to guarantee the authenticity and immutability of e-mails: the digital signature. This is a cryptographic proof that an email really comes from the sender and that the email has not been changed on its way to the recipient.
As a service, the kiz offers all members of the university the opportunity to obtain a personal DFN Global certificate that can be used to sign e-mails. It is the goal of the information security officers of the university and the kiz that in the future all official emails from facilities of the university are digitally signed. An increasing number of employees of the kiz already send digitally signed emails.
If an e-mail is digitally signed, you can check its authenticity in your e-mail programme. In Thunderbird, an icon (envelope with seal) is displayed in the message in this case. If you click on the symbol, you can check the details of the electronic certificate and its validity.
Note: If your e-mail programme does not recognise the DFN certificates, our signatures will be displayed as invalid. In this case, make sure that the necessary certificates are installed. If in doubt, install them from the DFN pages (right-click on the DFN certificates, save, then import in the e-mail client).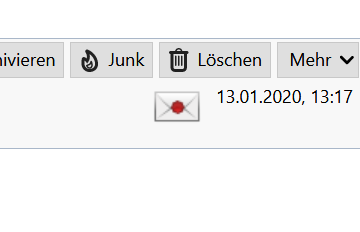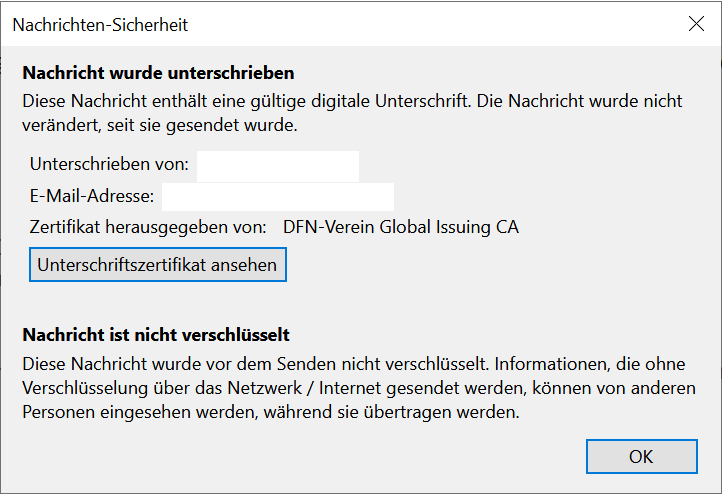 Communication and Information Centre (kiz)