Science and Socializing in a nice atmosphere
Every year we organize several retreats focussing on certain research fields of our Graduate School. On these events our PhD students can exchange ideas among each other and get advice about special topics from senior scientists in a relaxed natural environment outside Ulm. Moreover, the retreats are a great opportunity to get to know each other away from work and to chill out in a nice atmosphere. Some retreats are held together with our international partner institutions.
IGradU-Retreats
IGradU- PhD- retreat 2019- Austria- Mösern (Inntaler Hof Hotel).
From 19th to 21st of September the Student Retreat took place between mighty mountains and alpine landscape of Tirol. A small part of all the IGradU students could enjoy a high quality of talks and research topics, share knowledge and recieve constructive feedbacks and usefull suggestions from other students and professors, in a completely different environment. Professor Paul Dietl, Professor Paul Walther and our guest Professor George Dechant (Innsbruck) accompanied our retreat and gave all the students the possibility to listen to highly intersting talks. The two days talk sessions were subdivided in three main reserach fields: -Neurology/ Physiology; - Oncology/ aging and endocrinology and -Virology Biotechnology and System Biology. All the students could profit from this occasion to improve their presentation skills and have a long and successfull discussion part which surely led to gain of new ideas.
During the late afternoons of the days, the students were free to enjoy the wonderfull surrounding, by walking to and around the lake Mösern and visiting the close city Innsbruck.
All in all a wonderful experience for all partecipants.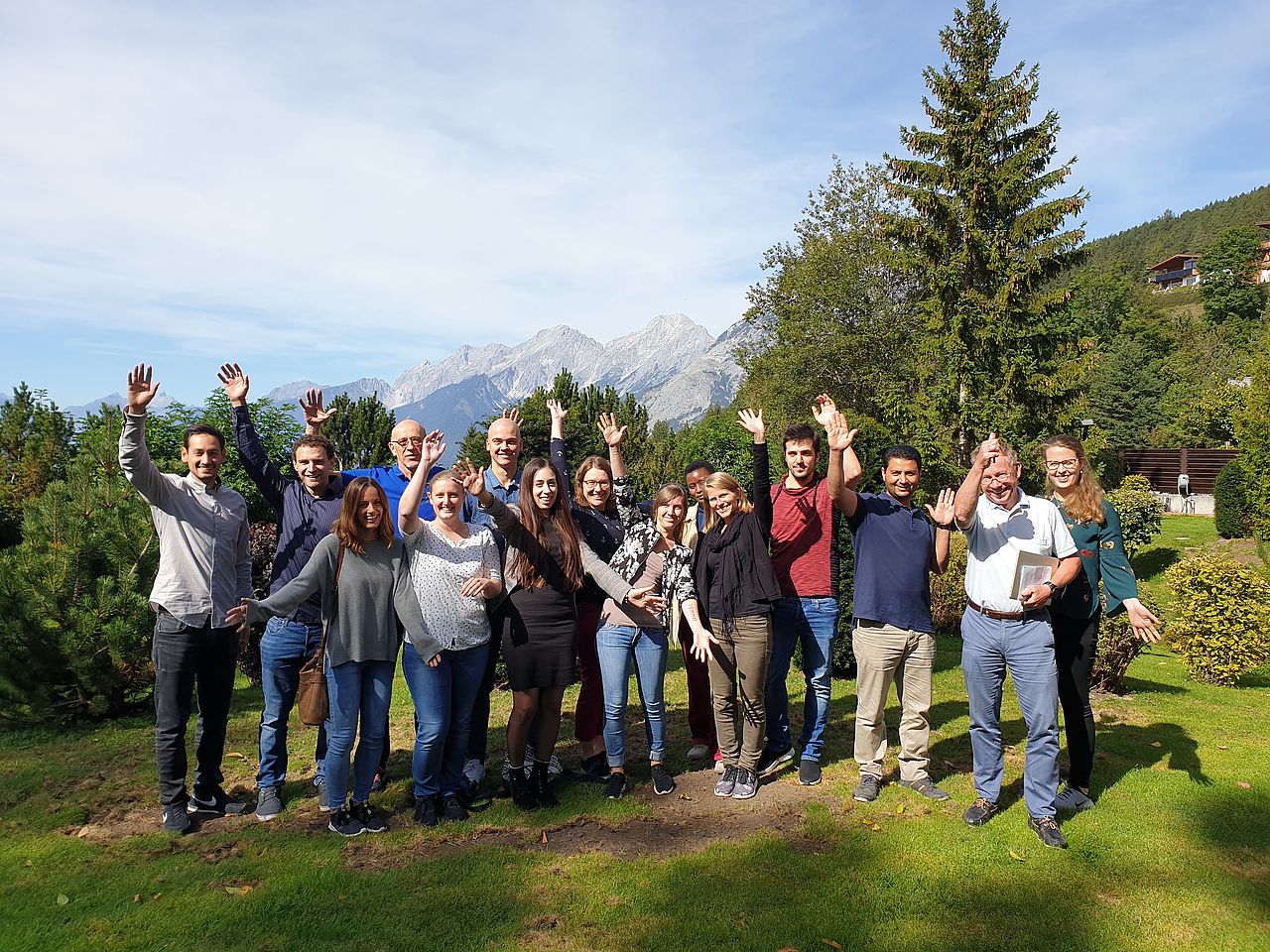 PhD-Student retreat Biomolecular sciences" in collaboration with the Centre for Integrative Biology- UNI Trento took place from October 04th to October 06th, 2018 in Trento, Italy.
PhD-Student-Retreat "Molecular Medicine 2.0 – Concepts in Pipeline" took place in Kleinwalsertal, Austria, on June, 13-15, 2016.
The main focus of the dense program was laid on the talks of the students and senior scientists, where they presented their research topics including special methods and new concepts in the field of scientific research. Based on the title of this year's retreat "Molecular Medicine 2.0 – Concepts in Pipeline", the talks included a large variety of scientific research fields, such as neurobiology, trauma, transgenic animal models, nucleic acids but also solid-state chemistry and electron microscopy. Especially, the students benefited from this interdisciplinary atmosphere by intensive discussions and consequent exchange of knowledge and new ideas.
Among the talks and during several sportive activities, such as mountain biking, archery and hiking the participants had the possibility to continue with their animated conversations and to get to know each other better in a pleasant atmosphere. The retreat was was supported by SoS (Students on Sports) Events that took care about food and drinks and arranged the housing as well as the exciting leisure activities.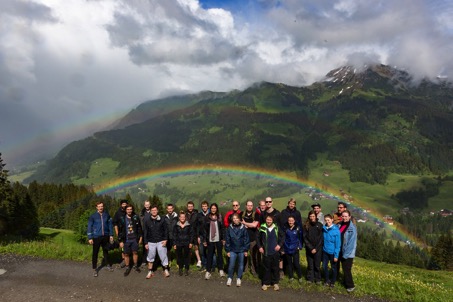 University of Padua – University of Ulm

From 1st until 3rd July 2016, the third retreat was held at the University of Ulm in the Life Science building N27. Students and researchers in molecular medicine from both faculties, Padua and Ulm, had the opportunity to present their results, as lecture or poster.
The sessions focused on in the categories Oncology, Gene Therapy, Signal Transduction and Mechanism of Diseases, Developmental Biology and Infectious Agents.
The scientific program was rounded off by a sightseeing tour and dinners.

On May 4- 6th, 2015 the IGradU-Retreat on "Advanced Concepts in Molecular Medicine" took place at Villa Vigioni, Lago di Como, Italy. Villa Vigioni, the German-Italian Centre for European Excellence welcomed a total of 20 PhD-students and two PIs from Ulm as well as external speakers from renowned San Raffaele Hospital in Milano.
The retreat was designed to create an intense and open atmosphere at a beautiful environment, aiming to stimulate productive interactions between the various branches of molecular medicine and to bring together leading scientists and young researchers from all around the world.All together it was a fruitful scientific meeting with lots of academic and social exchange which was completely organized by the students speakers. The social programme contained among other things a tour to the peak of "Pigra" mountain.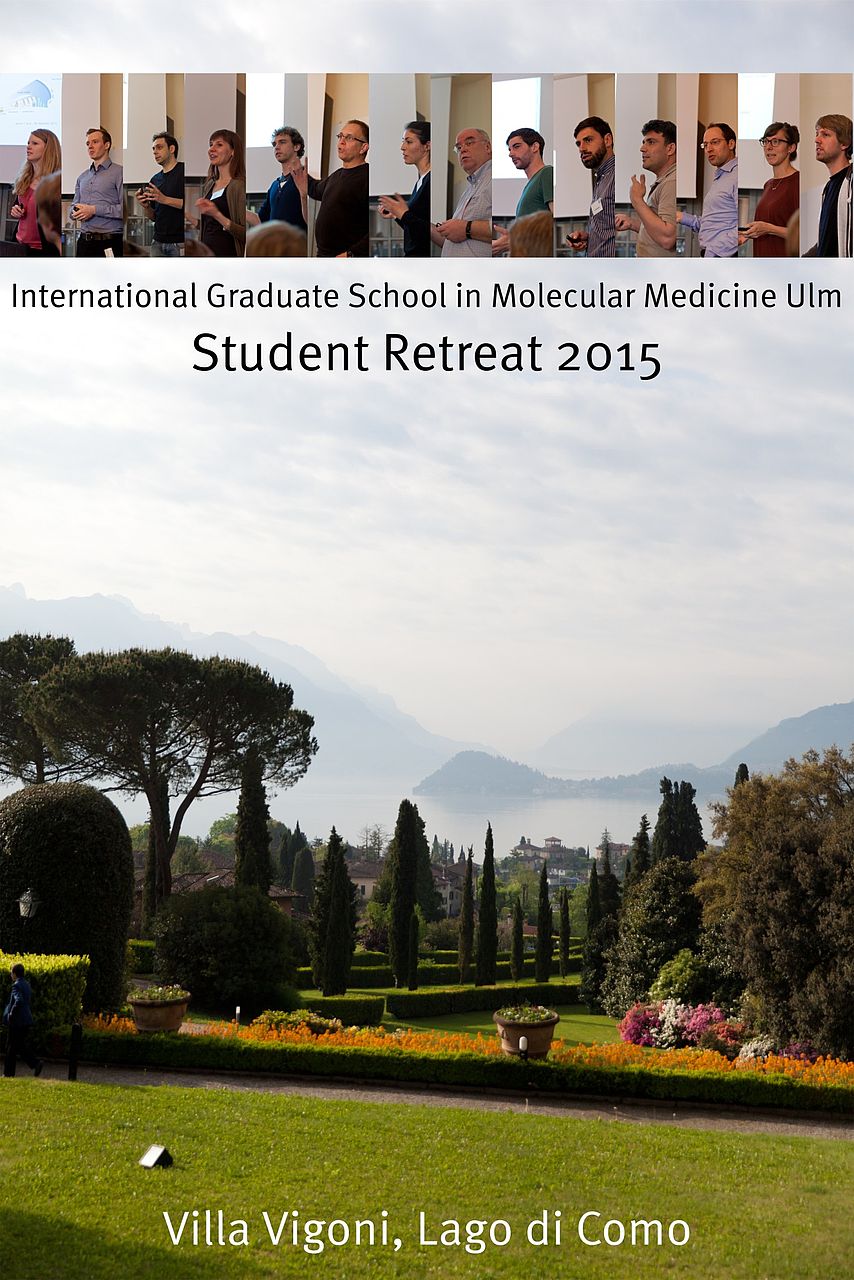 Second Padua - Ulm Retreat, organized by the Institute of Virology took place at the conference center Blaubeuren on July, 11-13, 2014. Students and researchers in molecular medicine from both faculties, Padua and Ulm had the opportunity to present their research results, as lecture or poster. The sessions were divided in the categories Oncology, Infectious Agents, Signal transduction and Mechanism of diseases and Developmental biology. The social activities included among others get-togethe dinners in Blaubeuren as well as in "Zunfthaus", historical restaurant in Ulm.
Katrin Tenhumberg
International Graduate School in Molecular Medicine Ulm
O25/441
Albert-Einstein-Allee 11
89081 Ulm
Germany
Phone: +49 731 50 36294
Fax: +49 731 50 36292