Spring and Fall Academies

In 1990/91 the Ulm University identified in an extensive analysis of the structure and the region the prerequisites, the needs and the target perspectives of people, who are interested in continuing education in Ulm and the region at the Ulm University. The results of these studies are carried out with quantitative and qualitative methods, which are developed under the motto "I still have a lot to do ...! Further education interests in the third phase of life ".From this analysis of this study, a model of university education was developed in the form of a further education week, taking into account the objectives and the perceptions of those, who are affected, as well as the possibilities and limitations of the personnel, financial and spatial resources of the university. In March 1992 the "spring academy '92", at which 120 people participated, was the first time to try out this model. Due to the great public response, the research project has been continued in the context of further education for people in the third phase of life in the sense of "practical research". Since then, two "seasons' academies" have been taking place every year with constantly increasing numbers of participants.
The "season's academies" with their thematic orientation and temporal structure would like to meet especially the wishes of the people in the "third life age". We welcome all those who are concerned with central social issues and who want to get to know the current state of scientific discussions from different research perspectives.
The "spring" and "autumn academies" take place from Monday to Friday from 9.30 am to about 4 pm at the Ulm University. Each academic week is designed to present and discuss a current overall theme from the perspective of different scientific disciplines. On three afternoons, the participants will work in a permanent working group, which will be selected from about 50 different offers. In these working groups the topic of the whole week can be absorbed as well as a very different topic can be chosen from the very wide range of offers. The methodical design of these working groups takes the active participation of the participants in front.
The 30 to 40 offers on Wednesday give the participants the opportunity to get to know the different institutions within and outside the Ulm University.
Schedule: Structure and timing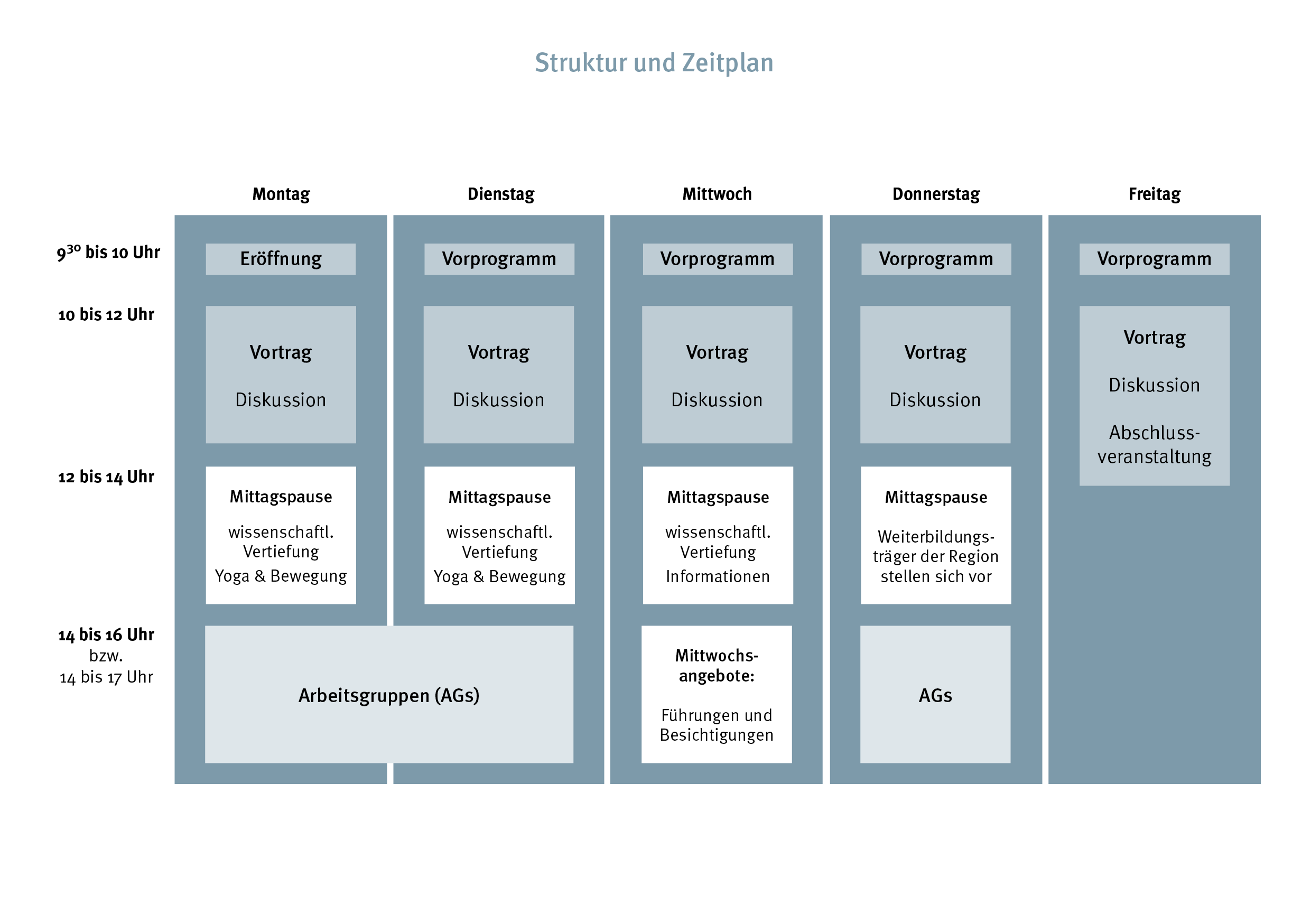 The binding allocation for the working groups and Wednesday's offers as far as possible according to the wishes, which are expressed by the participants at the time of the application - follow in the order of entrance of the applications.
The events are open to all who are interested in a scientific approach. A participation fee of EUR 89, - (members of the ZAWiW funding circle: EUR 78, -), there are no formal prerequisites for participation.
Contact person:
Dr. Annette Wettstein
Secound manager
academic assistant,
Academic weeks,
Researching Learning,
Telephon: +49 (0)731 50-26610