In the winter semester 21/22, most of the courses will again be held in class. The following restrictions apply to the use of the teaching rooms:
Rooms with a maximum of 35 seats may be fully occupied.
Rooms with 36 to 70 seats may be occupied by a maximum of 35 persons.
Rooms with more than 70 seats may be occupied 50% of the time. There must be at least one free seat between two persons.
A uniform usage concept applies to all lecture halls and seminar rooms and is displayed in all rooms.
There is an obligation to wear a medical / FFP2 mask if the minimum distance of 1.5 m to the next person cannot be maintained. If only the seats marked with a green dot are occupied in lecture halls, masks may be removed at the seat.
Persons entering a lecture room must register with KNapp UUlm by scanning the QR code.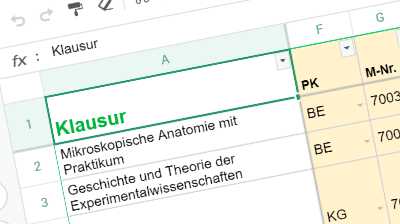 Note on the following tables:
Click on room name -> photo of the room
Click on number of seats -> user instructions