Rooms for examinations, meetings and conferences
During limited university operation (Corona Pandemic), the rooms listed below are available for attendance examinations, meetings and discussions. The rooms can be booked through the examination coordinators or room administrators. The use of other rooms and the use of the rooms for other events is not permitted.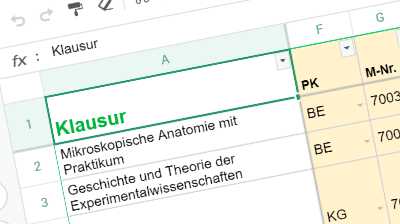 A common usage concept applies to the rooms:
All rooms are cleaned by the cleaning service provider once a day.

All rooms are equipped with disinfectant (to disinfect the hands) and disinfection wipes (to disinfect the surfaces), so that users can disinfect the surfaces they come into contact with themselves if necessary.

On the inside of the door, the user instructions with seating plan and the operating instructions are displayed.

Please observe the hygiene rule "Ventilation" in the user instructions. In rooms with ventilation systems (mainly multi-stage lecture halls), the room must be empty for 30 minutes after each event. In rooms without ventilation systems, the windows must be opened for 30 minutes and the room must also be empty.

This information can be found on every user instruction (also available online).

Not all rooms are equipped with beamer and chalkboard. Please inform yourself in advance and book accordingly. If participation of external persons via video conference is planned, the necessary technology must be organized by the participants themselves.
Seat numbering:
The numbering of the examination places starts on the left side of the first row, seen from the lecturer. After the right end of the row, it continues in the next row on the left side.
The arrangement of the tables as table islands, which exists in some rooms, will remain until October and will then be changed to individual tables.
Note on the following tables:
Click on room name -> photo of the room
Click on number of seats -> user instructions
Rooms
Helmholtzstraße

Uni Ost

Uni West
Further Information