DL 2013 will be held at the University of Ulm in Building N27, Multimediaroom 2.059.
The building N27 is part of the Campus East (Campus Universität Ulm Ost). The buildings are built in a pattern, where rows are assigned a character (e.g., row N) and columns are assigned a number (e.g., 27). The most convenient bus stop is "Botanischer Garten" (Botanical Garden), which is served frequently by bus lines 3 and 5 (slower than line 3) from the city center. You can also download a general campus map.
The easierst way up to the University is to take a bus line 3 heading for "Wissenschaftsstadt" or "Universität", get out at the bus stop "Botanischer Garten", cross the street, walk downhill, take the last path to your right before the curve, walk straight ahead and turn right at the first opportunity, this is the building N27.
If you get out one bus stop sooner, at "Uni Süd", you need to walk that small path towards O27.
If you get out of a line 5, just follow the street the bus is going, walk around the bend and turn the first path left, then you already see building N27.
If you get out of line 6, do not walk up the stairs outside, but walk towards the nearest bus stop and keep walking straight ahead. Pass by building O27, walk around the bend, turn first path left, then you already see building N27.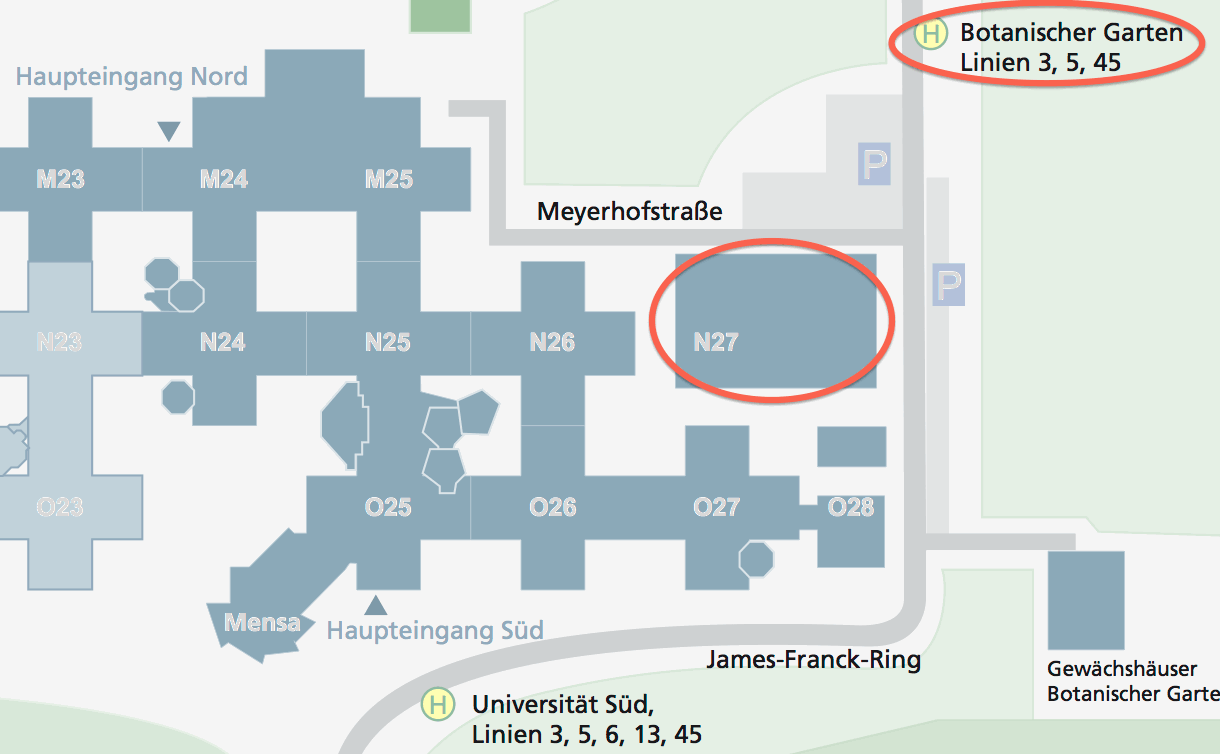 Free Bus Ticket for DL Participants (Kongress-Ticket)
Your DL workshop tickets includes a Kongress-Ticket, which will allow you to move freely in the Ulm/Neu-Ulm area with any bus or tram, as many times as you like. It's valid from Tuesday to Friday. Either you pick it up during the ORE workshop on Monday (ORE participants can buy two single tickets for 2 Euros each or a single day ticket for 4.60 Euros) or you buy a single ticket for 2 Euros to get up to the University on Tuesday, where you'll get the Kongress-Ticket with your registration.
Those of you coming by car, please use the "Parkhaus Mitte", as it is open to the public (5 EUR per day). Other parking is short-term only or reserved for university members.