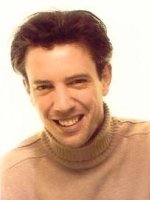 Former member of the department of programming methodology and compiler construction.
Since December 2004 working for DaimlerChrysler Research and Technology.
e-mail: niko.kleiner (at) web.de
Academic Curriculum Vitae
January 2005
Ph.D. in computer science (Dr. rer. nat.)
since December 2004
Staff member of DaimlerChrysler Research and Technology, Berlin
1999-2004
Scientific research assistant at University of Ulm
Guest researcher at DaimlerChrysler Research and Technology, Ulm
June 1999
Diploma in computer science (Dipl.-Inf.)
1994-1999
Student of computer science at University of Ulm
From 1997-1998 student of applied mathematics at San Diego State University, USA
Research
In general, I'm interested in topics related to business process management and software engineering. The last years I have focused on some specific aspects:
workflow design
process mining
empirical software engineering
requirements engineering
My current research interest is workflow design support, in particular delta-analysis with workflow-logs: The introduction of new business processes is nowadays supported by an information system which helps to drive the new process by steering people through it. A workflow-log contains event-data that was logged by such a system about activities that were executed with it. This data can be used to partly compare actual work practice with a model of the prescribed business process. See also my list of publications for recent results.
Niko Kleiner<br /><i>Delta Analysis with Workflow Logs: Aligning Business Process Prescriptions and their Reality</i><br />Requirements Engineering Journal: Special Issue on Coordinated Development of Business Processes and their Support Systems, pages 212-222, volume 10, issue 3, November 2005
Markus Hammori, Joachim Herbst, Niko Kleiner<br /><i>Interactive Workflow Mining: Requirements, Concepts and Implementation</i><br />Data and Knowledge Engineering Journal: Special Issue on Business Process Management, pages 41-63, volume 56, issue 1, January 2006
Niko Kleiner<br /><i>Verbesserungsstrategien für den Workflow-Designprozess</i><br />Dissertation, University of Ulm, August 2004
Niko Kleiner<br /><i>Formale Überlegungen zu pragmatischen Methoden des Requirements Engineering</i><br />Diploma Thesis, University of Ulm, 1999
Invited Papers/Presentations
Niko Kleiner, Joachim Herbst<br /><i>A Model for Business Process Supporting Web Applications</i><br />Proceedings of the International Conference on Advances in Infrastructure for e-Business, e-Education, e-Science, and e-Medicine on the Internet (SSGRR2002s), pages 101-107, L'Aquila, Italy, July 2002
Niko Kleiner, Johannes Bumiller<br /><i>Distributed Software Development at DaimlerChrysler</i><br />Presentation at the Software Experience Center (SEC), Distributed Development Session, Nokia Research, Helsinki, Finland, 2000
Refereed Conference Publications
Olga Jaufman, Axel Dold, Tobias Häberlein, Claudia Schlumpberger, Michael Stupperich, Niko Kleiner<br /><i>Requirements for Flexible Software Development Processes within Large and Long Taking Projects</i><br />Proceedings of the 5th Meeting for Quality in Information and Communications Technology (QUATIC'04), Porto, Portugal, October 2004
Niko Kleiner<br /><i>Supporting Usage-Centered Workflow Design: Why and How?</i><br />Proceedings of the 2nd International Conference on Business Process Management (BPM'04), LNCS 3080, pages 227-243, Potsdam, Germany, June 2004
Markus Hammori, Joachim Herbst, Niko Kleiner<br /><i>Interactive Workflow Mining</i><br />Proceedings of the 2nd International Conference on Business Process Management (BPM'04), LNCS 3080, pages 211-226, Potsdam, Germany, June 2004
Niko Kleiner<br /><i>Can Business Process Changes be Cheaper Implemented with Workflow Management Systems?</i><br />Proceedings of the 2004 Information Resources Management Association Conference (IRMA'04), pages 529-532, New Orleans, USA, May 2004
Niko Kleiner<br /><i>The Focus of Requirements Engineering in Workflow Application Development</i><br />Workshop Proceedings (Requirements Engineering for Business Process Support - REBPS'03) of the 15th International Conference on Advanced Information Systems Engineering (CAiSE'03), pages 372-377, Klagenfurt/Velden, Austria, June 2003
Joachim Herbst, Niko Kleiner<br /><i>Workflow Mining: A Case Study from Automotive Industry</i><br />Proceedings of the 10th European Concurrent Engineering Conference (ECEC'03), Plymouth, UK, April 2003
Niko Kleiner, Joachim Herbst<br /><i>Engineering a DMU-Resultmanagement System</i><br />Proceedings of the 9th European Concurrent Engineering Conference (ECEC'02), pages 169-172, Modena, Italy, April 2002
Niko Kleiner, Stefan Sarstedt<br /><i>Einsatz von Standardprozessen bei der Gestaltung von Lehrveranstaltungen</i><br />Software Engineering im Unterricht der Hochschulen (SEUH'01), pages 99-108, Zürich, Switzerland, 2001
Program committee member of IRMA (Information Resource Management Association Conference)
Reviewer for ECEC 2002 (European Concurrent Engineering Conference)
Reviewer for ESEC 2001 (European Software Engineering Conference)
Co-reviewer for ACM TOPLAS 2000 (Transactions on Programming Languages)
Reviewer for GROUP 1999 (International Conference on Supporting Group Work)
Fellow of Cusanuswerk