IMPACT - Incentive Management in the context of Patient Assessments by using mobile crowdsourcing and Crowdsensing Technologies
Project Description

Incentive Management (IM) pursues the idea of offering benefits or rewards to the participants of a system. Usually this requires the achievement of specific goals or completion of certain activities. Today, IM techniques are increasingly used in various industries and research fields. In principal, IM techniques focus on the concrete actions and methods to increase the motivation of the participants, either by offering rewards or recognition for completing tasks. Moreover, IM techniques are supported by economic theories and mathematical models like the 'Game Theory', which illustrates the strategic behavior of the participants, involved in any particular setting and furthermore studies the decision making of these participants. Moreover, these models are also useful to design and run a strategically balanced system, in which the total system resources at any given point is a fixed constant.
When dealing with medical data, in turn, an added challenge emerges with respect to the privacy aspects because the data contains sensitive and personal information of users. In this context, Mobile Crowdsourcing (MCR) and Mobile Crowdsensing (MCS) are modern techniques that are increasingly used for gathering medical data in everyday life. MCR and MCS build on the notion of 'bring your own device' and the capabilities of contemporary smart mobile devices. Furthermore, MCS also eases the capturing of environmental data of patients through the inherited sensors of new age smartphones. To tackle the existing and emerging challenges, IMPACT builds on top of following 3 major pillars:
Theoretical Models (Game Theory)
Performance Metrics (Architecture and Algorithms)
Experiments (Data Analysis)
Furthermore, to design a strategically balanced system IMPACT considers:
Computational efficiency (System resources optimization)
Individual rationality (User gets a non-negative utility)
Profitability (System gets a non-negative utility)
Truthfulness (Incentive compatibility)
In IMPACT, we particularly place our focus on the application of MCR and MCS in the context of tinnitus and how tinnitus patients can be motivated to share their data that can be further evaluated to work on new treatment methods. Therefore, it is important to consider the IM techniques for designing useful MCR and MCS applications and thereby we distinguish two entities in this ecosystem:
The Platform (Application)
The User (Patients)
Questionnaire
If you suffer from tinnitus, then please answer these few simple questions and help us to develop the next generation tinnitus app that can assist patients in their daily lives.
Project Details

Project Team
Project Partners
Project Duration
October 2017 to September 2020
Project Funding
This project has received funding from the European Union's Horizon 2020 research and innovation programme under the Marie Sklodowska-Curie grant agreement number 722064.
Project Poster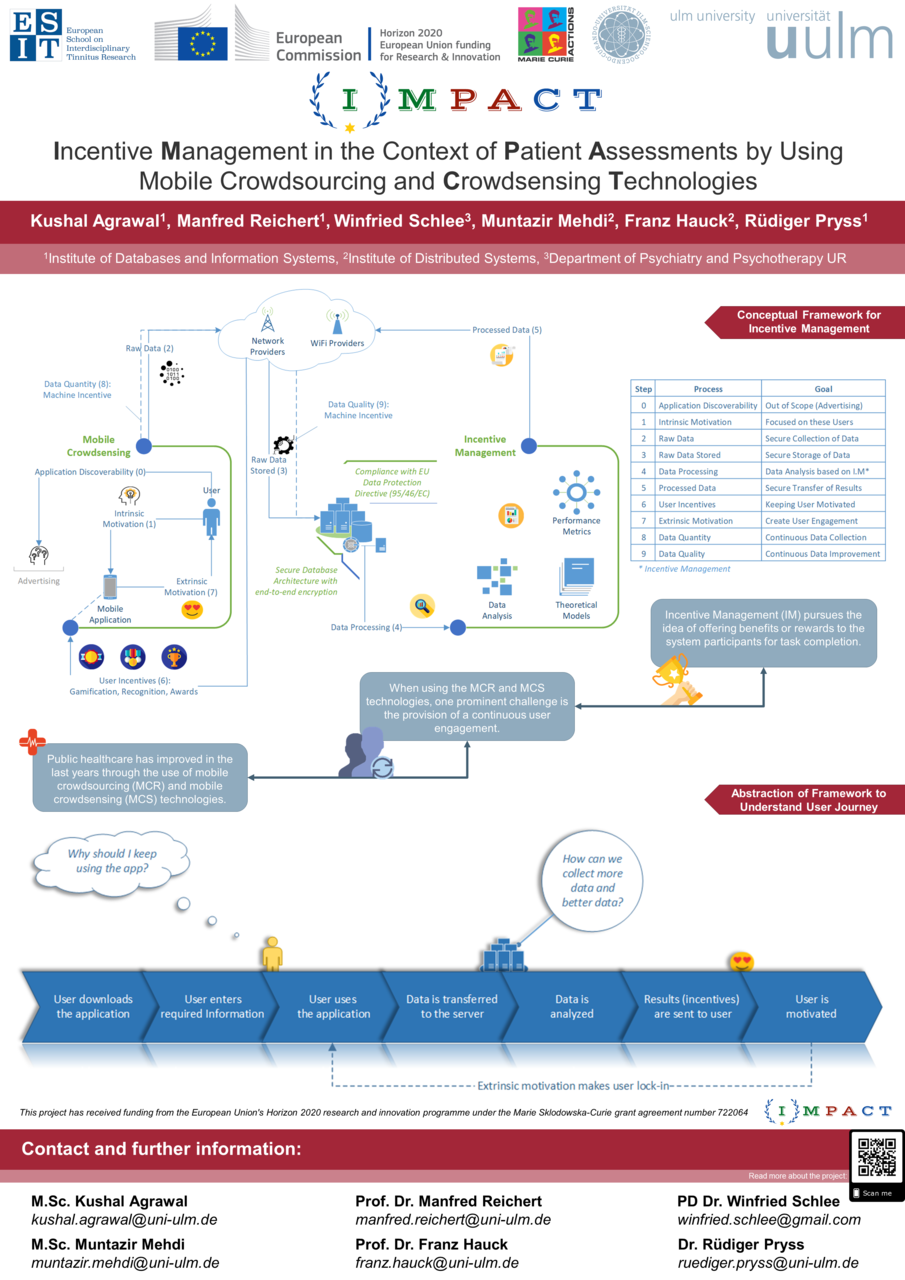 Publications
|
2018
|
2018
Agrawal, Kushal and Mehdi, Muntazir and Reichert, Manfred and Hauck, Franz and Schlee, Winfried and Probst, Thomas and Pryss, Rüdiger

(2018) Towards Incentive Management Mechanisms in the Context of Crowdsensing Technologies based on TrackYourTinnitus Insights. In: 15th International Conference on Mobile Systems and Pervasive Computing (MobiSPC 2018), Gran Canaria, Spain, 13-15 Aug 2015, Procedia Computer Science, Elsevier Science. (Accepted for Publication)