Hernán Blanco
Hernán Blanco studied telecommunications engineering at the University of Vigo (Spain), obtaining his degree after a stay at the University of Leuven (Belgium), where he worked on his Master thesis, "Diverse Subgroup Set Discovery on a Time-Lapse Microscopy", collaborating with the DTAI research group.
Being a PhD student at the University of Antwerp, he is doing a long-term stay at DBIS to continue with his work on probabilistic databases and distributed systems.
Outside of the university, he is a passionate music-lover, as well as an enthusiastic football supporter. He also enjoys practicing sports, especially football and tennis.
Research Interests
Probabilistic graphical models
Data lineage processing
Distributed database systems
Contact details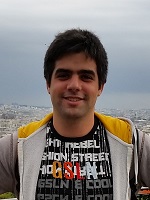 Hernán Blanco
Research Assistant