Kushal Agrawal
Kushal Agrawal, M.Sc. has completed his Bachelors in Business Administration and IT Management (Honors) in 2012 from India and his Masters of Science in Information Systems from Austria in 2016. He graduated his bachelors with a distinction and was among the top 5 students in his masters. His master thesis was given the best grade wherein he conducted an empirical investigation on adoption of Cloud ERPs within the EU and Indian SMEs. Furthermore, he did his specializations in IS Processes and IS Service Management in his masters and published an IEEE article.
Kushal has also gained industrial experience by working in different management positions in India and Austria. Moreover, his involvement in the family business adds an entrepreneurial attribute to his portfolio. Throughout his interdisciplinary career, Kushal has not only participated in multiple competitions and projects but has also received awards and scholarships for his work. At our institute he pursues his doctorate and is also involved in lectures, seminars and other practical projects. His Ph.D project is a part of the EU project on Tinnitus (ESIT).
Research Interests
Mobile Crowdsourcing and Crowdsensing
Information Systems and Incentive Management
Data Mining and Machine Learning
Cloud Computing and Cyber Security
Big Data and Internet of Things
Business Process Management and Business Engineering
Publications
|
2018
|
2016
|
2018
Agrawal, Kushal and Mehdi, Muntazir and Reichert, Manfred and Hauck, Franz and Schlee, Winfried and Probst, Thomas and Pryss, Rüdiger

(2018) Towards Incentive Management Mechanisms in the Context of Crowdsensing Technologies based on TrackYourTinnitus Insights. In: 15th International Conference on Mobile Systems and Pervasive Computing (MobiSPC 2018), Gran Canaria, Spain, 13-15 Aug 2015, Procedia Computer Science, Elsevier Science. (Accepted for Publication)
2016
Supervised Bachelor & Master Theses
Teaching
Contact details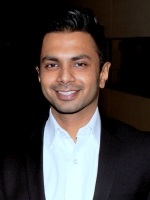 Kushal Agrawal
Research assistant
Office: Building O27 - Room 544
Consultation hours on appointment.
| | |
| --- | --- |
| Phone: | +49 731 50 24 129 |
| Fax: | +49 731 50 24 134 |