Michael Stach
Michael Stach studied computer science at Ulm University and graduated with honors in 2016. In his master thesis, which he wrote in the scope of the interdisciplinary MobileTx project, he developed a generic framework to assist the process of patient treatment by therapeutical homework. He was awarded the eXXcellence Award for his master thesis.
Research Interests
Human-centric Process-Aware Information Systems (HC-PAIS)
Resource Management in Adaptive Business Processes
Flexible and Robust Information Systems
Mobile Crowdsensing
Open Thesis Topics
If you are interested, you are welcome to present your own ideas, in addition to the open thesis topics offered by me.
Teaching
Supervised Lectures


Supervised Theses [goto]
Publications
|
2018
|
2017
|
2018
2017
Probst, Thomas and Pryss, Rüdiger and Langguth, Berthold and Spiliopoulou, Myra and Landgrebe, Michael and Vesala, Markku and Harrison, Stephen and Schobel, Johannes and Reichert, Manfred and Stach, Michael and Schlee, Winfried

(2017) Outpatient Tinnitus Clinic, Self-Help Web Platform, or Mobile Application to Recruit Tinnitus Study Samples?. Frontiers in Aging Neuroscience, Frontiers, Vol. 9, pp. 113-113, 10.3389/fnagi.2017.00113.
Schickler, Marc and Pryss, Rüdiger and Stach, Michael and Schobel, Johannes and Schlee, Winfried and Probst, Thomas and Langguth, Berthold and Reichert, Manfred

(2017) An IT Platform Enabling Remote Therapeutic Interventions. In: 30th IEEE International Symposium on Computer-Based Medical Systems (CBMS 2017), Thessaloniki, Greece, June 22 - 24, 2017, IEEE Computer Society Press. (Accepted for Publication)
Supervised Bachelor & Master Theses
Contact details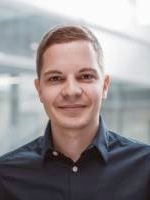 Michael Stach
Research assistant
Office: Building O27 - Room 5103
Consultation hours on appointment.
| | |
| --- | --- |
| Phone: | +49 731 50 24 225 |
| Fax: | +49 731 50 24 134 |