Tim Mohring
Tim Mohring studied Computer Science at Ulm University and received the degree "Master of Science" in 2016. In his master thesis, which he wrote in the scope of the interdisciplinary Tinnitus Database project, he developed a concept to transform an existing relational database schema into a NoSQL database schema.
Research Interests
Adaptive Process Management Systems
Industry 4.0
Publications
|
2018
|
2017
|
2018
2017
Zimoch, Michael and Mohring, Tim and Pryss, Rüdiger and Probst, Thomas and Schlee, Winfried and Reichert, Manfred

(2017) Using Insights from Cognitive Neuroscience to Investigate the Effects of Event-Driven Process Chains on Process Model Comprehension. In: 1st Workshop on Cognitive Business Process Management (CBPM'17), BPM 2017 workshops, Barcelona, Spain, 11 September 2017. (Accepted for Publication)
Supervised Bachelor & Master Theses
Contact details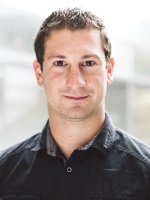 Tim Mohring
Research assistant
Office: Building O27 - Room 5103
Consultation hours on appointment.
| | |
| --- | --- |
| Phone: | +49 731 50 24 290 |
| Fax: | +49 731 50 24 134 |