European Workshop on Metalorganic Vapor Phase Epitaxy
The 13th European Workshop on Metalorganic Vapor Phase Epitaxy 2009 will be organized by the Institute of Optoelectronics of Ulm University and will take place in the Edwin-Scharff Congress Center Neu-Ulm.
This workshop is the 13th in the series of successful European meetings on metalorganic vapour phase epitaxy and related issues. They have become a traditional meeting opportunity for the European scientific community involved in MOVPE - from universities and research institutes as much as from industry. It is a forum where all topics relevant to MOVPE are addressed, ranging from surface science to device development, from basic growth mechanisms to production issues.
The aim of the workshop is to bring together European physicists, chemists, material science specialists and engineers to discuss the latest trends in the field of MOVPE growth of semiconductors, device fabrication and related technological problems.


| | | | | |
| --- | --- | --- | --- | --- |
| <span class="iui_rot">28.02.2009</span> | | Abstract Dead-line | | |
| <span class="iui_rot">30.04.2009</span> | | Dead-line for submission of Extended Abstracts | | |
| <span class="iui_rot">30.04.2009</span> | | Most Hotel Pre-Reservations end. Please book before this date | | |
| <span class="iui_rot"><b>07. - 10.06.2009</b></span> | | Workshop | | |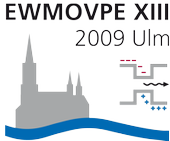 Organization
Institute of Optoelectronics
Contact
Institute of Optoelectronics
Albert-Einstein-Allee 45
89081 Ulm
Tel: +49 (0)731 50 26052
Fax: +49 (0)731 50 26049