Extended Abstract
All authors of accepted abstracts are requested to submit a 4-pages extended abstract (camera ready) for the workshop booklet.
Please format your extended abstract according to our template.
The final PDF-file should not be larger than 25MB.
Dead-line: April 30, 2009
For the submission of late news abstracts, which contain very interesting data important enough to warrant presentation at the workshop, please contact the workshop organizers.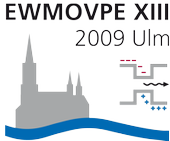 Organization
Institute of Optoelectronics
Contact
Institute of Optoelectronics
Albert-Einstein-Allee 45
89081 Ulm
Tel: +49 (0)731 50 26052
Fax: +49 (0)731 50 26049