M. Sc. Dennis Wolf
Scholarship student, PhD candidate
Dennis Wolf, M.Sc.
From 2010 to 2016, Dennis Wolf was a student at Ulm University. In 2016, he became a Ph.D . student in the Human-Computer-Interaction group.
Dennis acquired a B.Sc. (2013) and an M.Sc. in media informatics (2016) at Ulm University, repectively. The title of his master theses was: "OctiCam: An Immersive and Mobile Video Communication System for Relatives and Children".
In the winter of 2016, Dennis spend 3 months at Cambridge university, UK doing an internship in the Intelligent Interactive Systems Group lead by Dr Per Ola Kristensson. This lead to a collaboration on the publication "Performance Envelopes of In-Air Direct and Smartwatch Indirect Control for Head-Mounted Augmented Reality" that was presented at the conference IEEE VR 2018.
Mixed Reality
Multi-Modal Feedback
Biometric Data
User Adaptation
Dissertation Goal (copy 1)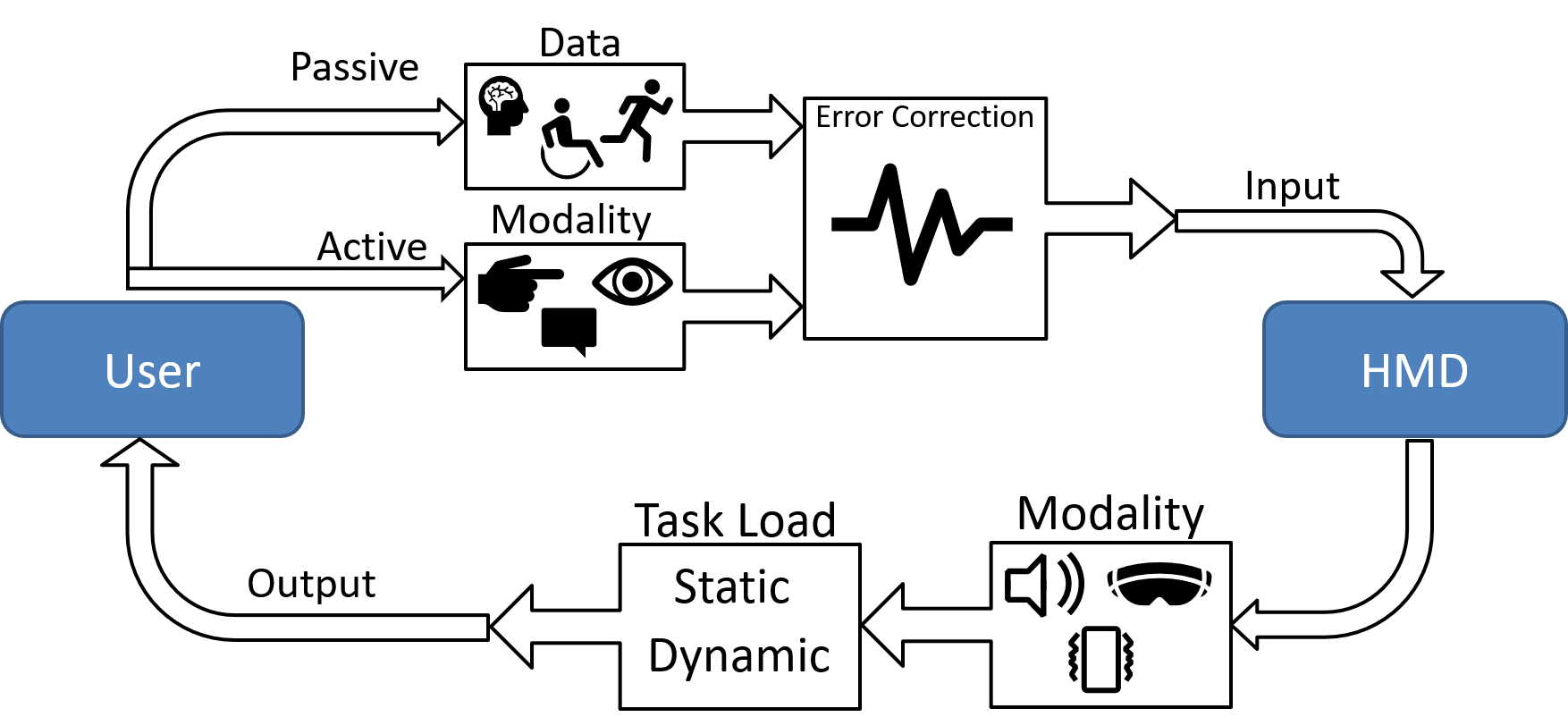 Interaction with head-mounted displays (HMDs) can be seen as a continuous loop of user input and system output. Its most fundamental form is user head rotation: head movement is measured by internal and external sensors which updates the virtual camera in the virtual scene and generates a new image from the new perspective that is finally presented to the user. To improve user experience and presence in the scene, a virtual environment should address more than just the visual and auditory channel of the users and adapt to the users' specific needs.
To explore the potential of user adaptivity in mixed-reality environments, my research is focused on multi-modal input and output concepts and dynamic application content via biometric-feedback loops. First successful projects evaluated multi-modal input for augmented reality (AR), an AR framework for cognitively impaired users, and immersive multi-modal output for virtual environments.
Teaching
Lectures, Projects and Seminars

Supervised Theses

Don't Sweat It!: Exploring Asymmetrical Biometric Feedback in Collaborative Gaming (MA, Shyukryan Karaosmanoglu, 2019)
VRJumping: Exploring Jump-Based Locomotion in Virtual Reality (MA, Christopher Kunder, 2019)
The Impact of Discrete Rotations on Locomotion in VR (BA, Laura Bottner, 2019)
FootVR: Exploring Foot-Controlled Locomotion in Virtual Reality (BA, Anja Schikorr, 2019)
Fall Prevention in VR (BA, Sarah Schaupp, 2019)

Open Topics for Theses

You can find an overview of all available thesis topics on our homepage.

 

If you are interested in writing a thesis, please send me an email or drop by my office. Possible topics could be:

Haptic feedback in AR/VR
Integration of biometric signals for VR environments
Transition between virtual and physical reality

Completed Theses

Intergration of vibro-tactile, thermal, and EMS actuators into a virtual reality head-mounted display for increased immersion (MA, Leo Hnatek, 2017)
Exploring Hand-Tracking and Smartwatch-Based Pointing in Virtual Reality (MA, Suhasaleem Holalkere, 2018)
An Augmented Reality Framework for Assisted Activities in Dementia Therapy (MA, Daniel Besserer, 2018)
C-AR: Improving Situational Awareness for Automated Driving Level 3 through Multi-User Augmented Reality Interaction (MA, David Klein, 2018)
Adaptive AR Interfaces Via EEG (BA, Tobias Wagner, 2019)
An In-Depth Evaluation of and Compensation for the Heisenberg Effect (BA, Marco Combosch, 2019)
An Evaluation of Path Visualization and Positional Tracking for the Purpose of Indoor Navigation Using the HoloLens and Bluetooth Low Energy Beacons (BA, Linus Hunziger)
Scientific Activities
Conference Reviewer: CHI '17, '18, '19, MobileHCI '18, PerDis '17, GI '19
Conference Presenter: IEEE VR '18, UIST '18