Hydrid-Gasphasenepitaxie von GaN
Die Hydrid-Gasphasenepitaxie zeichnet sich durch vergleichsweise große Wachstumsraten von einigen 100 µm/h aus. Hiermit lassen sich deshalb recht einfach GaN-Schichten von Dicken im mm-Bereich abscheiden. Unsere aktuellen Forschungen haben zum Ziel, die Qualität solcher dicken Schichten zu steigern und Fragen zur Dotierung zu klären. Neben Untersuchungen zu konventionell in c-Richtung orientierten Schichten beschäftigen wir uns auch mit semipolaren Wachstumsrichtungen.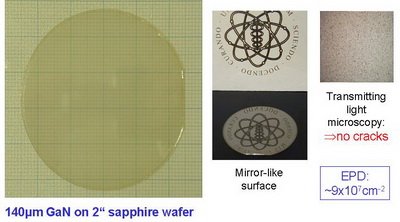 Find more:
M. Klein, T. Meisch, F. Lipski and F. Scholz;
The influence of prestrained metalorganic vapor phase epitaxial gallium-nitride templates on hydride vapor phase epitaxial growthApplied Physics Letter 105, 092109-1-4 (2014) (link)

Ferdinand Scholz, Peter Brückner, Frank Habel, Matthias Peter, Klaus Köhler; Improved GaN layer morphology by hydride vapor phase epitaxy on misoriented Al2O3 wafers; Appl. Phys. Lett. 87 (2005) 181902.
Institut für Funktionelle Nanosysteme
Albert-Einstein-Allee 45
89081 Ulm
Raum: 45.4.204
Telefon: +49 (0)731 50 26052
Telefax: +49 (0)731 50 26049