Academic appointments:
Since August 2016: postdoctoral researcher, Department of Appl. Cognitive Psychology, Ulm University.
2013–2016: Postdoctoral Researcher, Department of Cognitive Neuroscience & Cognitive Interaction Technology – Center of Excellence, University of Bielefeld, Germany.
2011: Visiting research scientist Université Claude Bernard Lyon I, INSERM U864, Espace et Action, Bron, France.
Education:
2013: PhD in Experimental Psychology, Linguistics and Cognitive Neuroscience, University of Milano-Bicocca, Italy.
2008: Master in Psychology (subject area: Adult and Elderly Neuropsychology), University of Milano-Bicocca, Italy.
2006: Bachelor in Psychology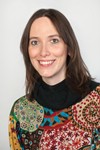 Irene Senna
Wissenschaftliche Mitarbeiterin
✉ Irene Senna
☎ +49-(0)731/50 32052
℻ +49-(0)731/50 32051
Π 43.2.208
Sprechzeiten
nach Vereinbarung
Irene Senna´s research focuses on the role of experience and prior knowledge in influencing–when combined with incoming sensory information–action coding, perceptual decisions, and motor behaviour.
In particular, Irene Senna investigates:
Visual and auditory motion perception
Development of action understanding and multisensory body perception throughout the life span
The influence of altered and augmented visual and auditory feedback in motor learning in real and virtual environments

The research in the Appl. Cognitive Psychology group will focus on the development of vision, multisensory integration, and sensory-motor learning in newly-sighted individuals (i.e., following late emergency of vision from congenital blindness after surgery).