Academic appointments:
Since February 2021: Postdoctoral researcher, department of Cognitive Applied Psychology, Ulm university.
April 2020 - February 2021: Postdoctoral Researcher, Department of Automation, Biocybernetics and Robotics, Neuromechancis and biorobotics lab, Jozef Stefan Institute, Ljubljana, Slovenia.
Education:
2020: PhD in Biomechanics and Motor control, Jozef Stefan Postgraduate School Ljubljana, Slovenia.
2007: Master's degree in Physical education and Sports training, Faculty of Sport, University of Ljubljana, Slovenia.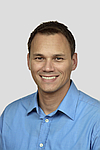 Jernej Čamernik
Wissenschaftlicher Mitarbeiter
✉ Jernej Čamernik
☎ +49-(0)731/50 32055
Π 41.3.112
Sprechzeiten
nach Vereinbarung
Jernej Camernik's research interest is in motor control and adaptation in dynamically changing environments, especially in scenarios of human-human physical interactions during collaborative tasks.
His research in the Applied Cognitive Psychology group is primarily focused on physical interactions between humans in crowds with an aim to decipher how these interactions affect crowd behaviour.