Dr. Dana Schultchen, née Fischer, works as a research associate in the Department of Clinical and Health Psychology at Ulm University. In her PhD, she investigated opportunities to change interoceptive processes in the context of prevention and intervention. Furthermore, she focuses on mobile-based measurements of diverse health parameters as well as on the development and evaluation of mobile- and web-based interventions. In 2018, she spent a 4-month research stay at La Trobe University in Melbourne.
Since April 2019, Dana Schultchen is responsible for the project of Accelerate! SÜD. One part in this project is the implementation of the course "Founder's Garage" in which students work on their own projects, develop and evaluate their ideas and apply them in a business model. In 2019, she and her colleagues Dr. Andrea Wirmer and Benedikt Bill received an teaching award for the best course concept at Ulm University in 2019.
Moreover, she is employed as a lecturer at the International School of Management and the University of Applied Science for Economics and Management in Munich, focusing on health promotion and scientific methods. Within her employment at Karrierecoach Munich, she offers seminars on the topics of stress, time- and self-management and application processes.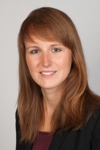 Dr. Dana Schultchen, née Fischer
Research Assistant
✉ Dana Schultchen
☎ +49-(0)731/50 31734
℻ +49-(0)731/50 31739
Π 45.3.105
Consultation hours
on appointment
Area of research: health and prevention
Health promotion and prevention measures regarding physical activity and exercise, healthy diet, mindfulness (especially body scan, mindfulness-based stress reduction, yoga) and interoceptive processes

Area of research: Mobile- and web-based interventions
Development and evaluation of health-related apps and web-based interventions to promote mindfulness and reduce stress experience

Methodical areas of research
Measuring of peripheral physiological and biological parameters: respiration, heartrate variability, electrodermal activity (EDA), hair cortisol and DHEA; activity parameters: standard resting metabolic rate, activity metabolic rate, metabolic equivalent
Since 04/2019
Project coordination of Accelerate! SÜD
Since 10/2017
Teaching at the FOM (University of Applied Sciences for Economics and Management), Munich
Since 09/2016
Teaching at the International School of Management GmbH, Munich
Since 10/2014
Research associate at the Department of Clinical and Health Psychology, Institute of Psychology and Education, Ulm University
Since 10/2014
Freelance employee at Karrierecoach Munich
07/2018 - 10/2018
Research stay at La Trobe University Melbourne, Australia
04/2018 - 09/2018
Substitute lecturer at the Department of Work and Organizational Psychology, Institute of Psychology and Education, Ulm University
2016
Research funding "Peer-Mentoring Team-Programm" (line A) of the German Psychology Society (DGPs, Health Psychology) with Julia Reichenberger (University of Salzburg)
10/2012 - 09/2014

M. Sc. Psychology (focus on clinical- and work and organizational psychology), Ulm University

Topic of the master thesis: "The association of different health parameters in obese children and adolescents compared to those of normal weight"

12/2012 - 09/2014

Student assistant in the Department of Health Psychology, Institute of Psychology and Education, Ulm University

10/2009 - 09/2012
B. Sc. Health Psychology, SRH Fachhochschule für Gesundheit in Gera
Internship and Student Work
| | |
| --- | --- |
| 08/2013 - 06/2014 | Internship and freelancer at "Karrierecoach München" (focus on human resource management), Munich |
| 08/2012 - 09/2012 | Research internship in the Department of Preventive Pediatrics, Technical University of Munich |
| 10/2011 - 03/2012 | Research internship in the Department of Sports and Exercise Psychology, University of Potsdam |
| 05/2011 - 12/2013 | Student assistant in the Federal Centre for Health Education within the scope of the campaign "ALKOHOL? Kenn dein Limit", Cologne |
| 06/2009 - 09/2009 | Internship at the "Asklepios Fachklinik" (station: psychosomatic disorders), Lübben |
Winter Semester 2020/2021
Seminar "Workplace health promotion" (Master, Ulm University)
Seminar "Founder's Garage" (Master, Ulm University)
Summer Semester 2020
Seminar "Prevention in the context of binge drinking, alcohol abuse and dependency" (Master, Ulm University)
Seminar "Founder's Garage" (Master, Ulm University)
Winter Semester 2019/2020
Seminar "Founder's Garage" (Master, interdisciplinary, Ulm University, Award: Good Practice in teaching)
Seminar "Fields of application and prevention projects in the area of Health Psychologie" (Master, interdisciplinary, Ulm University, Award: Good Practice in teaching)
Seminar "Workplace health promotion" (Bachelor, International School of Management GmbH)
Lecture "Work- and Health Psychology" (Master, International School of Management)
Summer Semester 2019
Service Learning seminar "Service Learning: Binge Drinking in adolescence" (Master, Ulm University; cooperation with the city of Ulm, Caritas Ulm, and Federal Centre for Health Education
Lecture "Questionnaire design" (Bachelor, International School of Management)
Lecture "Workplace health promotion, focus on stress diagnostics and management" (Master, International School of Management)
Winter Semester 2018/2019
Empirical-experimental internship "Evaluation of health-related apps" (Bachelor, Ulm University)
Seminar "Occupational health management" (Master, Ulm University)
Seminar "Workplace health promotion" (Bachelor, International School of Management)
Summer Semester 2018
Seminar "Workplace health promotion" (Bachelor, Ulm University)
Service Learning seminar "Service Learning: Binge Drinking in adolescence" (Master, Ulm University; cooperation with the city of Ulm, Caritas Ulm, and Federal Centre for Health Education)
Lecture "Diagnostics in the context of HR" (Bachelor, FOM München)
Empirical research project "The Influence of product placement Instagram vs. Facebook" (Bachelor, International School of Management)
Lecture "Questionnaire design" (Bachelor, International School of Management)
Lecture "Workplace health promotion, focus on stress diagnostics and management" (Master, International School of Management)
Winter Semester 2017/2018
Seminar "Workplace health promotion" (Bachelor, International School of Management GmbH)
Empirical-experimental internship "The influence of PayPal on consumers" (Bachelor, International School of Management GmbH)
Lecture "Health Psychology" (Bachelor, FOM München)
Seminar "Training of self- and time-management: How to successfully and effectively master the studies" (Bachelor & Master, Heilbronn University of Applied Sciences)
Summer Semester 2017
Leading the colloquium of the Department Clinical and Health Psychology including a journal club (Bachelor and Master, Ulm University)
Service Learning seminar: "Service Learning: Binge Drinking in adolescence" (Master, Ulm University; Cooperation with the city of Ulm, Caritas Ulm, and Federal Centre for Health Education)
Lecture "Questionnaire design" (Bachelor, International School of Management)
Lecture "Stress diagnostics and prevention" (Master, International School of Management)
Seminar "Time-, stress- and self-management" (Bachelor & Master, Aalen University)
Seminar "Strategies to implement work-life balance" (Bachelor & Master, Aalen University)
Seminar "Scientific research" (Bachelor, Deggendorf Institute of Technology)
Winter Semester 2016/2017
Seminar "Development of a prevention program to increase physical activity in youth" (Master, Ulm University)
Seminar "Workplace health promotion" (Bachelor, International School of Management GmbH)
Winter Semester 2015/2016
Seminar "Stress prevention" (Master, Ulm University)
Empirical-experimental internship "Interoception and physical activity" (Bachelor, Ulm University)
Summer Semester 2015
Seminar "Sports Psychological basics and methods" (Master, Ulm University)
Winter Semester 2014/2015
Seminar "Behaviour-therapeutic techniques and prevention of mental disorders" (Master, Ulm University)
Member of the following scientific communities
Deutsche Gesellschaft für Psychologie (DGPs), sections Health and Sport and Exercise Psychology