MitO2Health
Biological mechanisms of depression and their significance for the success of therapy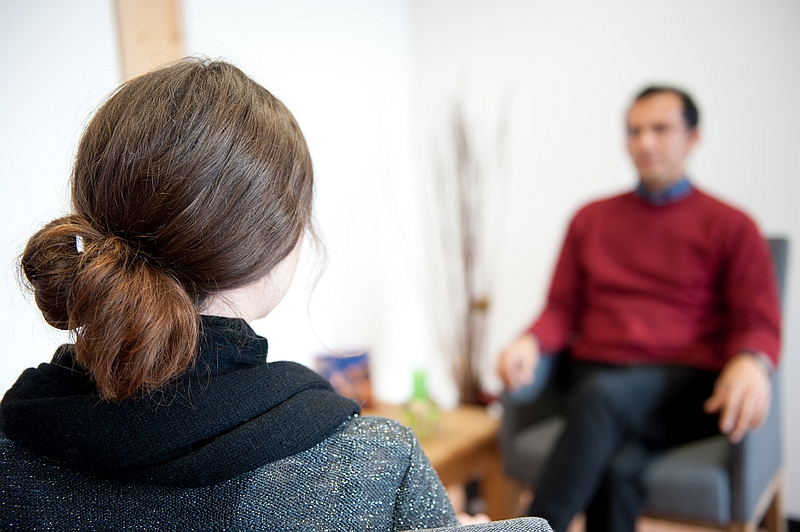 Welcome to the webpage of the study "MitO2Health". Here you will find some information about the content and procedure of the study, our research interests and relevant information for interested parties. If you have any questions, please feel free to contact us by e-mail at mito2health@uni-ulm.de.
Project management and team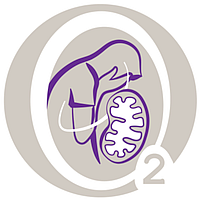 Project management
Prof. Dr. Iris-Tatjana Kolassa
Therapeutic management
Dr. Roberto Rojas
Project coordination
Dr. Dipl.-Psych. Alexander Behnke
Laboratory management
Dr. M.Sc. Matthias Mack
Team
M.Sc.-Psych. R. Nehir Mavioglu
M.Sc.-Psych. Madlaina Kaupp
MitO2Health is funded by the European Research Council (ERC) until 2025. The aim of the study is to investigate biological mechanisms that influence the development and treatment of Major Depression.
Stressful life events or conditions can lead to certain changes in the brain as well the body, which can result in Major Depressive Disorder (MDD). It has been previously reported that MDD might be linked with decreased energy production in mitochondria (the powerhouses of our cells), increased immune system activation, and oxidative stress in the body. Several oxygen-transport and oxygen-supply-related biomarkers were also individually associated with MDD. However, there is no single reliable biomarker for MDD currently available, and this affirms the necessity to discover reliable biomarkers to gain robust knowledge about MDD. Moreover, antidepressant medications and psychotherapy which are main treatment approaches for MDD are not always successful. Therefore, the knowledge derived from MitO2Health has the potential to significantly contribute to improve diagnosis as well as to innovate treatment approaches. In MitO2Health, we will assess the clinical and biological status of individuals with MDD receiving cognitive behavioral therapy (CBT) in comparison to patients in a waitlist group as well as healthy controls. Individual differences in MDD symptoms as well as differences in individuals' lifestyles and traumatic/stressful life event history are responsible factors concerning the unsuccessful history of biomarker hunting. To overcome this situation, we will carefully assess participants for their different MDD symptoms, lifestyle factors such as exercise and diet, and possible stressful events throughout life. Results of this project will help in the long run to better understand and treat the disorder.
What is the course of the study?
The study includes four time points over the course of approximately two years. After an initial screening on the phone, we will invite the participants to the Psychotherapeutic University Outpatient Clinic at the University of Ulm. Experienced clinical staff will conduct a comprehensive psychological diagnosis. Depressed participants (N= 200) will be randomly assigned to either be part of the treatment group and immediately receive CBT. Alternatively, they will become part of the waiting list group and also receive 8 months of CBT after an 8-month waiting period. A healthy control group (N= 100) without current psychological disorders will also be recruited.
In order to examine the long-term effects of the treatment (stability and relapse), participants will be invited to one or two additional assessment appointments after the end of the therapy. As shown in the diagram below, there will be a total of 4 examinations, each 8 months apart.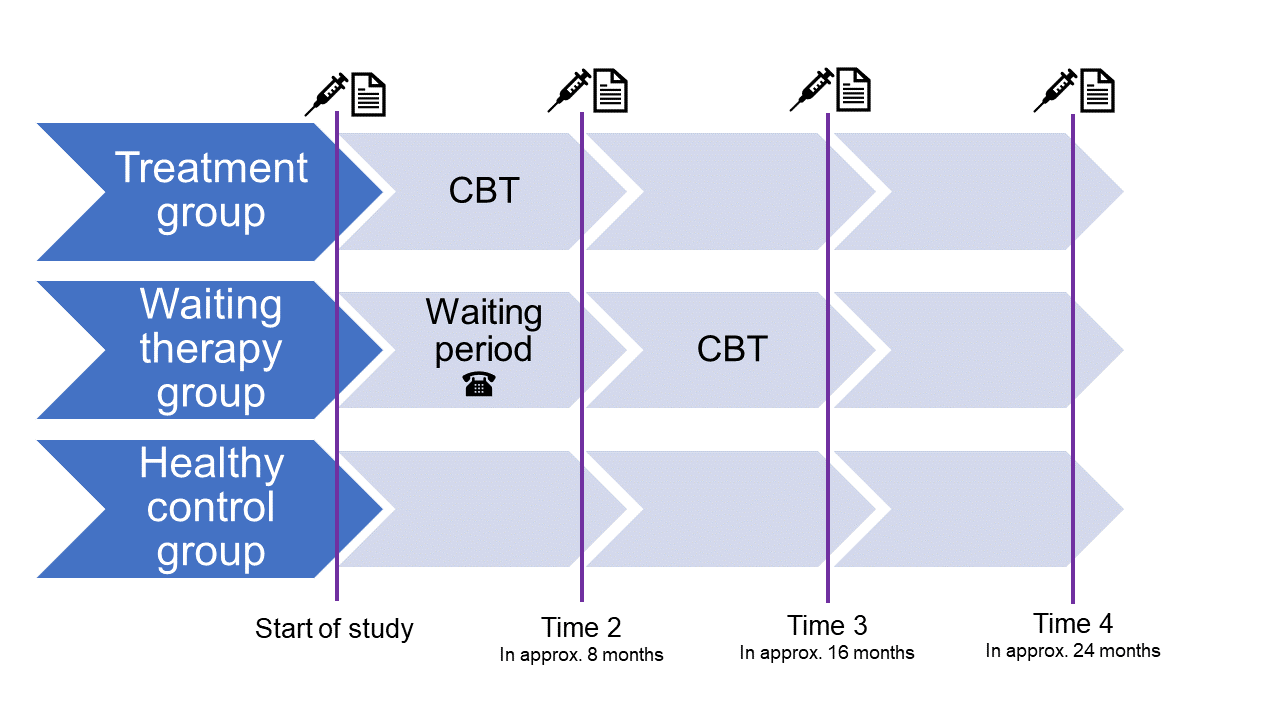 At each examination, experienced staff will use interviews and questionnaires to assess participants' psychological and physical condition (including fitness and nutrition), as well as the history of stressful life events. At each time point, blood will be collected from participants to measure the oxygen and energy supply as well as immunological parameters.
If you are interested in our study or have any questions about it, please feel free to reach us by phone at by email at mito2health@uni-ulm.de.