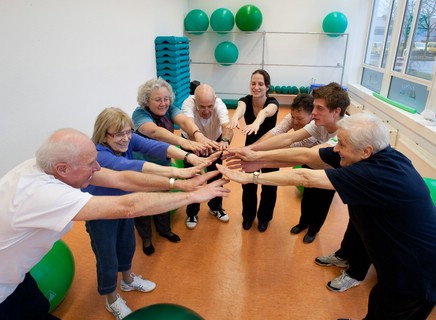 Lifestyle and neurocognitive health
Due to our societies' increasing aging, the development of early diagnostic methods of pathological aging processes such as Alzheimer's dementia (AD) in combination with establishing primary and secondary preventive neuroplasticity-based intervention measures is of particular scientific interest and of tremendous social importance. An early diagnosis would allow an early and thus probably more successful intervention at a stage where the extent of neuronal damage is still low. An improved understanding of lifestyle factors (diet, physical activity, recreational activities) that slow down the development of neuropathological processes in AD helps to delay or possibly even prevent the onset of the disease.
Our project's main objectives are:
development and evaluation of cognitive, physical and nutritional interventions to prevent cognitive decline and dementia in old age
improving the basic understanding of neuroplastic processes in old age and dementia
11/2015-08/2018: Jigsaw Puzzles as Cognitive Enrichment. Ravensburger Spieleverlag GmbH.


06/2009-11/2011 European Commission, Competitiveness and Innovation Framework Programme (CIP), Information Communication Technologies Policy Support Programme (ICT PSP): Long Lasting Memories (LLM), Koordinatoren: Apostolos Vontas, Panagiotis Bamidis.


07/2007-06/2012 Heidelberger Akademie der Wissenschaften (WIN-Kolleg): Neuroplasticity and Immunology in Cognitive Impairment in Old Age. Spokesperson: Dr. Iris-Tatjana Kolassa; project partner Prof. Dr. Christine von Arnim, Experimental Alzheimer Research Group, Department of Neurology, University Hospital Ulm; Dr. Marilena Manea, Analytical Chemistry & Biopolymer Structure Analysis, University of Konstanz.
Science-Economy Cooperation Award for Patrick Fissler, Christine von Arnim and Iris-Tatjana Kolass. Read the press release
Fissler, P., Küster, O.C., Laptinskaya, D., Loy, L.S., von Arnim, C.A., Kolassa, I.-T. (2018). Jigsaw puzzling taps multiple cognitive abilities and is a potential protective factor for cognitive aging. Frontiers in Aging Neuroscience, 10:e299. [pdf]


Küster, O.C., Laptinskaya, D., Fissler, P., Schnack, C., Zügel, M., Nold, V., Thurm, F., Pleiner, S., Karabatsiakis, A., von Einem, B., Weydt, P., Liesener, A., Borta, A., Wolf, A., Hengerer, B., Kolassa, I.-T., von Arnim, C.A.F. (2017). Novel blood-based biomarkers of cognition, stress and physical or cognitive training in older adults at risk of dementia: preliminary evidence for a role of BDNF, irisin and the kynurenine pathway. Journal of Alzheimer's Disease, 59, 1097-1111.


Küster, O. C., Fissler, P., Laptinskaya, D., Thurm, F., Scharpf, A., Woll, A., Kolassa, S., Kramer, A. F., Elbert, T., von Arnim, C. A. F., Kolassa, I.-T. (2016). Cognitive change is more positively associated with an active lifestyle than with training interventions in older adults at risk of dementia: a controlled interventional clinical trial. BMC Psychiatry, 16(1), 315. [pdf]


Bamidis PD*, Fissler P*, Papageorgiou SG*, Zilidou V, Konstantinidis EI, Billis AS, Romanopoulou E, Karagianni M, Beratis I, Tsapanou A, Tsilikopoulou G, Grigoriadou E, Ladas A, Kyrillidou A, Tsolaki A, Frantzidis C, Sidiropoulos E, Siountas A, Matsi S, Papatriantafyllou J, Margioti E, Nika A, Schlee W, Elbert T, Tsolaki M, Vivas AB and Kolassa I (2015). Gains in cognition through combined cognitive and physical training: the role of training dosage and severity of neurocognitive disorder. Frontiers in Aging Neuroscience. 7:152. doi:10.3389/fnagi.2015.00152 [pdf]