M.Sc. Laura Ramo Fernández
Laura Ramo Fernández studied Biology from 2007-2012, in the Complutense University in Madrid, Spain, and the Charles University of Prague, Czech Republic, having specialized in Genetics and Biotechnology. Since 2014 she is working as a research assistant and doing her PhD studies at the department of Clinical & Biological Psychology.
Contact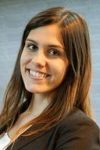 Laura Ramo Fernández
doctoral candidate
✉ Laura Ramo Fernández
☎ +49-(0)731/50 26594
℻ +49-(0)731/50 26599
Π 47.2.407
Consultation hours
on appointment
Research Interests
Influence of early life stress and trauma in the epigenetic regulation and modulation of the expression of stress-related genes.
Transgenerational effects of psychological stress and trauma through epigenetic mechanisms.
Investigation of the biological aging correlates in patients with Borderline Personality Disorder.
Projects
My Childhood - your Childhood
The project is funded by the German Federal Ministry of Education and Research (BMBF).
It investigates the biological effects of mother´s experiences during their own childhood on the mother-child relationship.
Teaching
SS2017: Molecular psychology (BSc Seminar)
SS2017: Biomolecular systems of psychiatric disorders (MSc Seminar)
SS 2016: Biomolekulare Systeme psychiatrischer Störungen (MSc Seminar)
WS 2015/2016: Biomolekulare Systeme in ihrem Anwendungsbezug für Klinische Störungen (MSc Seminar)
SS 2015: Biologische Grundlagen psychischer Störungen (MSc Seminar)
Awards
09/2016 Travel Award, International Society of Psychoneuroendocrinology (ISPNE)
Publications
Ramo-Fernandez, L., Boeck, C., Koenig, A., Schury, K., Binder, E.B., Gündel, H., Fegert, J.M., Karabatsiakis, A., Kolassa, I.-T. (in press). The effects of childhood maltreatment on epigenetic regulation of stress-response associated genes: an intergenerational approach. Scientific Reports.
Ramo-Fernandez, L., Schneider, A., Wilker, S., & Kolassa, I-T. (2015). Epigenetic Alterations Associated with War Trauma and Childhood Maltreatment. Behavioral Science and the Law, 33, 701-721.
Conference contributions
Ramo-Fernández, L., Geiger, M., Boeck, C., Koenig, A., Katharina Schury, K., Alexander Karabatsiakis, A., Stephan Kolassa, S., Iris-Tatjana Kolassa, I-T. (2016). Investigating the link between child maltreatment and inflammation: the effects of steroid hormones on cytokine secretion of peripheral blood mononuclear cells ex vivo. 46th International Society of Psychoneuroendocrinology (ISPNE) Conference, Miami, Florida, USA

Karabatsiakis, A., Ramo-Fernández, L., Krause, S., Koenig, A., Boeck, C., Waller, C., Gündel, H., Kolassa, I-T. (2016). DNA methylation profiling of stress-related genes in mothers with childhood maltreatment experiences and their infants. 5th German Health Research Meetingon Behavioural Disorders Related toViolence, Neglect, Maltreatment, and Abuse in Childhood and Adolescence, Mannheim, Germany