International Week: Wege ins Ausland
Termine 2022
Sommersemester:
2. - 6. Mai 2022
Wintersemester:
21. - 25. November 2022
Moodle-Kurs "Wege ins Ausland"
Links zu den Vorträgen der International Week finden Sie demnächst in unserem Moodle-Kurs (Selbsteinschreibung):
Ein Auslandssemester oder ein Auslandspraktikum? Die Masterarbeit im Ausland schreiben? An einer Partnerhochschule oder auf eigene Faust? Wann ist der richtige Zeitpunkt? Und wofür gibt es Stipendien? Wobei kann das International Office mich unterstützen und was muss ich konkret tun, um mich zu bewerben?

Auf diese und viele andere Fragen wollen wir im Rahmen der International Week Antworten geben. Damit wollen wir Sie für die vielen Möglichkeiten sensibilisieren, die Ihnen offenstehen, damit Sie Ihre Chance ergreifen und rechtzeitig alles Nötige dafür tun können.
Im Rahmen von der International Week bieten wir Präsenz-, Online- sowie Hybrid-Events an. Weitere Informationen wie auch den ZOOM-Link zu den Online-Veranstaltungen finden Sie in unseren Moodle-Kurs "Wege ins Ausland", in den Sie sich ab sofort selbst einschreiben können.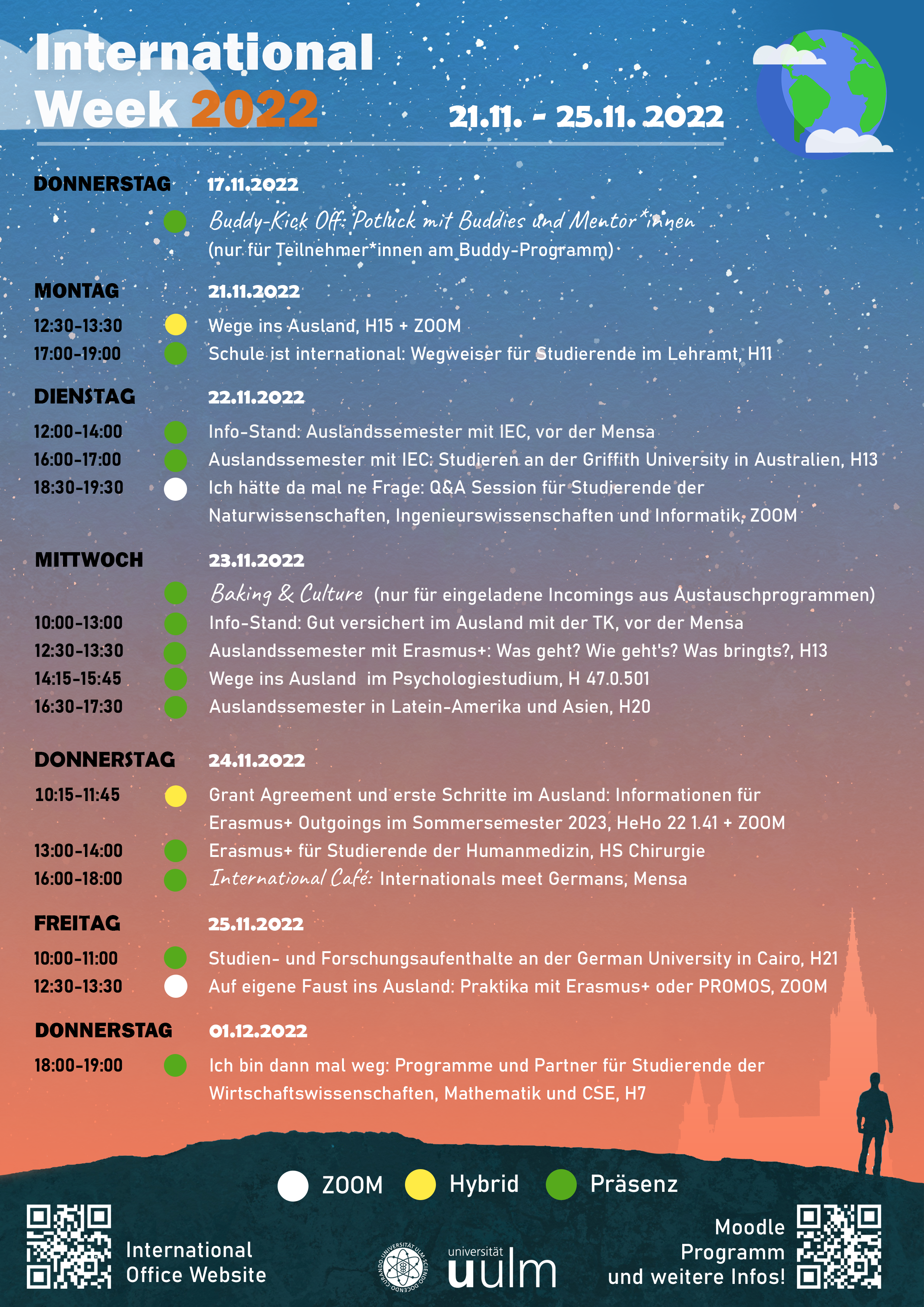 Natürlich kann niemand vorhersagen, wie sich die COVID-19 Pandemie weiter entwickeln wird. Es ist möglich, dass auch im nächsten Jahr unsere Partnerhochschulen den Austausch kurzfristig absagen, oder dass neue Ein- bzw. Ausreisebeschränkungen die Mobilität verhindern. Es ist wahrscheinlich, dass das Studium an der Partnerhochschule ganz oder teilweise online durchgeführt werden kann. Wir sprechen hier von einer virtuellen Mobilität (virtual mobility) oder einer gemischten Mobilität (blended mobility), wenn das Auslandsstudium teilweise im Präsenzmodus an der Gasthochschule, teils virtuell von zuhause aus absolviert wird.
Aber auch wenn diese Bedingungen sich kurzfristig ändern können, ist es nicht möglich, das Bewerbungs- und Auswahlverfahren kurzfristig durchzuführen, weil zu der Vorbereitung eines Auslandssemester viele Abläufe und Arbeitsschritte gehören, die einfach einen bestimmten zeitlichen Vorlauf erfordern. Wir werden daher das Bewerbungs- und Auswahlverfahren für das akademische Jahr 2022/23 in gewohnter Weise durchführen. Die Nominierung für einen Platz in einem Austausch- oder Stipendienprogramm steht allerdings immer unter dem Vorbehalt der aktuellen Lage der COVID-19 Pandemie zum geplanten Zeitraum des Auslandsaufenthalts.
Es gilt: Prepare for the worst, but hope for the best.
Bewerbungstermine ab 2022
15. Januar
Erasmus+ SMS: 'Regular' | Aufenthalte ab Herbst im selben Jahr
Übersee: Aufenthalte ab August/September
PROMOS-Stipendien: selbstorganisierte Aufenthalte ab Januar des selben Jahres
15. Mai
Erasmus+ SMS: 'Last Minute' | Aufenthalte ab Januar des nächsten Jahres
Übersee: Aufenthalte ab Januar des nächsten Jahres
PROMOS-Stipendien: selbstorganisierte Aufenthalte ab Mai des selben Jahres
15. Oktober