Central-Core and Multi-Minicore Myopathy
Central core disease (CCD) is a congenital myopathy clinically characterized by muscle hypotrophy and weakness and a floppy infant syndrome, often alongside other skeletal abnormalities such as hip displacement and scoliosis. The clinical severity of CCD and the number of cores can vary with age: there is also variability between and within families. The serum CK is normal or mildly elevated. Pathognomonic is the abundance of central cores devoid of oxidative enzyme activity along the predominant type 1 muscle fibers. Usually the mode of inheritance is dominant. The disease is caused by mutations in mutations in the C-terminal region of the ryanodine receptor RyR1 of skeletal muscle which is located in the membrane of the sarcoplasmic reticulum (SR). Some mutations decrease the open probability of the RYR1 channel so that it loses the ability to release calcium from the SR, thereby causing muscle weakness. Other mutations increase the open probability of the RYR1 channel, leading to depleted SR calcium stores and weakness.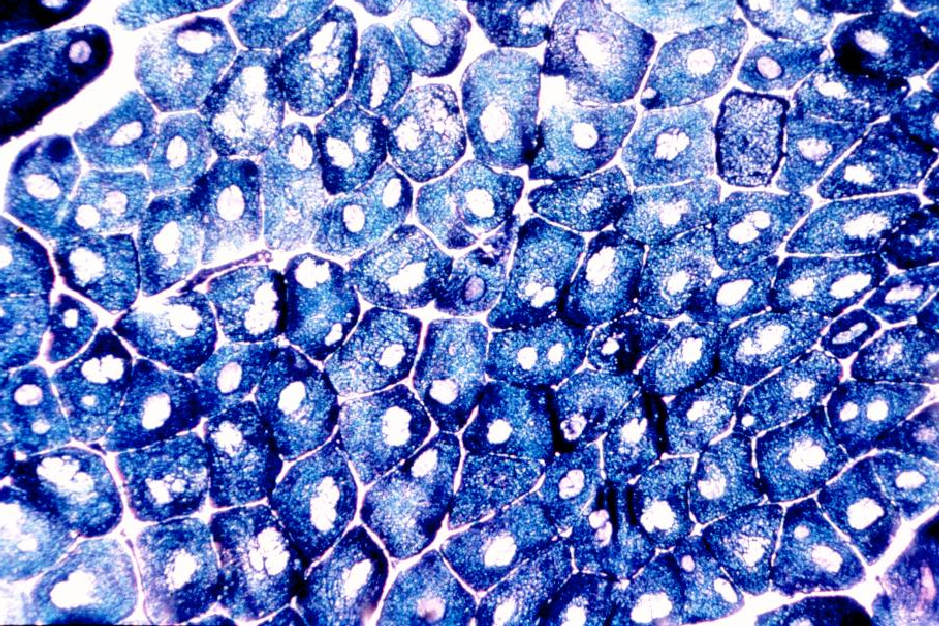 Multiminicore disease (MmD) is considered a recessively inherited congenital myopathy with a pattern of weakness that differs from central core disease in that there is often severe axial involvement, while respiratory, bulbar and extra-ocular muscles are commonly affected. As with CCD, the condition is stable or minimally progressive, and the serum CK is normal or only mildly elevated. MmD is characterized by cores lacking oxidative enzyme activity on histochemical analysis. However, in contrast to CCD the cores in MmD are usually multiple, are poorly defined and do not extend along the axis of the fiber. Of the four clinical subtypes of MmD, the moderate form is a channelopathy. It presents with generalized muscle weakness that affects predominantly the pelvic girdle and may lead to scoliosis. This form can involve the hand muscles and lead to amyotrophy and muscle hyperlaxity. This form and another one, associated with ophthalmoplegia, are most often associated with RYR1 variants.