Paramyotonia congenita
Myotonias and Paramyotonia
Myotonia is an involuntary slowed relaxation after a forceful voluntary muscle contraction experienced by the patient as muscle stiffness. For example: After making a forceful fist closure the patient is unable to open the hand immediately.

Situations requiring rapid motor control may provoke severe generalized stiffness causing the patient to fall to the ground without being able to protect themselves, and this may result in serious injury or an unconscious state if the head is involved.

Electrical hyper-excitability of the muscle fiber membrane is the basis of myotonia which is apparent in the form of repetitive action potentials in an EMG. Needle insertions in the resting muscle elicit myotonic bursts, i.e. bursts of action potentials with amplitude and frequency modulation that sound like dive bombers.

In contrast to most muscle diseases, muscle mass is increased (muscle hypertrophy) in myotonia. Mutations in various ion channels which are responsible for the electrical excitability of the muscle fiber membrane are responsible for the prolonged muscle contraction. According to the mutant channels chloride and sodium, specific channel myotonias are distinguished.

The dominant Thomsen myotonia and the much more frequent and usually more severe recessive Becker type are chloride channel myotonias. The sodium channel myotonias are termed potassium-aggravated myotonias. Myotonic stiffness is pronounced by elevated serum potassium, e.g. due to oral ingestion of potassium. Affected individuals may present with exercise-induced muscle cramps.

The sodium channel myotonias occur in various degrees of severity. The mildest type is Myotonia fluctuans, the most severe is Myotonia permanens. The diagnostic test of oral potassium ingestion must not be performed in severe forms because the ventilatory muscles can become so stiff that ventilation is insufficient.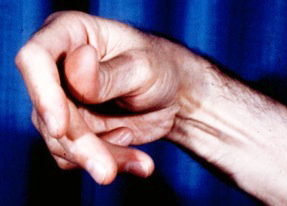 The cardinal symptom of Paramyotonia congenita (Eulenburg disease) is cold-induced muscle stiffness that increases with continued activity (paradoxical myotonia). In the cold (or even in a cool wind), the face may appear mask-like, and the eyes cannot be opened for several seconds or minutes. On intensive cooling, in most families the stiffness gives way to flaccid weakness or even to paralysis. Signs are present at birth and often remain unchanged throughout life.
Also paramyotonia is caused by sodium channel mutations with dominant effects. Families with R1448 substitutions also have episodes of periodic paralysis (see periodic paralyses).

ODYSSO: Myotonia congenita Becker