Research interests
Invasive species ecology
Aquatic ecology
Stable isotope ecology
Freshwater crayfish
Conservation biology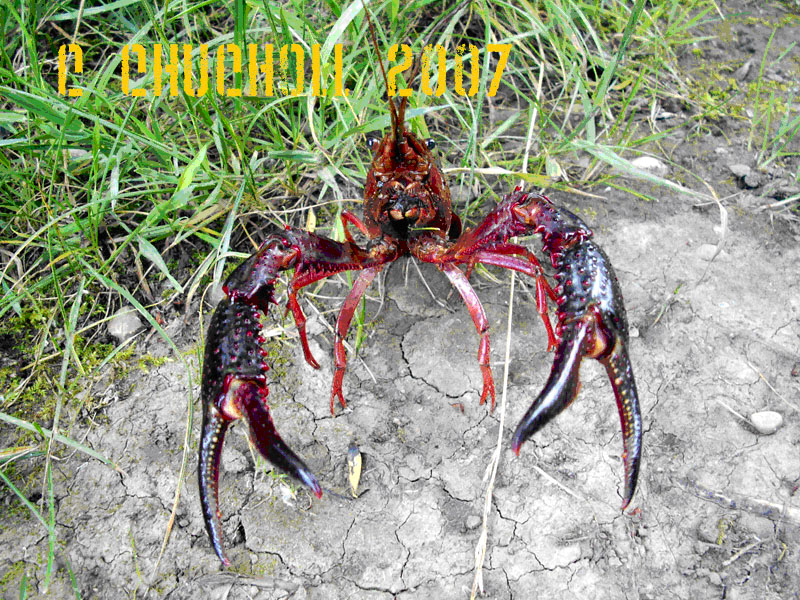 Scientific projects
Freshwater Crayfish (Crustacea: Astacida) are among the largest mobile freshwater invertebrates and of great ecological and economic importance. They often dominate the macro-invertebrate biomass and can have a profound effect on freshwater littoral community structure; they are therefore considered as keystone species. In Central Europe only three species of crayfish are native and these species face competition with 10 invasive species (!). At the present time, the native species were displaced by invasive species from virtually all major water courses and lakes. Despite their prevalence and their presumably significant ecological role, the ecological impact of invasive crayfish species on Central European freshwater ecosystems received surprisingly little attention.
In my PhD project I address the ecological impact of different invasive crayfish species on freshwater littoral communities. By means of field studies (food web analyses), field enclosure experiments and laboratory experiments I intend to gain a comprehensive picture of the ecological role of invasive crayfish in Central Europe. The knowledge of the ecological consequences of invasive species is imperative in order to assess the threat that the `alien´ species pose to native ecosystems.
The PhD-project is funded by the scholarship programme of the Deutsche Bundesstiftung Umwelt (DBU; German Federal Environmental Foundation).
Publications
Chucholl C, Morawetz K, Groß H (2012) The clones are coming – strong increase in Marmorkrebs [Procambarus fallax (Hagen, 1870) f. virginalis] records from Europe Aquatic Invasions 7, in press
Chucholl C (2012) Invaders for sale: trade and determinants of introduction of ornamental freshwater crayfish. Biol Invasions 15:125-141
Chucholl C (2012) Understanding invasion success: life-history traits and feeding habits of the alien crayfish Orconectes immunis (Decapoda, Astacida, Cambaridae). Knowledge and Management of Aquatic Ecosystems 404:1-22, DOI: 10.1051/kmae/2011082
Chucholl C (2011) Population ecology of an alien "warm water" crayfish (Procambarus clarkii) in a new cold habitat. Knowledge and Management of Aquatic Ecosystems 401, DOI: 10.1051/kmae/2011053
Chucholl C (2011) Disjunct distribution pattern of Procambarus clarkii (Crustacea, Decapoda, Astacida, Cambaridae) in an artificial lake system in Southwestern Germany. Aquatic Invasions 6, DOI: 10.3391/ai.2011.6.1
Chucholl C, Pfeiffer M (2010) First evidence for an established Marmorkrebs (Decapoda, Astacida, Cambaridae) population in Southwestern Germany, in syntopic occurrence with Orconectes limosus (Rafinesque, 1817). Aquatic Invasions 5:405-412
Chucholl C, Daudey T (2008) First records of Orconectes juvenilis (Hagen, 1870) in eastern France: update to the species identify of a recently introduced orconectid crayfish (Crustacea: Astacida). Aquatic Invasions 3:105-107
Chucholl C, Stich HB, Maier G (2008) Aggressive interactions and competition for shelter between a recently introduced and an established invasive crayfish: Orconectes immunis vs. O. limosus. Fundamental and Applied Limnology Archiv für Hydrobiologie 172:27-36
</dir></dir>
</dir></dir>
Public outreach
Chucholl C (in press) Der Kaliko Krebs (Orconectes immunis). Journal of the `Forum Flusskrebse´ (german pendant to the International Association of Astacology)
Chucholl C (in press) Neuer Orconectes in Frankreich. Journal of the `Forum Flusskrebse´
Chucholl, C. (2009) The `newcomer´ Orconectes immunis keeps spreading in the Upper Rhine plain. Crayfish News 31(3): 4-5.
Chucholl, C. (2009) Lange unbeachtet, lange unterschätzt: Der Rote Sumpfkrebs bei Ulm. Forum Flusskrebse 12: 23-27.
Chucholl, C. (2009) Flusskrebse bei Ulm. Radio interview provided for SWR 4.
Chucholl C (2007) Flusskrebse in Schwaben. Talk presented at an evening info session to inform local fishery stakeholders about the PhD project, Elchingen, Germany
Chucholl C (2006) Konkurrenz zwischen zwei Neozoen: Mechanismen für die Verdrängung des Kamberkrebses durch den Kalikokrebs. Talk presented at the Institute for lake research (ISF)/ LUBW, Langenargen (Lake Constance), Germany
Chucholl C und Mehling A (2006) Konkurrierende Flusskrebse – eingeführte Flusskrebsarten verdrängen sich gegenseitig. Umweltforschung-Journal 2006 (LUBW)
Chucholl C (1999) Steinkrebse (Austropotamobius torrentium) im Oberlauf des Rheinbachs – Populationskartierung als Grundlage weiterer Untersuchungen. Talk and poster presentation at the `Bundesumweltwettbewerb´ 1999 (a nationwide environmental competition)
Chucholl C (1998) Steinkrebse (Austropotamobium torrentium) im Rheinbach – Bestandsaufnahme und Kartierung. Talk and poster presentation at the `Jugend Forscht´ contest 1998
Conference contributions
Chucholl C (2012) Notorisch gefährdet: Probleme, Strategien und Perspektiven im Artenschutz für Flusskrebse. 23. SVK-Fischereitagung, Fulda, Germany, 05-06.03.2012
Chucholl C (2012) Marmorkrebs gaining ground in Europe: the role of the pet trade as invasion pathway 19th Symposium of the International Association of Astacology, Innsbruck, Austria, August 26 – 31, 2012
Chucholl C (2011) Situation der Flusskrebse in Baden-Württemberg. 5. Internationale Flusskrebstagung, 1.-4.September 2011, Schaffhausen, Schweiz
Chucholl C (2010) Invaders for sale: Does the ornamental freshwater crayfish trade constitute an actual and overlooked risk? . European Crayfish Food, Flagship & Ecosystem Services conference, Poitiers, France, Poster
Chucholl C (2009) Ökologischer Impact von Procambarus clarkii in Süddeutschland. 4th International Crayfishmeeting, Gersfeld/ Rhön, Germany, Vortrag
Chucholl C (2009) Cooled down: Populationsökologie des Roten Sumpfkrebs in Süddeutschland. 4th International Crayfishmeeting, Gersfeld/ Rhön, Germany, Vortrag
Chucholl C, Stich HB, Maier G (2008) Konkurrenz zwischen zwei Neozoen: Verdrängungs-Mechanismen zwischen Kamberkrebs (Orconectes limosus) und Kalikokrebs (O. immunis). annual DGL meeting, Konstanz, Germany, Vortrag
Contact
Institute of Experimental Ecology
University of Ulm
Albert Einstein Allee 11
D 89069 Ulm, Germany
Tel. +49 (0)

731 50 22641

Fax +49 (0)731 50 22683
Office: M25/5, 5202 or O11/1134