Research interests
Freshwater biology
Non-indigenous species, particularly gammarids
Tropical fish (cichlids)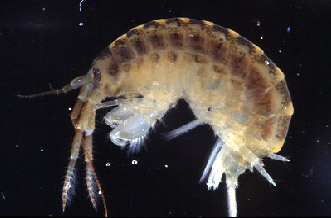 Scientific projects
A major topic in my research is the invasion of ecosystems by non-indigenous species.
The extent of this invasion, however, forced by human activity has increased dramatically in the last decades. In freshwater ecosystems the spread of species beyond their normal range has attained large dimensions. About 15 % of the macrozoobenthon of Central European large streams are believed to be non-indigenous.
Many rivers in Central European have been invaded by gammarids from the mediterranean and/or ponto-kaspian region. In some parts of the rivers Rhein, Donau and Main native gammarids are completely replaced by invasives.
On top of the results of my thesis my PhD-studies focus on factors for the extinktion of native gammarids. Furthermore, the effects of the existence of the invasive species on the native fauna (particularly fish) has to be evaluated.
Publications
Kinzler W, Maier G (2003) Asymmetry in mutual predation: possible reason for the replacement of native gammarids by invasives. Arch Hydrobiol 157:473-481
Contact
Institute of Experimental Ecology
University of Ulm
Albert Einstein Allee 11
D 89069 Ulm, Germany
Tel. +49 (0)

731 50 22661

Fax +49 (0)731 50 22683
Office: M25/5