Research interests
Animal-plant interactions
Ecology and feeding habits of glossophagine bats
Ecology of flower mites phoretic on bats
Pollination ecology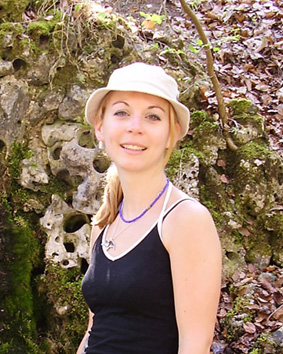 Scientific projects
Flower mites feed exclusively on nectar and pollen. To travel between flowers, these mites use a multiplicity of flower visitors for transport. The best studied interaction is the one between hummingbirds, hummingbird flower mites and their food plants (e.g. Colwell 1973). So far, 70 species are known to obligate inhabit numerous hummingbird pollinated plants (Colwell 2000). In flower visiting mammals, regular transport of flower mites was unknown so far. However, recently flower mites of an undescribed genus of the family Ascidae, were found on flowers of the night blooming palm Calyptrogyne ghiesbreghtiana in Costa Rica and on the pollinating bats (Tschapka & Cunningham 2004). Frugivorous and nectarivorous bats are the most common species visiting flowers of C. ghiesbreghtiana. Although chiropterophily is investigated since the 1950's (e.g. Vogel 1958), phoretic interactions of mites and bats haven't been described previously.
My PhD thesis deals with the ecology of these newly discovered flower mites, resource use, host-plant and carrier specificity, recognition of flowers and vectors, demography on plants and carrier animals, differences to the hummingbird flower mite system and morphological adaptations to their host plants and transport animals.
Publications
Fronhofer EA, Sperr EB, Kreis A, Ayasse M, Poethke HJ, Tschapka M (2013) Picky hitch-hikers: vector choice leads to directed dispersal and fat-tailed kernels in a passively dispersing mite. Oikos 122:1254–1264
Sperr EB, Fronhofer EA, Tschapka M (2009) The Mexican mouse opossum (Marmosa mexicana) as a flower visitor at a neotropical palm. Mammal Biol 74:76-80.
Tschapka M, Sperr EB, Caballero-Martínez LA, Medellin RA (2008) Diet and cranial morphology of Musonycteris harrisoni, a highly specialized nectar-feeding bat in Western Mexico. J Mammal 89(4) 924-932.
Tschapka M, Sperr E, Caballero-Martinez LA, Medellin RA (2004) Ecology of the specialized nectar-feeding bat Musonycteris harrisoni. Bat Research News 45(3) 162-163. (Abstract)
Sperr E, Caballero-Martinez LA, Tschapka M (2004) Pollination of Cleome spinosa: sphingids moths and glossophagine bats. Bat Research News 45(3) 157-158. (Abstract)
Conference contributions
Sperr EB (2009) Colonization, dispersal and extinction: the hard life of bat phoretic flower mites. Talk presented at the Joint Meeting of Association for Tropical Biology and Conservation (ATBC) & Society for Tropical Ecology (gtö), Marburg, 27.-30. July 2009, Marburg
Tschapka M, Sperr E, Caballero Martínez LA, Medellín RA (2006) Ecology of the Banana Bat, Musconycteris harrisonii. Western Mexico North American Symposium on Bat Research, Wilmington, North Carolina, USA
Sperr E (2005) Nahrungswahl von Musonycteris harrisoni in Mexiko. Talk presented at the Arbeitsgruppentreffen der Fledermausforscher, Blaubeuren, Germany
Sperr E, Caballero-Martinez LA, Tschapka M (2004) Pollination of Cleome spinosa: sphingids moths and glossophagine bats. Poster presented at the 13th International Bat Research Conference, Mikolajki, Poland
Contact
Dipl. Biol. Ellen B. Sperr
Institute of Evolutionary Ecology
and Conservation Genomics
University of Ulm
Albert Einstein Allee 11
89069 Ulm
Germany
Tel.: +49 (0)731 50 22661
Fax.: /
Email: ellen.sperr()uni-ulm.de