Thermoregulation
Energetics
Torpid and hibernating mammals (particularly mouse lemurs)
Behavioral ecology
Evolutionary biology
Conservation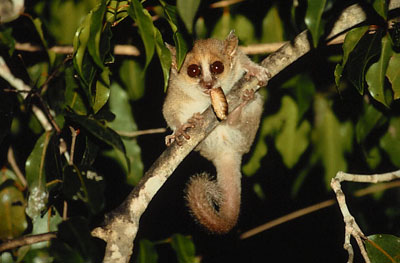 I am carrying out ecophysiological studies on energy metabolism and thermoregulation of small mammals. The energy budget of an animal can provide much insight knowledge into its physiology, ecology, and evolution, particularly while behaving normally in its natural habitat.
In general, I am interested in adaptations of animals to seasonal environments (i.e. fluctuations in climate and resource availability). The most extreme adaptation to cope with seasonal energy shortages and low temperatures is daily and prolonged torpor. The main emphasis of my research is to investigate the pattern of utilisation of torpor and its impact on energy budgets in free-living mouse lemurs (Microcebus spp.), small nocturnal primates endemic to Madagascar.
I combine physiological and behavioral studies and discuss torpor as a multifunctional process within the ecological setting. Geographic variation in life history traits may partly be caused by differences in maintenance metabolism among individuals from different populations. To estimate maintenance costs of individuals in natural populations, I currently investigate energy metabolism of edible dormice (Glis glis) from two populations around Tübingen, Germany. Further investigations with other native, but also tropical, small mammal species are planned. In addition, I am also interested in energy costs of reproduction. Finally, I am involved in conservation planning and biodiversity protection in Madagascar.
PD Dr. Jutta Schmid
Institute of Evolutionary Ecology
and Conservation Genomics
University of Ulm
Albert-Einstein-Allee 11
89081 Ulm
Germany
Email: jutta.schmid()uni-ulm.de