Our cross-disciplinary research program is focused to the development and application of innovative (micro- and nano)analytical platforms providing advanced methods and technologies in sensing, diagnostics, and imaging of complex molecular processes relevant to environmental, industrial, and medical/biological applications.
Furthermore, the IABC operates the Focused Ion Beam Center UUlm, an interdisciplinary facility for micro- and nanofabrication and –characterization.
PhD position Development of Sensor Systems for Continuous Exhaled Breath Diagnostics. Supervisor: B. Mizaikoff. More information.
IABC supports the The 7th Annual Conference of AnalytiX-2019
Time: April 12-14, 2019
Place: Singapore
Website: http://www.bitcongress.com/analytix2019/
Meet us at:
Weekly group meeting: every Tuesday, 9:00-10:00 in O28 room 1002
Interested students are cordially invited to join the group meetings!
Meetings & Conferences:
News:
March 2018: Alexander Przewodnik receives the 2. Poster Award at the CANAS/ESAS meeting in Berlin. Congratulation Alex!
February 2018: The IABC congratulates Andreas Hartmann for his successful PhD defense!
December 2017: The IABC congratulates Bärbel Abt for her successful PhD defense!
October 2017: IABC in der Südwest Presse: Ulmer Forscher entwickeln "Arthrose-Scanner"
October 2017: We congratulate Manuela Gast for receiving the Natural Science Award of the Zonta Club Oberschwaben at castle Ummendorf, Germany!
August 2017: Sven Daboss receives the Poster Award (Third Prize) at the 9th Workshop on Scanning Electrochemical Microscopy and Related Techniques in Warschau, Polen. Congratulation Sven!
Juni 2017: We congratulate Jessica Huber (work Group Leopold) for her successful PhD defense!
May 2017: The IABC congratulates Daniel Neubauer for his successful PhD defense!
May 2017: APOSEMA Projekt im BioPro-Magazin: "Smarte Ulmer Messtechnologie kann nicht nur Atemgas analysieren" (Seite 18).
April 2017: The latest research on "Sizing gold nanoparticles using graphite furnace atomic absorption spectrometry" is featured on the Cover of JAAS (Leopold et al., J. Anal. At. Spectrom. 32 (2017) 723–730).
April 2017: The IABC congratulates Markus Sieger for his successful PhD defense!
April 2017: Das IABC gratuliert Prof. Ballschmidter (Emeritus Analytische Chemie Ulm) zur Verleihung der Clemens-Winkler Medaille für seinen jahrelangen persönlichen Einsatz für die Analytische Chemie.
Februar 2017: Tamina Schneider has been awarded a scholarship by Studienstiftung des deutschen Volkes. Congratulation Tamina!
Room: O26 327
Director
Room: N26 332
Deputy Director
Room: O26 329
(Administrative Assistant)
Room: O26/326
Phone: +49-731-50-22751
Fax: +49-731-50-22763
office email

Office Hours:
Mo - Fr 9 a.m. till 16 p.m.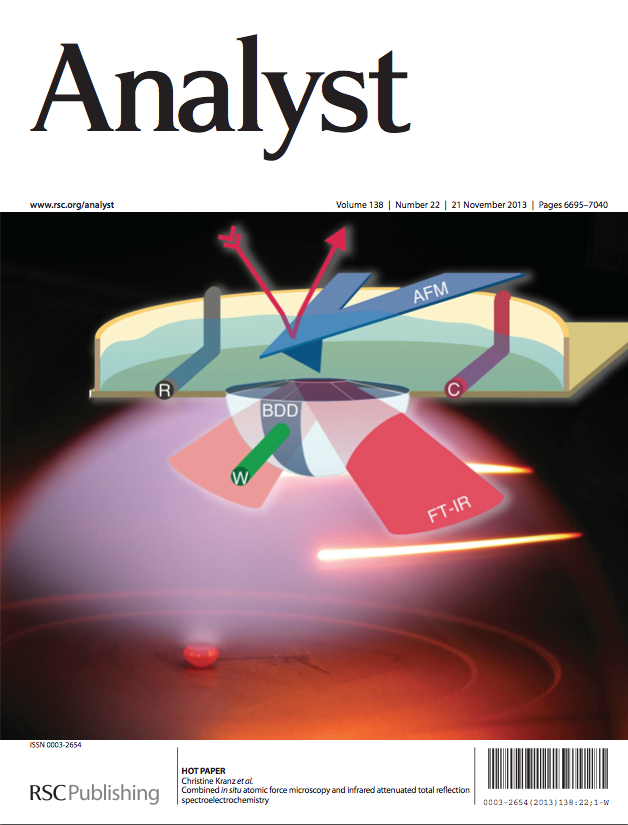 Professor Dr. Boris Mizaikoff
Associate Editor for Europe, Analyst