Lehrangebot des Fachbereichs Physik WS 22/23
Die Lehrveranstaltungen des Wintersemesters beginnen ab dem 17.10.2022 und finden zum großen Teil in Präsenz statt.
Zur Durchführung der Lehrveranstaltungen werden über die E-Learning-Plattform Moodle Informationen, Lernmaterialien und Tools zur Verfügung gestellt. Die Anmeldung zu den Veranstaltungen ist ab Verfügbarkeit der Moodle-Kurse in der Regel durch Selbsteinschreibung möglich. Die Moodle-Kurse sind mit dem Vorlesungsverzeichnis verlinkt, können aber auch direkt in Moodle gesucht werden.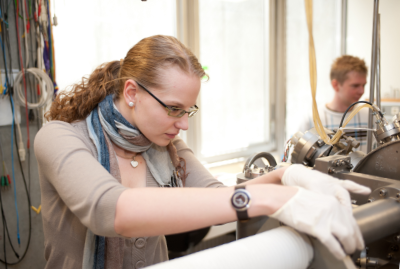 Wahlveranstaltungen und Seminare WS 22/23
Nachfolgend sind die Wahlveranstaltungen und Hauptseminare aufgelistet. Sie dienen der Spezialisierung, Vertiefung und Verbreiterung Ihrer Kenntnisse und Fertigkeiten. In der Regel sind spezifische Vorkenntnisse erforderlich, um diese Lehrveranstaltungen erfolgreich und gewinnbringend zu hören.
Biophysics and Soft Matter Physics
PHYS5117.0
Biophysics: Fundamental Methods
Lecturer:
Prof. Jens Michaelis
Course type:
lecture (4 hours/week), seminar, lab
Cycle:
each winter semester
Language:
English
Module
76025 Biophysics: Fundamental / Biophysik: Grundlagen
Credits:
6 CP
Examination:
written or oral, 16025 Biophysics: Fundamentals
Precourse:
yes, 16525 Biophysics: Fundamentals (Precourse)
Remark:

Basis for

Biophysics: Gene Expression
Biophysics: Molecular Motors
Biophysics: Cellular Biophysics

Attention: "71164 Soft Matter Physics and Biophysics" (SS) and "76025 Biophysics: Fundamentals" (WS) are introductory courses into biophysics with similar content. Only one of them can be credited in the degree programme.
PHYS5128.0
Molecular Motors / Molekulare Motoren
Lecturer:
Prof. C. Gebhardt
Course type:
Lecture (2 hours/week)
Cycle:
each Winter Semester
Language:
English
Module:
74003 Molecular Motors / Molekulare Motoren
72234 Biophysics: Molecular Motors / Biophysik: Molekulare Motoren
Credits:
3 CP (74003)
6 CP (72234)
Examination:
Written test
Remark:

For module "72234 Biophysics: Molecular Motors" two parts are necessary:
Part I: PHYS5128.0 Molecular Motors
Part II: PHYS5148.0 Biophysics Lab II
Condensed Matter Physics and Nanosciences
Econophysics
PHYS5407.0
Econophysics: Fundamentals /
Ökonophysik: Grundlagen
Lecturer:
PD Dr. Jürgen Stockburger
Course type:
lecture with exercises (5 hours/week)
Cycle:
winter semester 22/23, summer semester 2024
Language:
English
Module
71447 Econophysics: Fundamentals/
Ökonophysik: Grundlagen
Credits:
6 CP
Examination:
written, 11990 Ökonophysik: Grundlagen
Precourse:
yes, 11991 Ökonophysik: Grundlagen (Vorleistung)
Remark:
Plasma Physics
PHYS5507.1
Plasma Physics: Waves, Instabilities and Turbulence
Lecturer:
apl. Prof. Dr. Emanuele Poli
Course type:
lecture with exercise (5 hours/week)
Cycle:
each winter semester
Language:
English
Module
71063 Plasma Physics: Fundamentals
Credits:
6 CP
Examination:
oral, 12079 Grundlagen der Plasmaphysik
Precourse:
yes,

12080 Grundlagen der Plasmaphysik (Vorleistung)

Remark:
---
Quantum Science and Technologies
Additional Modules - Recommended
Dr. Maria-Verena Kohnle
Studienkommission Physik
Albert-Einstein-Allee 11
89081 Ulm
Telefon: 0731/50-23032
Raum: N25/3106