Preisverleihung Kooperationspreis Wissenschaft-Wirtschaft 2015
Anlässlich des Festaktes zum Dies academicus am 05.02.2016 wurde der Kooperationspreis Wissenschaft-Wirtschaft des Jahres 2015 verliehen. Der Verteilungsausschuss hatte beschlossen, für das Jahr 2015 zwei Preise zu je 4.000 € zu vergeben.
Die Preisträger und Ihre Projekte:
Prof. Dr. Frank Kirchhoff/Prof. Dr. Jan Münch, Institut für Molekulare Virologie, für die Kooperation mit der Firma Pharis Biotec GmbH, Hannover in Würdigung der Erforschung des menschlichen Peptidoms als Quelle neuer antiviraler Verbindungen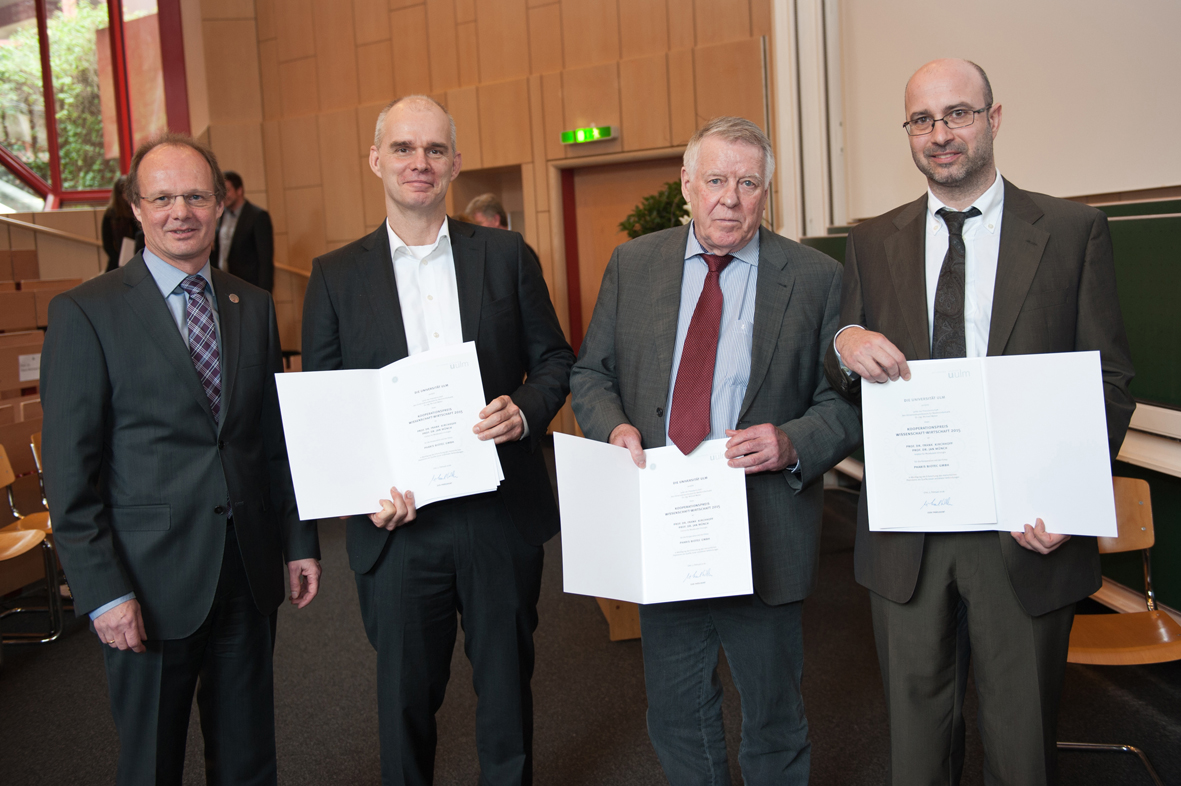 Die Arbeitsgruppen von Prof. Kirchhoff und Prof. Münch kooperieren seit über 13 Jahren erfolgreich mit der Pharis Biotec GmbH unter der Leitung von Prof. Dr. Dr. h.c. Wolf-Georg Forssmann, dem im Jahr 2012 eine Seniorprofessur an der Universität Ulm verliehen wurde. Ziel der Kooperation ist es, das bisher kaum erforschte menschliche Peptidom als Quelle neuer antiviraler Verbindungen zu nutzen. Der Anteil der Pharis Biotec besteht darin, große Peptiddatenbanken zur Verfügung zu stellen, die endogene Peptide aus großen Mengen Körperflüssigkeiten enthalten. Die dadurch hergestellten Peptidbibliotheken werden von den Ulmer Forschern verwendet, um neue antivirale Peptide zu identifizieren, deren Wirkmechanismus zu entschlüsseln und klinisch weiter zu entwickeln. Aus der Kooperation sind hochrangig veröffentlichte gemeinsame Arbeiten sowie eine Vielzahl von Patenten entstanden. Ebenso wurde ein HIV-1 Ankerinhibitor (VIRIP) entwickelt. Ein Derivat dieses "Ankerinhibitors" wurde bereits in einer klinischen Studie an HIV-Patienten getestet und konnte die Virenlast um 99 Prozent senken. Zudem identifizierten die Forscher Amyloidfibrillen im menschlichen Sperma, die die Infektiosität des AIDS-Erregers verstärken und für die Virusausbreitung wichtig sein könnten. Die Kooperation ist dbei ebenso grundlegend für das an der Universität Ulm gegründete Kompetenzzentrum U-PEP (Ulm Peptide Pharmaceuticals) sowie für den durch Prof. Kirchhoff eingeworbenen ERC Advanced Grant "A combined evolutionary and proteomics approach to the discovery, induction and application of antiviral immunity factors".
---
Prof. Dr.-Ing. Albrecht Rothermel, Institut für Mikroelektronik, für die Kooperation mit der Firma Retina Implant AG, Reutlingen in Würdigung der Forschung und Entwicklung an mikroelektronischen Systemen für die Optimierung subretinaler Implantate für blinde Menschen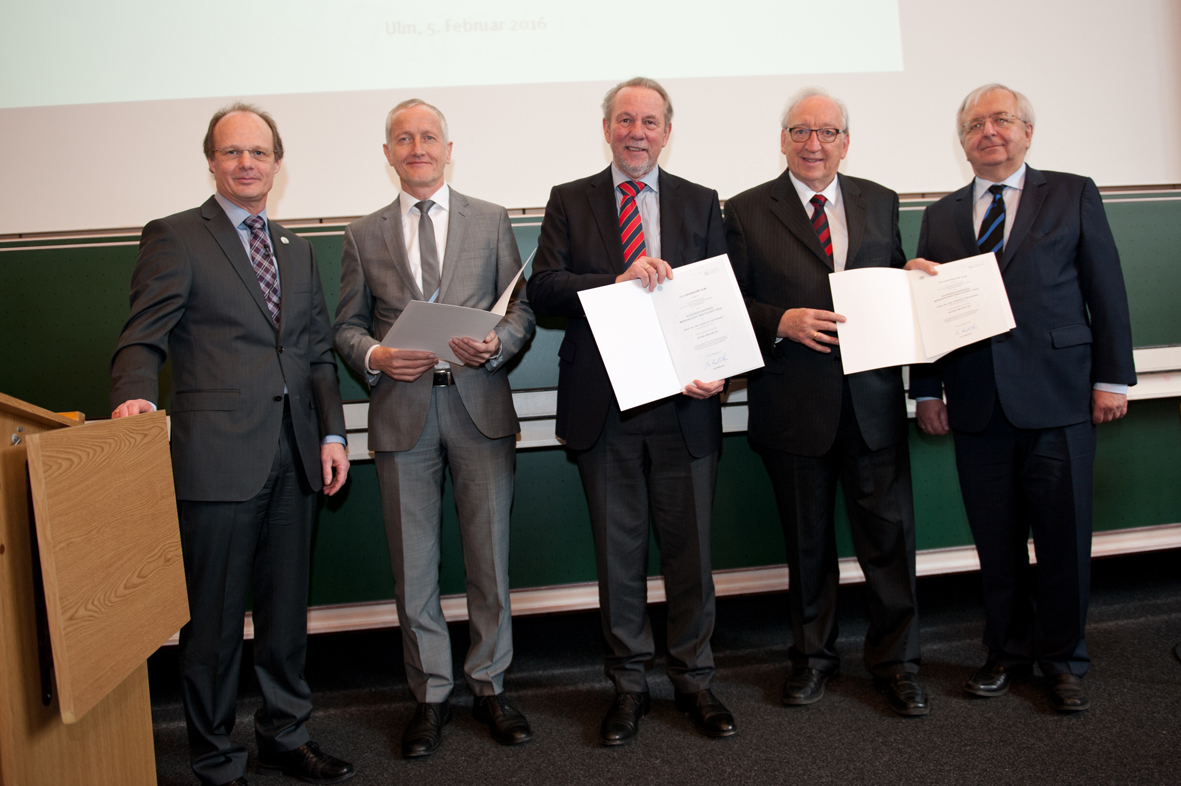 Prof. Rothermel kooperiert bereits seit dem Jahr 2006 mit der Firma Retina Implant AG Reutlingen. Er erforscht und entwickelt mikroelektronische Schaltungen für die Implantation subretinaler Implantate mit hoher Elektrodenzahl. Die Firma Retina Implant AG hat als einzige Firma weltweit eine 10-jährige Erfahrung in der Implantation subretinaler Implantate. Die von Prof. Rothermel entwickelten Schaltungen wurden derart optimiert und weiterentwickelt, dass seit 01.01.2014 an Patienten nur noch die Chips, die in Ulm entworfen wurden, eingesetzt werden. Das Einzigartige an diesem Projekt besteht darin, dass die Chips im Auge selbst betrieben werden können und an der richtigen Stelle die erforderlichen Impulse auslösen können. Durch diese Chiptechnologie konnten die Seheindrücke von bislang blinden Patienten optimiert werden, wodurch diese z.T. Streifen auf einem Monitor sicher erkennen und die Richtung der Streifen richtig angeben konnten. Aktuell arbeitet Prof. Rothermel an mikroelektronischen Lösungen zur Verbesserung der Lebensdauer der Chips und einem noch größeren Patientennutzen. Doch schon jetzt erreicht kein Mitbewerber weltweit bessere Sehergebnisse. Aus der Kooperation sind zahlreiche Publikationen und Patente entstanden.