Autonomic driving
and intelligent vehicle systems
A "robot taxi" picks up its passenger at the exact arranged time, drives them safely to their destination and then continues on driverless. Such a scenario is in parts already reality at Ulm University. Scientists have been working on automated driving technologies and developing intelligent vehicle systems for about fifteen years.
Since 2013, researchers have been engineering test vehicles equipped with close-to-production sensor technology and sending them on test rides around public streets in Ulm: a combination of cameras, radar and lidar sensors detects the vehicle surroundings; computers then use these data to analyse the traffic situation, calculate safe and comfortable behaviours and control the steering, throttle and breaks accordingly. Research focus is the challenging inner-city traffic, where vehicles and pedestrians share often convoluted and tight spaces.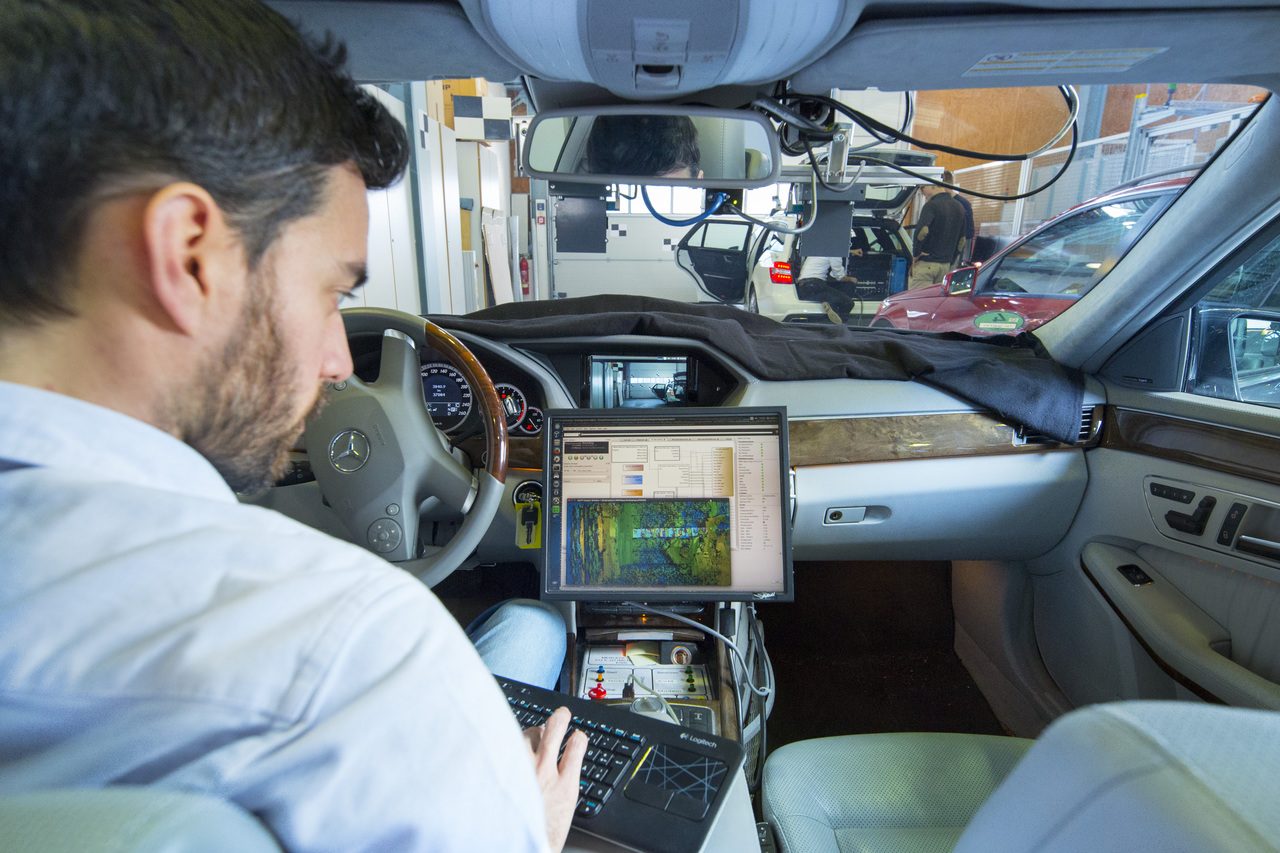 Funding
Deutsche Forschungsgemeinschaft (DFG)
Federal Ministry for Economic Affairs and Energy (BMWi)
Federal Ministry of Education and Research (BMBF)
European Union
Tech Center a-drive (federal state Baden-Württemberg)
driveU (MRM, MWT anlog with Daimler AG)
Cooperations
as part of the Tech Centers a-drive with FZI and KIT
Audi AG, Robert Bosch GmbH, Continental AG, Daimler AG, Denso, Volvo, Visteon, BMW Car IT GmbH
Cooperation with national and international research institutions
Kontakt
Prof. Dr.-Ing. Klaus Dietmayer, Institute of Measurement, Control and Microtechnology
The smart car of the future

The Institute of Measurement, Control and Microtechnology is the nucleus of autonomous driving at Ulm University. For more than fifteen years, scientists led by Professor Klaus Dietmayer have been researching intelligent vehicle and mobility systems. Ulm's scientists have come to look at autonomous driving holistically and are now working in interdisciplinary teams. Competences from the areas of engineering, computer sciences and psychology concerning driver assistance, automated driving and cooperative driving functions are institutionalised in the Research Centre F3, which received funding from the Carl Zeiss Foundation. At the Innovation Centre driveU, scientists from Ulm University have been collaborating since 2012 with experts from the Daimler AG. Their work focuses on environment detection and involves research into predictive systems that are able to reliably and extensively analyse and understand complex traffic situations.
The interdisciplinary Tech Center a-drive is the result of another cooperation with the same industry partner as well as the FZI Research Center for Information Technology and the Karlsruhe Institute of Technology (KIT). The Centre was established in early 2016 and receives funding from the State of Baden-Württemberg. Central point of research is the development of robust technologies for automated driving which work reliably even in poor weather conditions and at night. Another area of investigation is the societal acceptance of autonomous driving.
The researchers at Ulm University include the human element in their considerations. How can driver and self-regulating car interact? When are humans willing to delegate responsibility? The Institute of Psychology and Education conducts research into the basics of the cognitive psychology of driving. Experts in media informatics investigate operating and information concepts that allow the driver to easily take control over the vehicle in dangerous situations, for example.
Ulm – ideal test environment
These highly automated vehicles are not confined to campus roads, however. The City of Ulm is also repositioning itself digitally and thus exploring the realm of networked vehicles as well as a new public transport concept and intelligent traffic routing as possible solutions to the daily traffic chaos. The University's automated test vehicles have been coasting prominently around the inner city on a mission to collect data in a compact inner-city environment. Current test bed is an intersection in Ulm's suburb Lehr, which has been equipped with special cameras and sensors. The cooperation doesn't end here, though: on the occasion of the 50-year anniversary, the City of Ulm endowed the University with a junior professorship "Digitally Networked Mobility Systems" which is dedicated to the digital transformation of urban mobility.
The topic of e-mobility is also being researched at Ulm University. In the collaborative project UNICARagil, scientists from various universities have joined forces with industry researchers in order to develop new autonomous and electric vehicles that may be used as taxi or "mobile packing stations", for example. In this context, Ulm's scientists are designing and realising the entire automated surroundings detection and the interpretation algorithms for the "understanding" of the current traffic situation. The vehicle models will also be coasting along the streets of Ulm.
Autonomous vehicles could help avoid dangerous traffic situations and improve the flow of traffic in the future. Traffic jams, accidents and the search for parking spots will hopefully be things of the past – thanks to Ulm's researchers, among others.