Electro­chemistry – drawing on tradition, shaping the future
Ulm's contribution to the energy revolution and electric mobility
The Science City of Ulm is a hotbed for the development of tomorrow's powerful, reliable batteries and fuel cells. Such novel and environmentally friendly storage and conversion devices make a substantial contribution to the success of the energy revolution and to establishing electric mobility. Ulm University's long-established and globally recognised electrochemistry department collaborates with strong partners, with whom they have successfully acquired Germany's sole Cluster of Excellence in the field of battery research in 2018.
Researching batteries for a sustainable future
The ambitious goals of energy revolution and electric mobility call for powerful, reliable and environmentally friendly energy storage technologies. Energy from renewable sources, such as sun and water, isn't available 24/7 and must thus be stored in the interim. Storage is also necessary to avoid network overloads during production peaks. Furthermore, electric cars need a reliable reserve to make sure that they have enough electricity for the journey.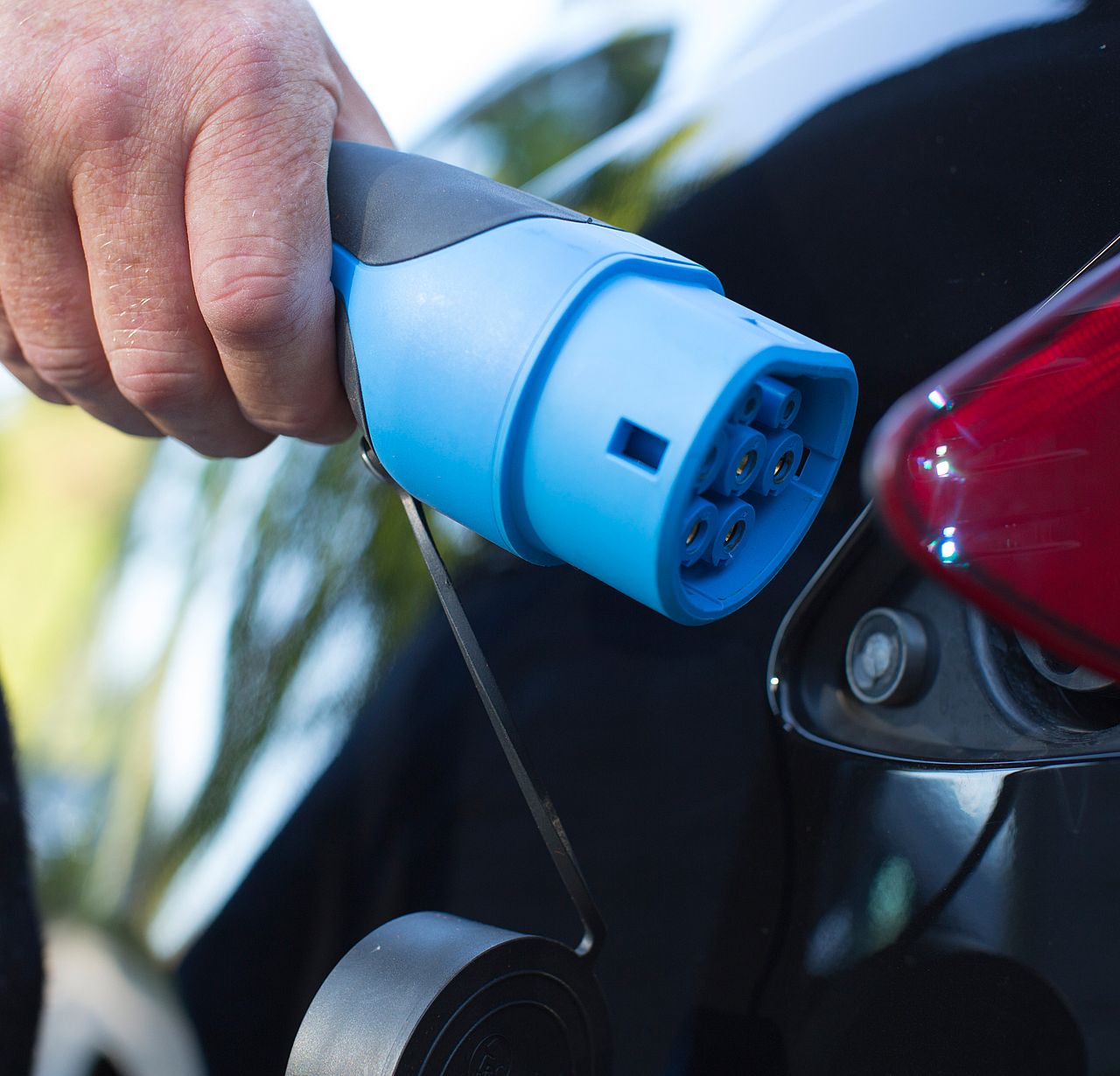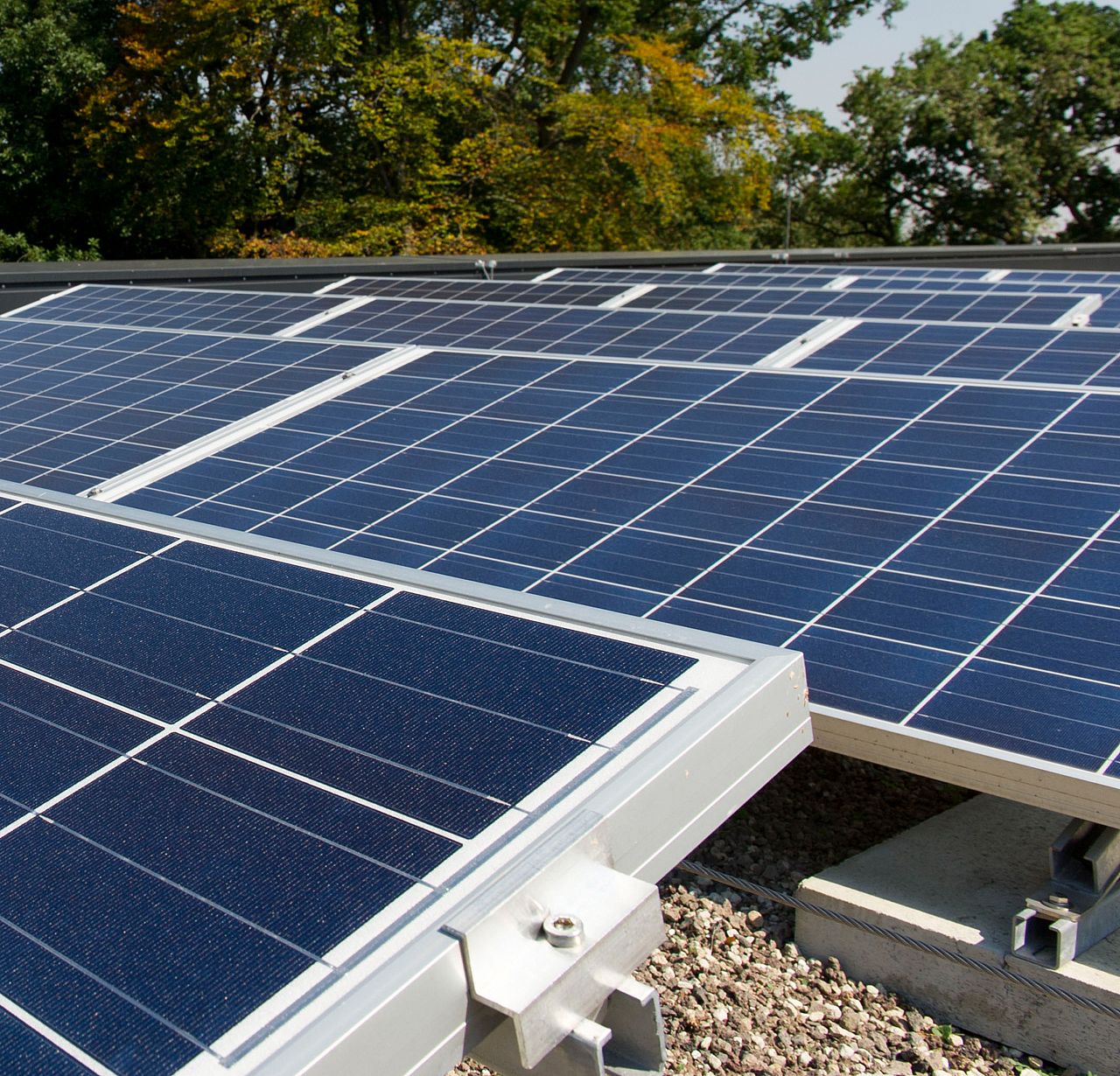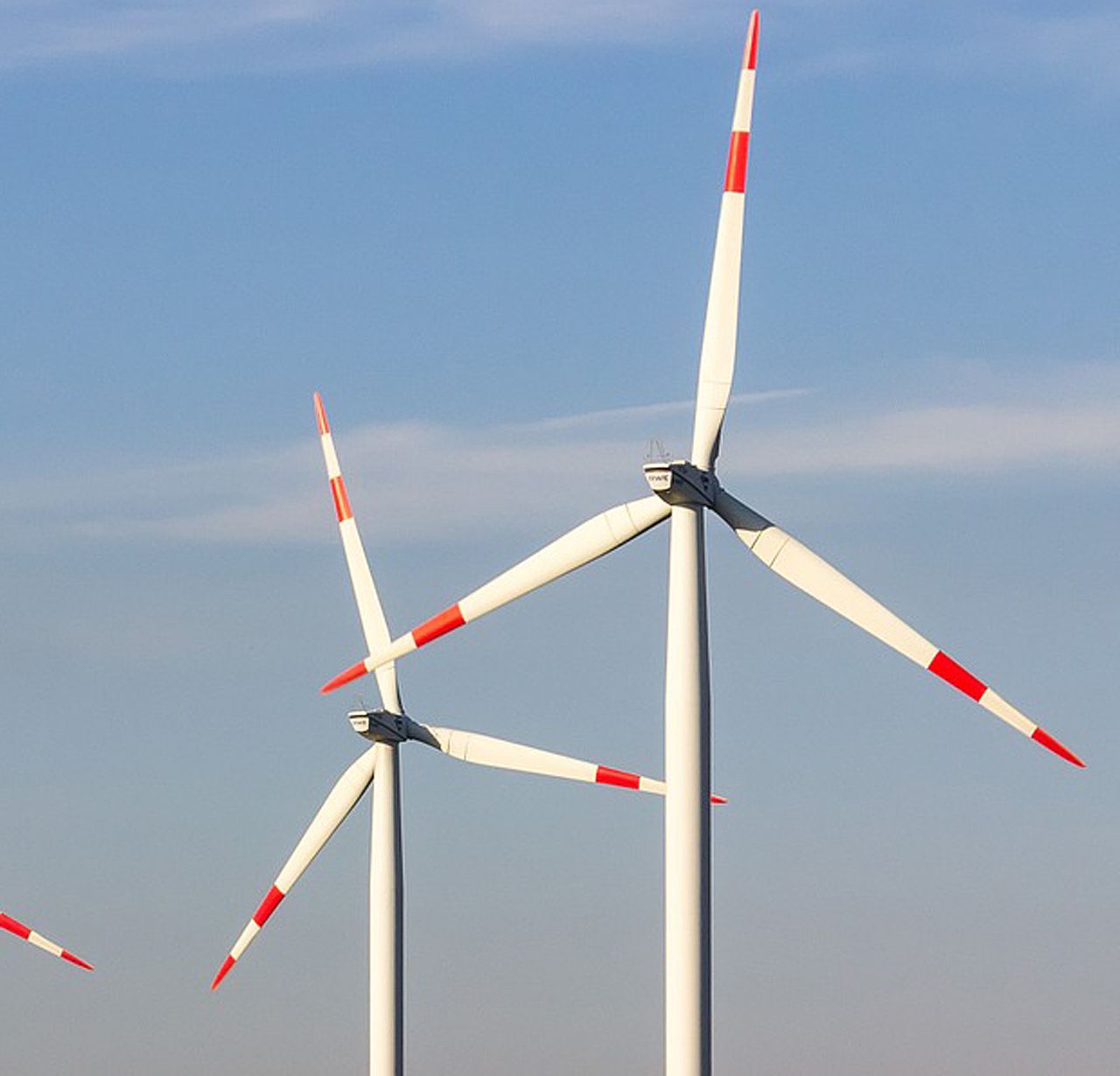 Conventional lithium-ion batteries as they are currently used in smartphones and laptops have more or less reached their maximum storage capacity. This is why specialists in basic research and practical application in the Science City of Ulm are searching for the batteries of the future. CELEST, Germany's largest platform for electrochemical energy research, is a joint venture of Ulm University, the Karlsruhe Institute of Technology (KIT) and the Centre for Solar Energy and Hydrogen Research (Zentrum für Sonnenenergie- und Wasserstoff-Forschung; short: ZSW). With its sections 'lithium ion technology', 'energy storage beyond lithium' and 'alternative technologies for electrochemical energy storage', CELEST covers all current research topics of electrochemical energy storage. The platform has already celebrated its first outstanding success: As part of the Excellence Strategy of the federal and state governments, the researchers have received approval for their Cluster of Excellence 'Post Lithium Storage' (POLiS), which is being funded with around seven million euros annually for an initial seven years. Main focus of POLiS is the development of battery systems that eliminate the need for the finite materials lithium and cobalt.
External content
To use this content (Source: www.xyz.de ), please click to Accept. We would like to point out that by accepting this iframes data to third parties transmitted or cookies could be stored.
You can find further information in our Privacy policy.
Long-standing experience pays off
Electrochemistry enjoys a long tradition at Ulm University: Although this field of research was regarded as an 'obsolescent model', Ulm stuck by its electrochemistry institute. This is now paying off, because the processes that take place at the molecular and atomic level in batteries and fuel cells are still not fully understood. The DFG research group FOR 1376 'Elementary Steps in Electrocatalysis: Theory meets Experiment' has been making important contributions in theory and experiment to help close this gap. Furthermore, Ulm University and Ulm University of Applied Sciences as well as the ZSW are pooling their activities in the Centre for Energy Research and Technology (Zentrum für Energieforschung und -technologie; short: ZET). Their research projects cover a broad range of topics – from intelligent power grids to synthetic fuels as well as fuel cells, which are also the subject of intensive research. Their zero-emission energy supply makes them a great alternative to combustion engines, for instance.
The research infrastructure at Ulm University is outstanding: Since the end of 2014, the high-performance computer JUSTUS has been facilitating large-scale computing operations for energy research. This supercomputer is the centrepiece of the bwForCluster for theoretical chemistry and was specially designed for the research into chemical energy storage and conversion. It is available to scientists from all over Baden-Württemberg. In addition, an atom probe tomograph and a supermicroscope afford the researchers new insights: With SALVE, Ulm University has at its disposal the world's only low-voltage transmission electron microscope with double aberration correction.
Strong partners in the Science City – HIU and ZSW
The Helmholtz Institute Ulm for Electrochemical Energy Storage (HIU) and the Centre for Solar Energy and Hydrogen Research Baden-Württemberg in the Science City are the links between basic research and practical application.
The non-university research institute HIU was founded in 2011 by the Karlsruhe Institute of Technology (KIT), itself a member of the Helmholtz Association, and Ulm University together with the associated partners ZSW and the German Aerospace Centre (Deutsches Zentrum für Luft- und Raumfahrt; short: DLR). The building, aptly located in Helmhotzstraße, features high-tech laboratories. It is home to international groups of researchers who are developing and testing new storage materials and entire new systems.
Research activities in the adjacent ZSW building range from the modelling of electrochemical processes to the demonstration of entire systems. The industry-oriented centre was created as a spin-off from Ulm University more than 20 years ago. The scientists, who have at their disposal a pilot production plant for lithium-ion batteries, explore new materials for batteries, test combinations and examine their ageing processes.
With the help of the new ZSW research platform, inaugurated in autumn 2014, leading German industrial companies are developing methods for the production of large lithium-ion batteries suitable for use in passenger cars. Their goal: to ensure that batteries for electric mobility are manufactured locally and meet the needs of the German market. The ZSW is an important partner of Ulm University in the Cluster of Excellence POLiS and the research platform CELEST.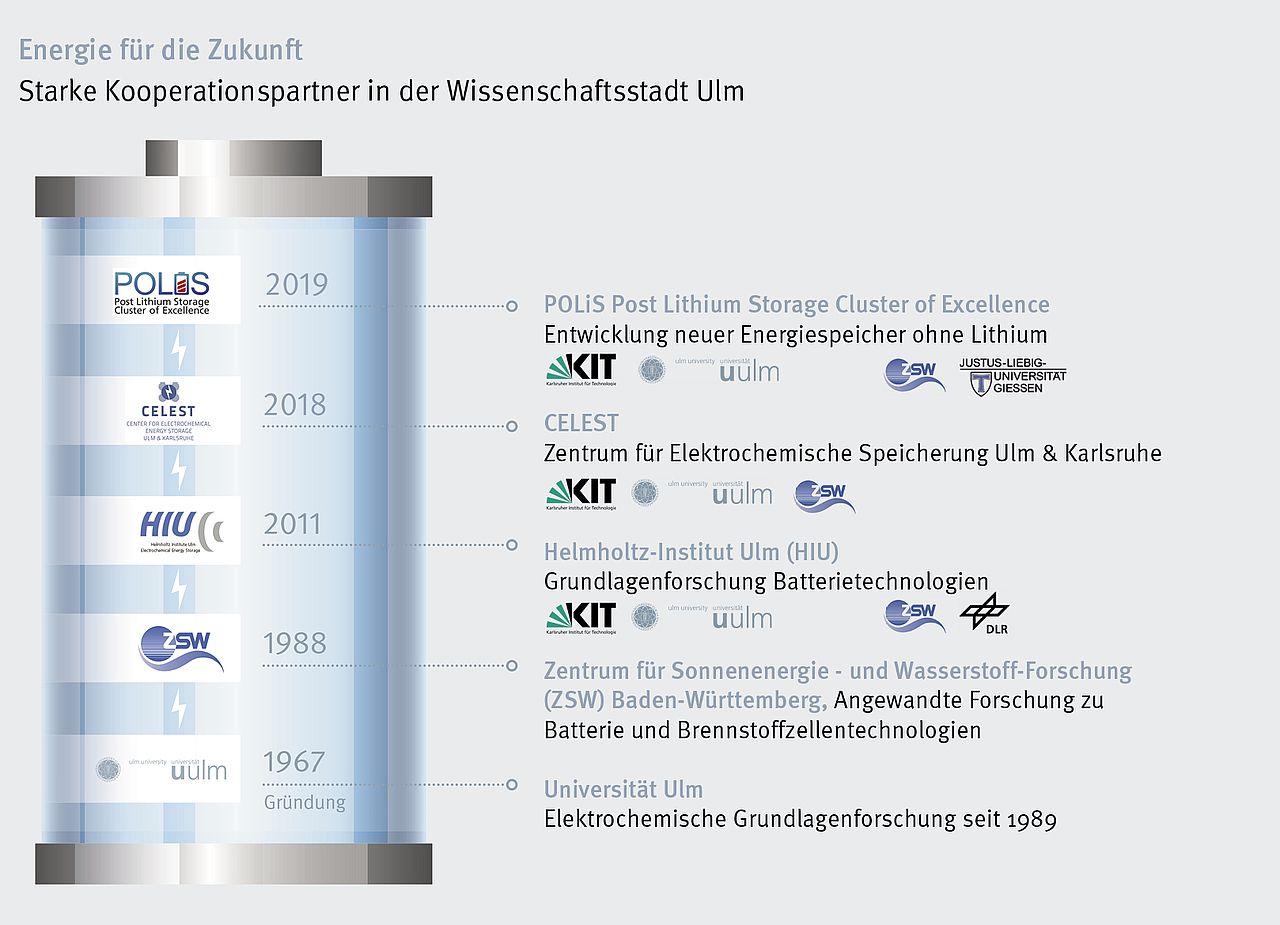 External content
To use this content (Source: www.xyz.de ), please click to Accept. We would like to point out that by accepting this iframes data to third parties transmitted or cookies could be stored.
You can find further information in our Privacy policy.
Junior researchers at the HIU
The Science City attracts and trains the next generation of battery researchers with international master's programmes in energy science and technology, advanced materials and in chemical engineering as well as the Education and Training Centre Ulm for Innovative Energy Technologies (Weiterbildungszentrum Ulm; short: WBZU): Presentations, info sessions, model trials and exhibits spark the interest of school students and professionals from industry, crafts and science. Graduate schools are also being established as part of the CELEST and ZET platforms.
The environmentally friendly HY4 fuel cell-powered aircraft, which successfully completed its maiden flight at the end of 2016, is an excellent advertising medium for Ulm's energy research. And the organic solar cells of the university spin-off Heliatek have already set some world records.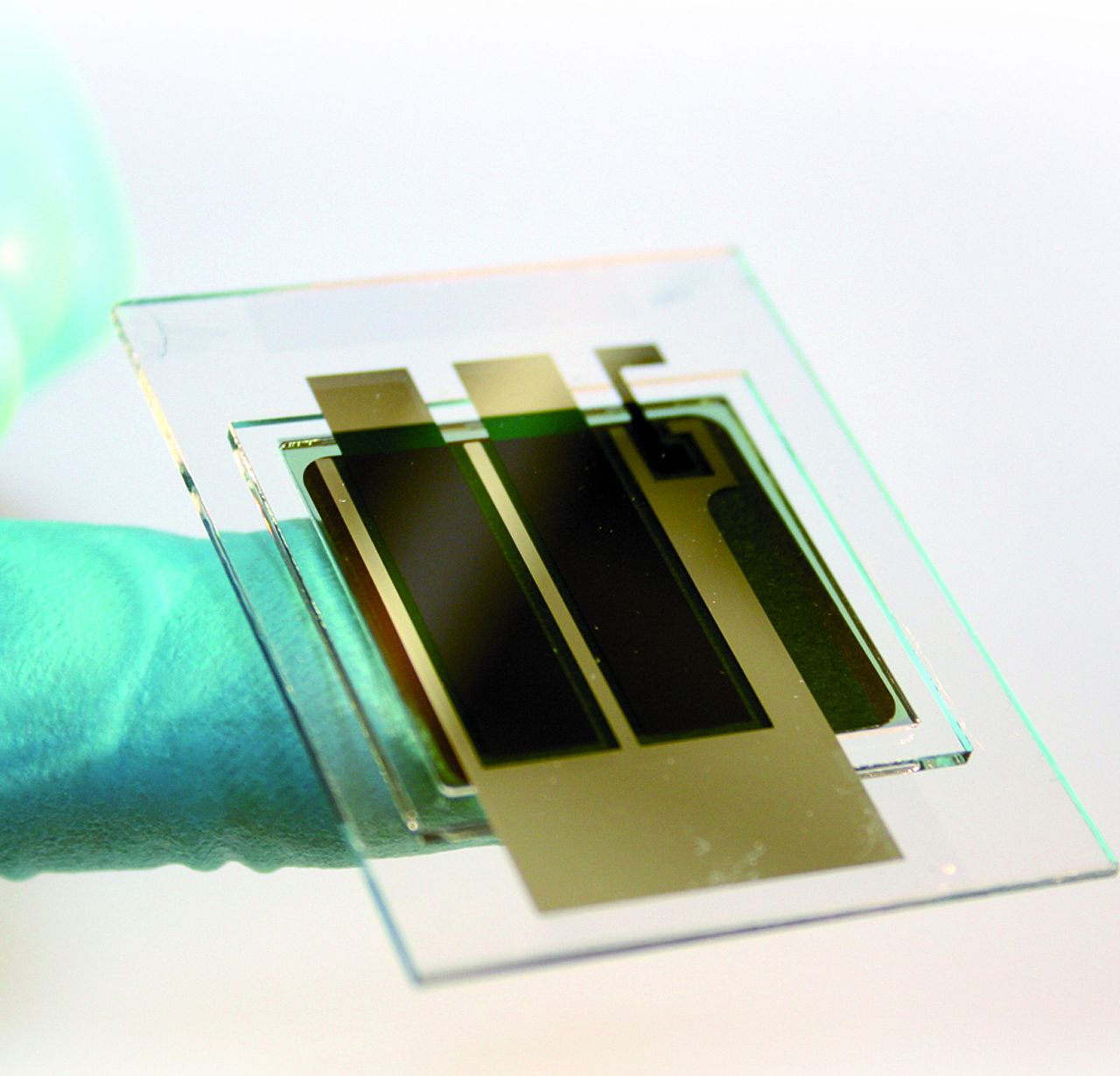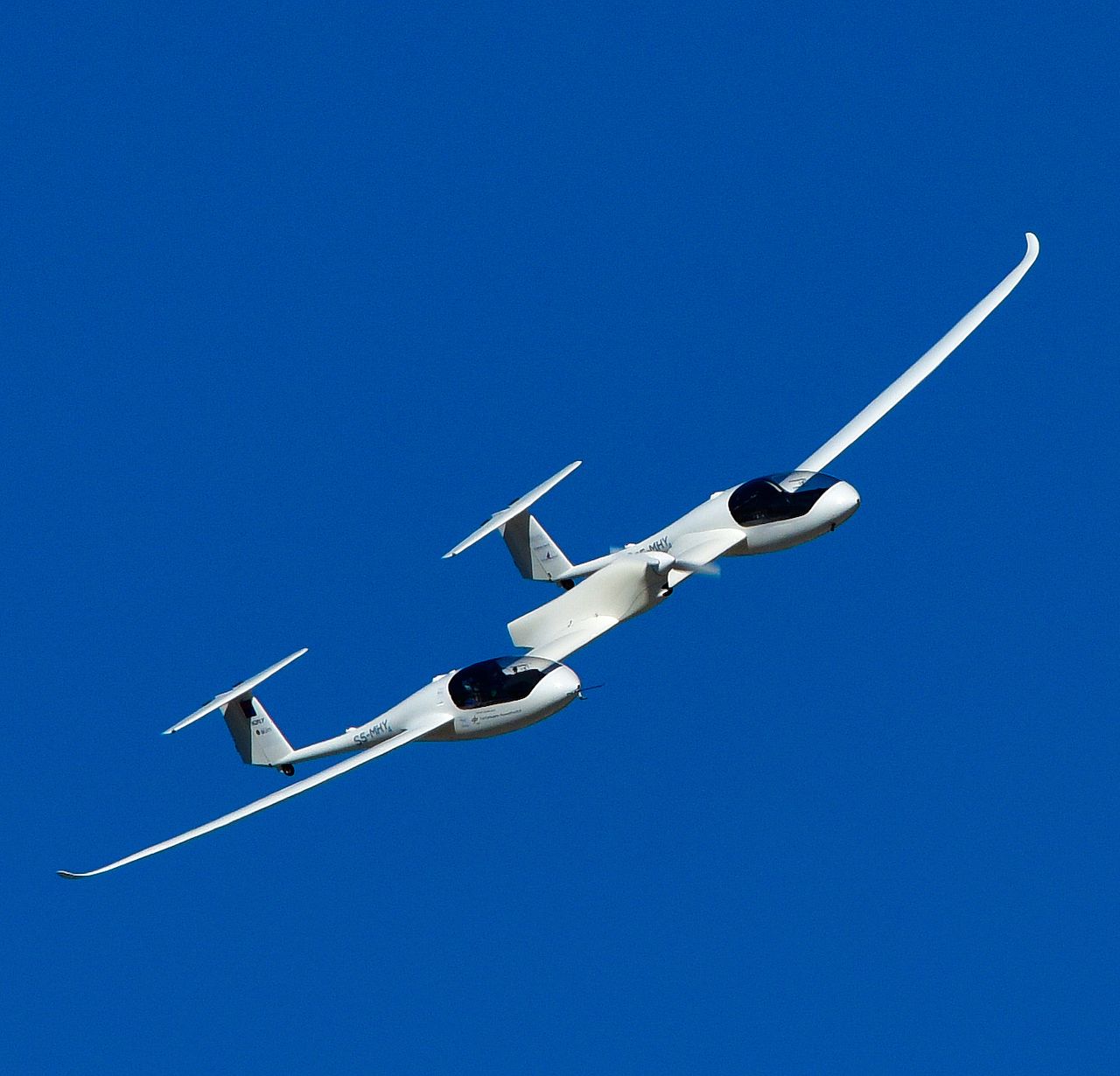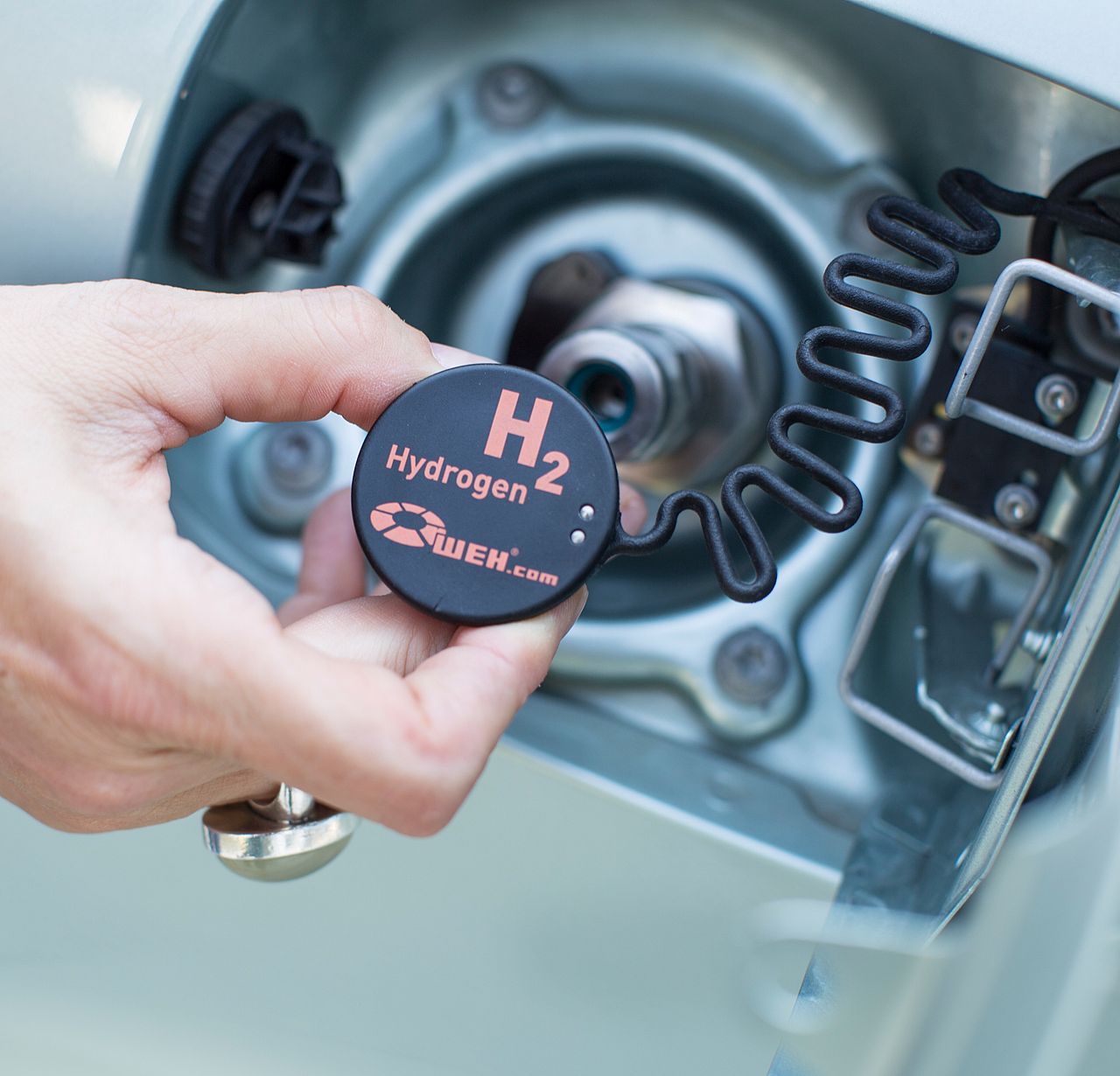 Photos: Elvira Eberhardt, Heiko Grandel, Photodesign Armin Buhl, Irina Westermann