Haema­tology and On­cology
New paths in leukaemia research
For a long time, being diagnosed with leukaemia was tantamount to a death sentence. Now, however, over 80 per cent of affected children and adolescents can be cured. The chances of survival for adult patients are considerably lower: many adults succumb to the disease during their senior years and tolerate standard therapies poorly. This is why Ulm University puts great effort into developing new, individualised treatments.
At Ulm University, research into the most common chronic and acute forms of leukaemia in all age groups is concentrated in the Collaborative Research Centre 1074 'Experimental Models and Clinical Translation in Leukaemia'. Basic science and clinical investigations go hand in hand at the CRC, which received € 8.8 million in funding in 2012 and was extended for another four years in 2016: it is hoped that a greater understanding of the biology of these malignant diseases will lead to targeted and, ideally, 'tailor-made' therapies.
In the first project line, physicians and basic research scientists use experimental models to explore how leukaemia develops. In this context, they focus on genetic basics and endeavour to find out what happens in cells when cancer develops.
Secondly, the researchers analyse patient samples from Ulm's Leukaemia Biobank - one of the largest in the world. One of the things the scientists are searching for in these samples are genetic and epigenetic anomalies in different types of leukaemia. Using new sequencing methods, they want to gain greater understanding of the mechanisms of disease generation, which may help them to find new therapeutic target structures.
This approach reflects the guiding principle: every patient is different and requires individual treatment. Treatment should be based on the molecular 'architecture' of the cancer to avoid therapeutic failures and unnecessary side effects.
'Research is at the beginning of every innovative therapy. We want to closely link basic, translational and clinical research, and the further development of therapy standards,' says Professor Hartmut Döhner, CRC spokesperson and Medical Director of the Department of Internal Medicine III at Ulm University Hospital. Döhner is one of the 'most highly cited scientists' in the field of clinical medicine and leads the German-Austrian AML study group. Internationally used therapy guidelines for the treatment of acute myeloid leukaemias (AML) and chronic lymphatic leukaemias (CLL) are based on his recommendations.
Another asset to Ulm's cancer research is the Collaborative Research Centre 1279 'Utilisation of the human peptidome in the development of new antimicrobial and anticancer therapeutic agents', which attracted €12.1 million in funding from the German Research Foundation (DFG). And then there is the research training group 'Heterogeneity and evolution in solid tumors: Molecular characterization and therapeutic consequences' (HEIST). 'Goal of the research training group is to advance the knowledge of intratumoural and intertumoural heterogeneity as well as of the natural and specific therapy-induced "evolution" of a tumour disease,' explains HEIST spokesperson and Medical Director of the Department of Internal Medicine I of the University Hospital, Professor Thomas Seufferlein. An increased molecular understanding of solid tumours is hoped to one day translate into more tailor-made therapies that are targeted to the specific situation of the tumour ('personalised therapy').
Central focus is the research on 'solid' tumour diseases like pancreatic, colon or breast cancer. A highly selective appointment policy in gynaecology, urology and in the fields of gastroenterology, ENT and human genetics has further strengthened Ulm's expertise in solid tumours.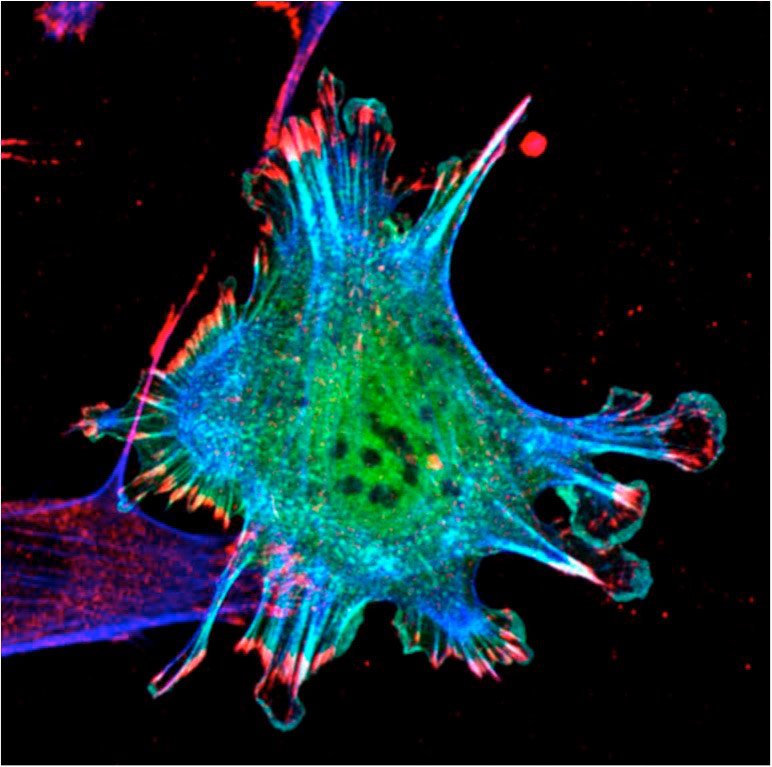 From the lab to the patient's bedside
At the Comprehensive Cancer Center Ulm (CCCU), patients benefit from new research findings. For each case of illness, an interdisciplinary team of physicians devises the best possible treatment plan.
An evaluation panel of German Cancer Aid attested the excellent patient care and oncological research performed at the Centre at Ulm University Hospital. The CCCU may now refer to itself as an "Oncological Centre of Excellence" - one of just 13 German oncology centres that received funding. Another important advantage of the CCCU: patients can participate in clinical studies.
Big Data has also become a part of Ulm University's cancer medicine. The genetic profiles of 1,500 patients of the German-Austrian AML study group serve as knowledge database: when physicians enter age, genetic profile and clinical data of new patients they receive survival analyses for different therapies. Ulm University Hospital also contributes to the development of a database with more than 10,000 records. The collaborative project HARMONY with 51 partners from 11 countries receives a total of €40 million in funding from the Innovative Medicine Initiative.
Leukaemia research with tradition and a future
Ulm University attaches great importance to research into the haematopoietic system and leukaemias. Its founding fathers, most notably Professors Theodor Fliedner and Hermann Heimpel, established bone marrow transplantation at Ulm; they also proved the significance of stem cells in blood formation and conducted research into rare blood diseases
This heritage is also continued at the Institute of Transfusion Medicine. The key issues currently under investigation are 'stem cells and cell therapy' and 'molecular pathophysiology, diagnosis and therapy'. The 'routine activities' involved in the supply of blood and stem cell products take place in the closely related Institute for Clinical Transfusion Medicine and Immunogenetics, a joint institution operated by the German Red Cross Blood Donor Service Baden-Württemberg-Hessen and Ulm University Hospital.
Today, it is not only qualified haematologists who contribute to the relevance of the location in this field. The key area of ageing, for example, has close ties to the field. At the Institute of Molecular Medicine, researchers explore stem cell ageing, which is associated with 'leukaemia among the elderly' and anaemia, for example. In addition, specialists at the Centre for Rare Diseases diagnose unusual diseases of the haematopoietic system.