Interdisciplinary research on tomorrow's smart car
Ulm University has developed into a leading centre for highly automated driving. Together with experts from the automotive industry, engineers, computer scientists and psychologists are conducting research on tomorrow's smart car. This car should be able to navigate road traffic safely even without intervention by the driver.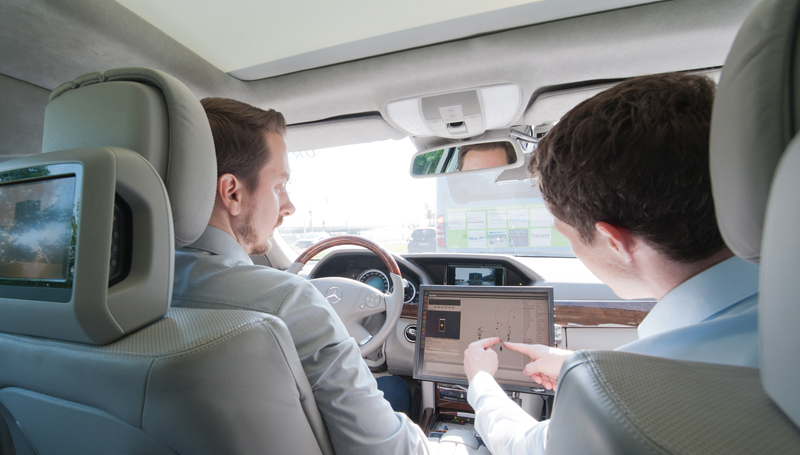 Overview of focal areas explored at the research centre F3:
Sensor technology
Environment recognition
Automatic driving functions
Car-to-car and car-to-infrastructure communication
Security and privacy
Driver-to-car cooperation
Key research areas at the Innovation Centre driveU:
Sensor und signal processing
Information and sensor fusion
Multi-object tracking
Driving-environment representation
Understanding traffic situations
Navigating road traffic savely without a driver
Engineers, computer scientists and psychologists at Ulm University are collaborating to create tomorrow's smart car. Their vision is that, one day, we will be driven to work in an autonomous car whilst we sit back and check our e-mails. Above all, however, the self-driving car should help prevent road accidents.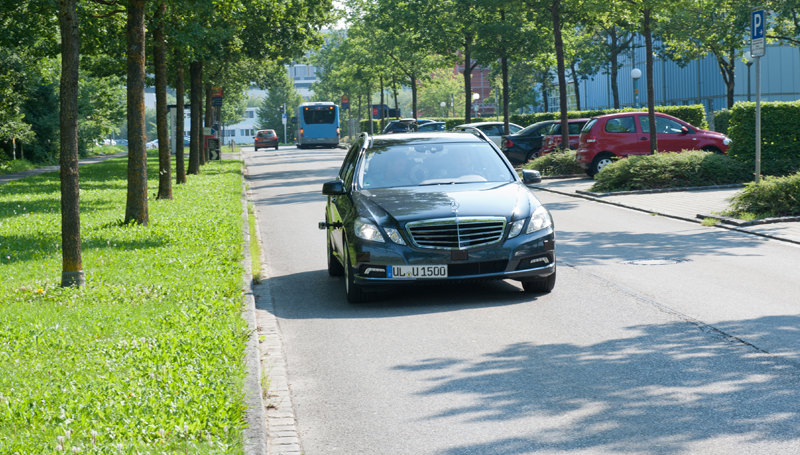 Driving skills are transferred to the car
The Institute of Measurement, Control and Microtechnology is the nucleus of highly automated driving at Ulm University. For more than ten years, scientists led by Prof Klaus Dietmayer have been transferring driving skills to the car. In this connection, they are cooperating with a renowned automobile manufacturer and other research institutes. The innovative technology is now even being tested in the Science City of Ulm.
Armed with a special permit, two test vehicles are coasting along public roads in Ulm without any intervention by the driver.
Ulm's researchers are focusing on demanding inner-city traffic. This is where pedestrians and vehicles have little space to move. It is particularly in chaotic situations like this that the smart car of tomorrow will assist the driver.
In their highly automated test vehicle, Ulm's researchers rely on close-to-production sensor technology:
radar and laser sensors combined with cameras ensure comprehensive monitoring of the immediate environment. Based on this sensor data, the vehicle's built-in computers analyse the traffic situation, and plan what action to take. Finally, the mini computers activate the steering, accelerator and brake, and the car sets off as if by magic.
Constant focus on data protection and psychological aspects
One day, autonomous taxis could even replace parts of the public transport system, and highly automated vehicles could ensure that traffic circulates more efficiently. To achieve this, cars must be able to communicate not only with each another, but also with the transport infrastructure. They will warn other vehicles about congestions and accident blackspots, and adapt their speed to each another.
In other words, the car will become a "mobile computer centre" that constantly produces and processes data. For this reason, data protection is a crucial issue to be addressed on the path towards creating autonomous vehicles. Issues on car-to-car and car-to infrastructure communication, tamper proofing (security) and data confidentiality (privacy) are addressed at the Institute of Distributed Systems.
In other respects, too, the conditions for researching highly automated driving are excellent at the Faculty of Engineering and Computer Science: engineers, computer scientists and psychologists collaborate successfully in the research focus on human-computer interaction.
How can drivers interact with autonomous cars as safely and efficiently as possible? Or how much responsibility do they want to delegate to a machine in the first place? The cognitive psychological aspects of driving are explored at the Institute of Psychology and Education, whilst media computer scientists at Ulm are responsible for devising real operating and information concepts.
In addition, scientists from the faculty pool all their expertise in highly automated and autonomous driving at the research centre F3, funded by the Carl Zeiss Foundation as part of the programme for the Promotion of University Research Structures.
Furthermore, the Institute of Measurement, Control and Microtechnology has been cooperating with experts from Daimler AG in the areas of driver assistance systems, vehicle safety and automated driving functions at the Innovation Centre driveU since 2012.