Welcome to the website of the Department of Business and Tax Law
The focus of the department lies on research and teaching in the fields of Corporate Tax, Fiscal Law and Tax Law. Corporate Law and Tax Law classes are part of the lectures offered at the University of Ulm. Some reasons why it might be worthwhile to deal with Tax Law are collected here.
News
---
16th Ulm Colloquium
The sixteenth Ulm Colloquium for Business and Tax Law took place on 17 July 2019. The topic of the event was "Tax enforcement and judicial control in times of digitalisation". In his speech, Prof. Dr. Rudolph Mellinghoff, President of the Bundesfinanzhof and former judge of the Bundesverfassungsgericht, outlined the current status of digitalisation in the taxation procedure and in the judiciary, drew attention to problems and gave an outlook on future developments. One focus of the speech was the critical examination of the electronic risk management of the financial administration. Finally, Prof. Dr. Mellinghoff pointed out why the further development of the data protection concept as a major social challenge of the coming years will determine the possibilities of exploiting the untapped potential of digitalisation.
In the following discussion, Prof. Dr. Mellinghoff and Mr. Bernd Zemek, Deputy Head of Division in Referat 31 "Steuerliche EDV-Verfahren, Verwaltungsangelegenheiten Steuer, Fachcontrolling Steuer, Außenprüfungsdienste, Steuerstrafrecht" in the Ministry of Finance of Baden-Württemberg, representing the financial administration, answered the numerous questions of the audience.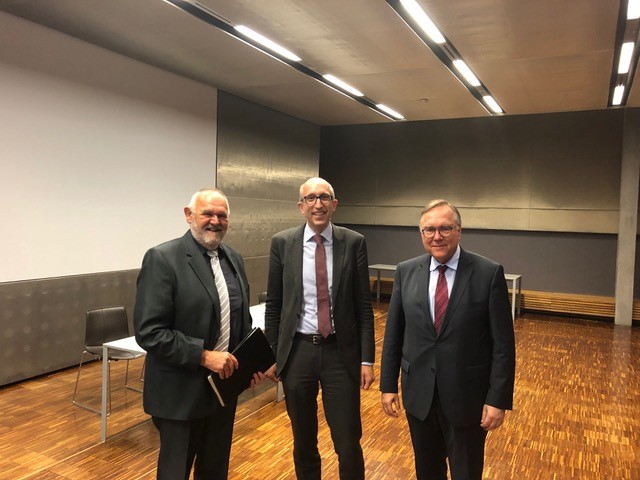 ---
Seminar presentations at Sonntag & Partner
As part of the seminars on business and tax law and on digitalisation in tax law, Bachelor's and Master's students had the opportunity to present their seminar papers at Sonntag & Partner in Augsburg. In the discussions that followed the presentations, the seminar participants were given insights into the practical significance of their topics. The event was rounded off with conversations, dinner and sunset on the roof terrace of the firm.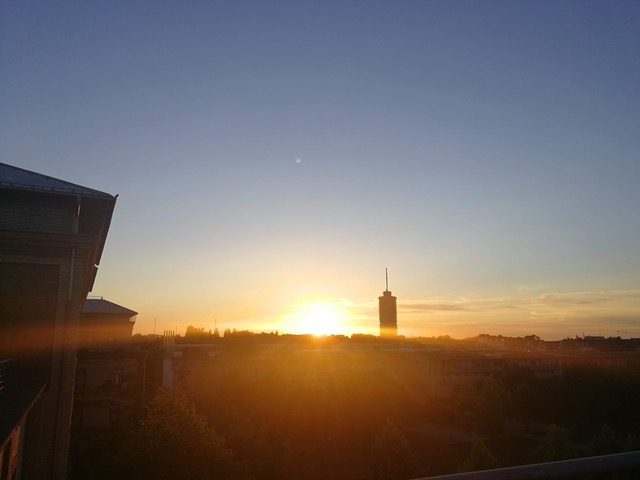 ---
Archive
More highlights can be found in the archive.
Current publications
Schneider/Schneider/Anzinger, Nützliche, nachteilige und neutrale Konzernumlagen im AG- und im GmbH-Konzern und deren steuerrechtliche Folgen, in: Bergmann/Hoffmann-Becking/Noack, Recht und Gesetz - Festschrift für Ulrich Seibert, 2019, S. 775 - 792.
Siebenlist, Der Ansatz von Pensionsrückstellungen für mittelbare Pensionsverpflichtungen in Handels- und Steuerbilanz, FR 2019, Heft 24, 1123-1130
Anzinger, Von der Baseball Arbitration zur Online Dispute Resolution - Perspektiven plattformgestützter Verständigungs- und Schiedsverfahren zur Auflösung von Doppelbesteuerungskonflikten, REthinking: Tax 2019, Heft 2, S. 24 - 31.
Anzinger, Keine abdrängenden Sonderzuweisungen an die Finanzgerichte durch §32 i Abs. 2 AO bei Klage des Insolvenzverwalters auf Auskunft über Steuerzahlungen des Schuldners, OVG Münster v. 13. 6. 2019 - 15 E 376/19, EWiR 19/2019, S. 599 - 600.
Gröger/Zawodsky, Mehrstufige Betriebsaufgabe: Zur falschen Zeit am falschen Ort für § 34 EStG, Kommentar zu BFH vom 15.1.2019 - VIII R 24/15, BB 2019, Heft 37, S. 2152.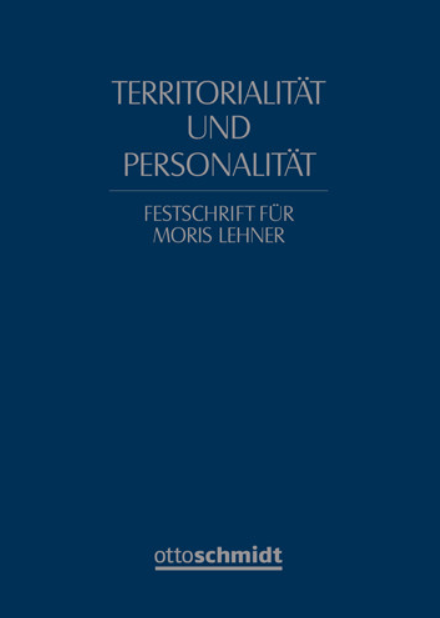 Anzinger, Völker- und unionsrechtliche Rahmenbedingungen für exterritorial wirkende Finanztransaktionssteuern, in: Ismer/Reimer/Rust/Waldhoff, Territorialität und Personalität, Festschrift für Moris Lehner, 2019, S. 355 - 374.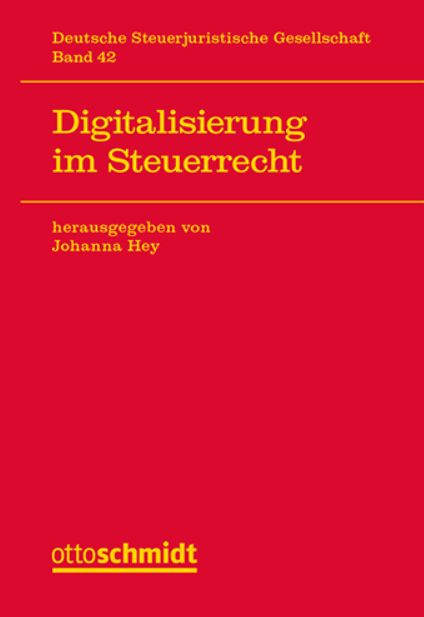 Anzinger, Möglichkeiten der Digitalisierung des Rechts, Jahrestagung der Deutschen Steuerjuristischen Gesellschaft e.V. 2018, DStJG Band 42, Köln 2019, S. 15 - 58.
Anzinger, Grunderwerbsteuerliche Grundbuchsperre und Unbedenklichkeitsbescheinigung bei Gesellschafterwechsel vor Eintragung, OLG Hamm, Beschluss v. 2.8.2018 - 15 W 237/18, WuB 7/2019, S. 371 - 374.
Anzinger, Sonderposten für allgemeine Bankrisiken; gewinnabhängige Ansprüche und Verlustbeteiligung des stillen Gesellschafters, LG Kiel 19.4.2018 - 6 O 447/16, S. 297 - 301.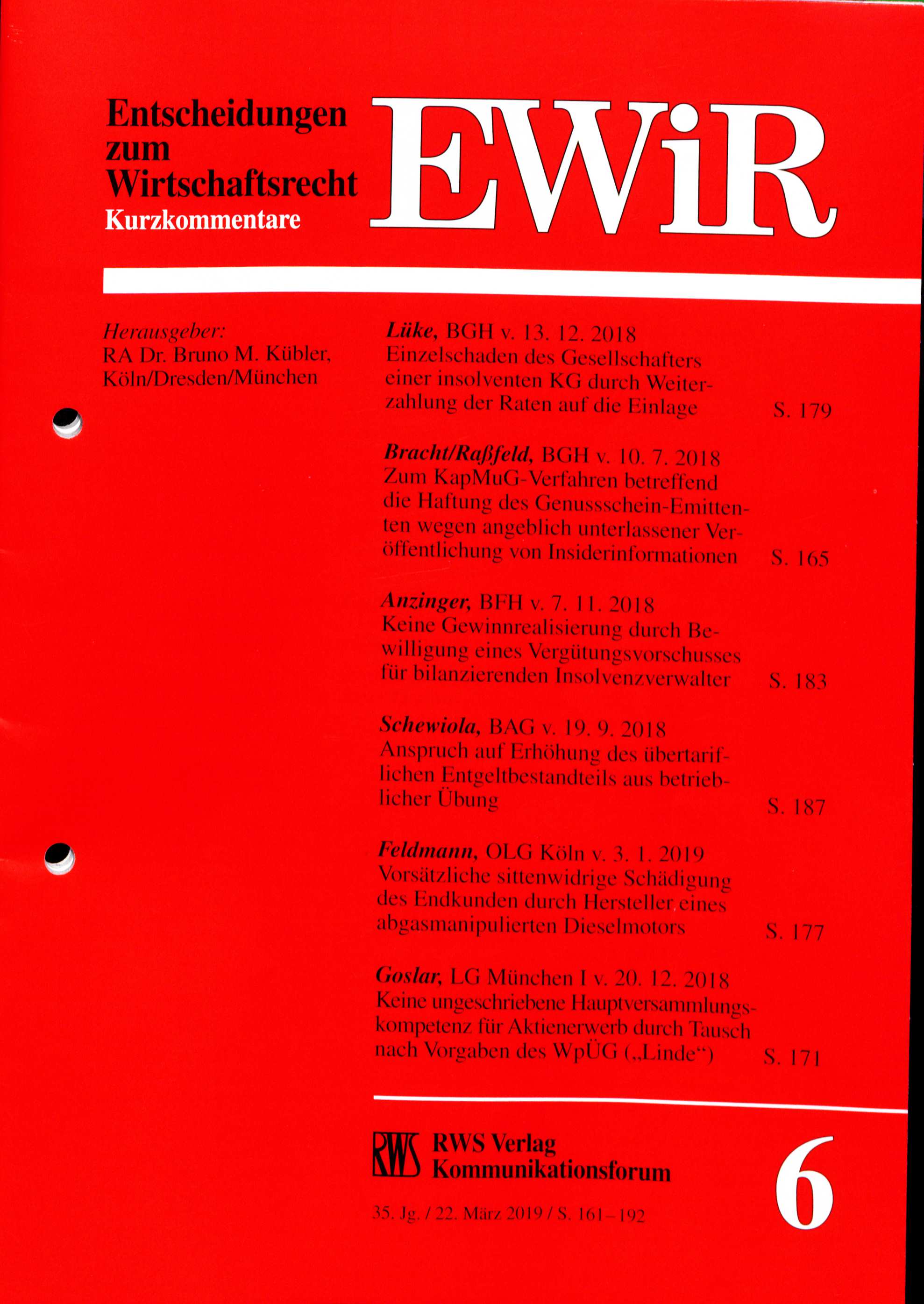 Anzinger, Keine Gewinnrealisierung durch Bewilligung eines Vergütungsvorschusses für bilanzierende Insolvenzverwalter, BFH v. 7.11.2018 - IV R 20/16, EWiR 6/2019, S. 183 - 184.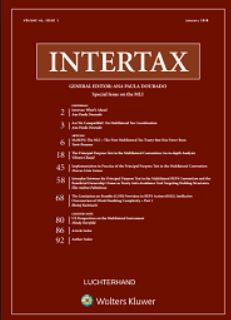 Schwibinger, Developing a Uniform Understanding of Income Classification: Everyone's Business? - A review of Business Income & the Criterion of Asset Management in Tay Treaty Interpretation, Intertax 2019, Issue 1, S. 7 - 23.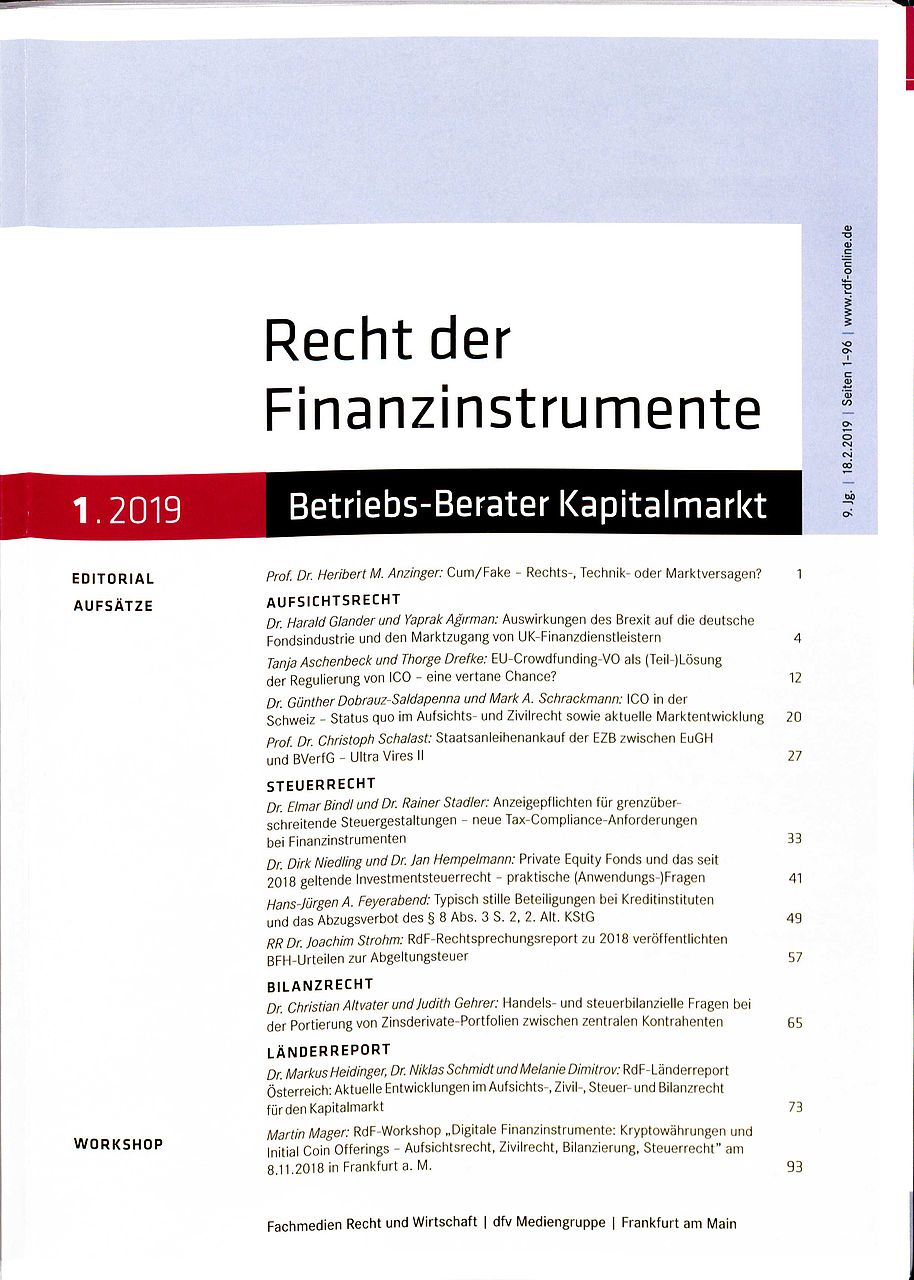 Anzinger, Cum / Fake - Rechts-, Technik- oder Marktversagen, RdF 2019, Heft 1, S. 1.
Anzinger, Smart Contracts in der Sharing Economy, in: Fries/Paal (Hrsg.), Smart Contracts - Schlaue Verträge?, Mohr Siebeck, Tübingen 2019, S. 33 - 72.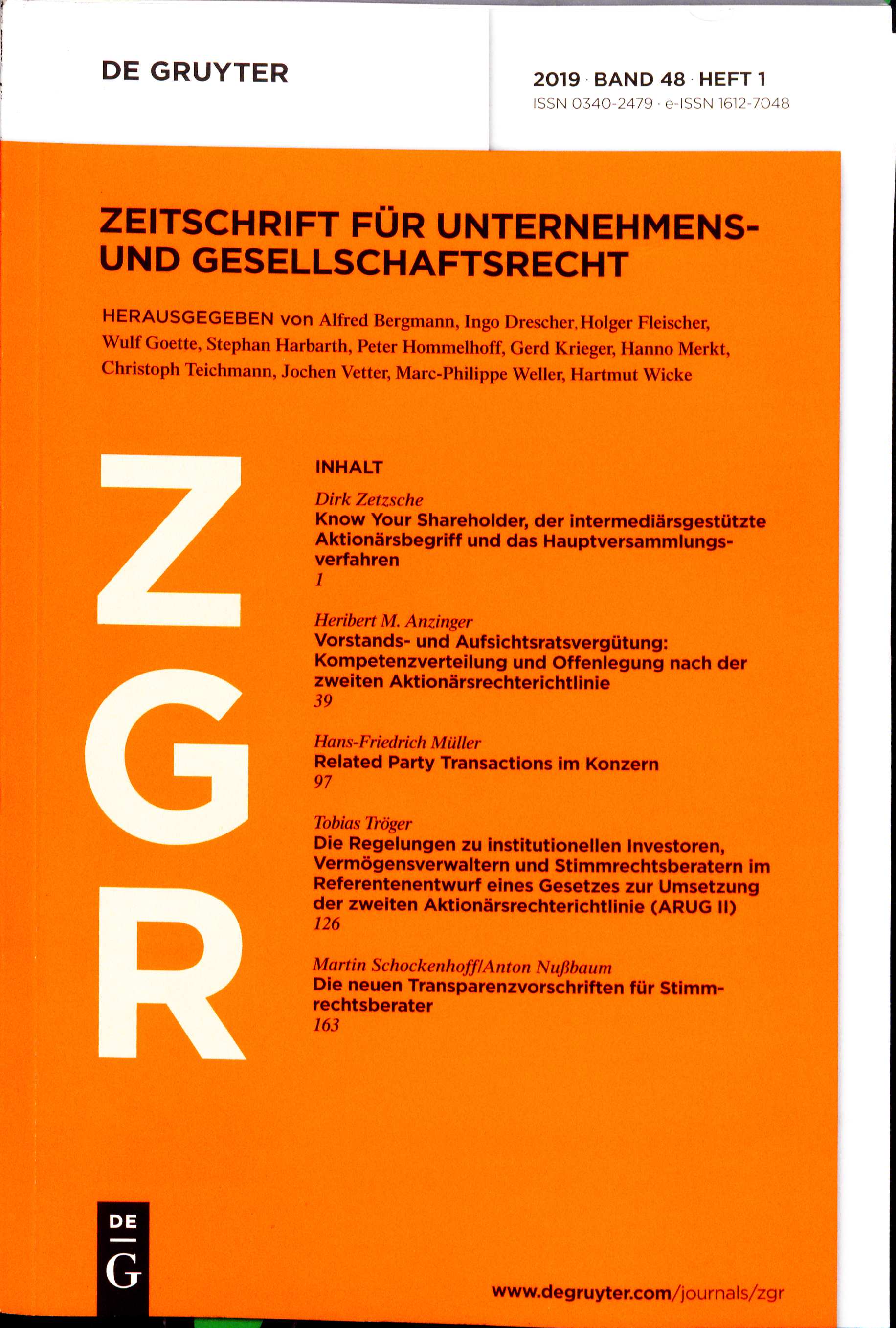 Anzinger, Vorstands- und Aufsichtsratsvergütung: Kompetenzverteilung und Offenlegung nach der zweiten Aktionärsrechterichtlinie, ZGR 2019, Heft 1, S. 39 - 96.
Anzinger, Einheitsbewertung im Grundsteuerrecht: Verfassungswidrigkeit BVerfG 10.04.2018 - 1 BvL 11, 12/14, 1/15, 1 BvR 639/11, 889/12, WuB 8/2018, pp.423 - 427.