COVID rapid test centre at Ulm University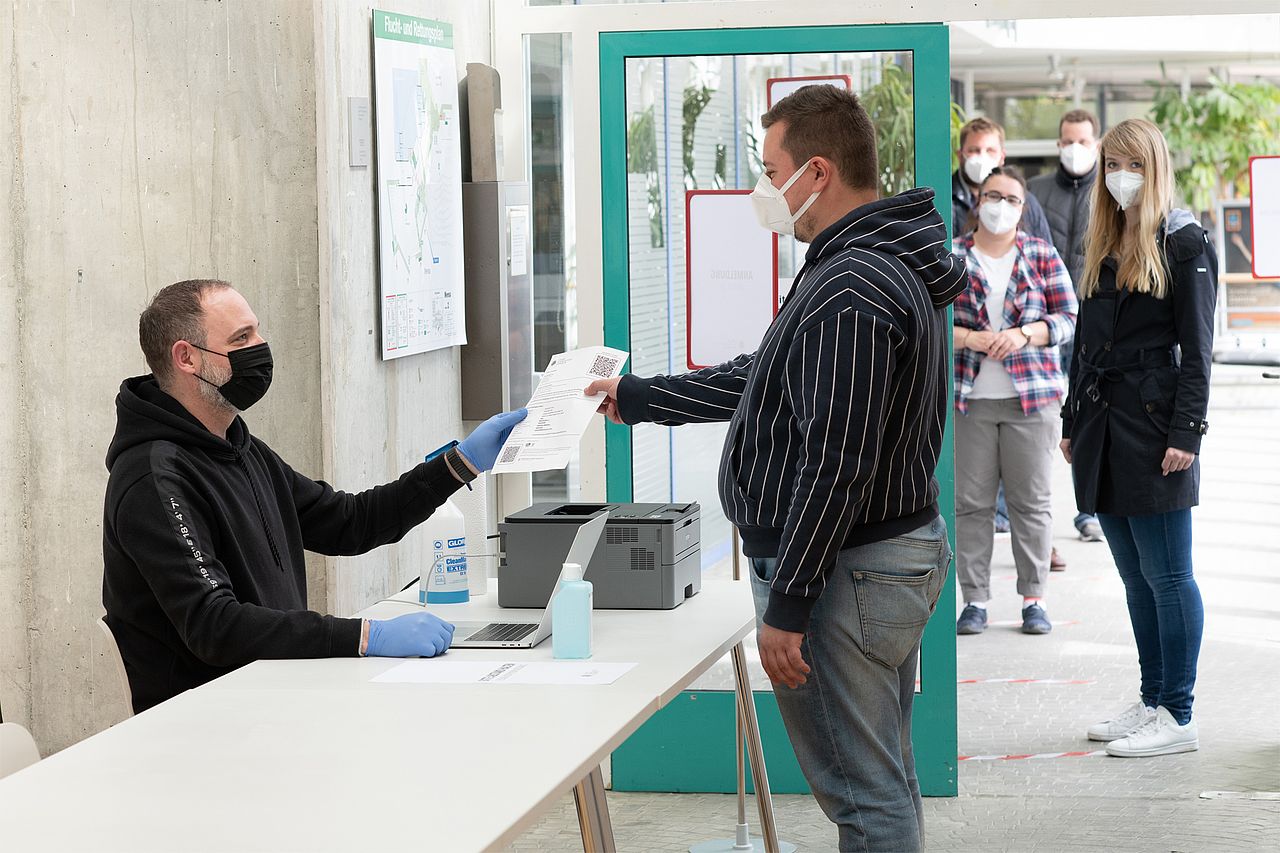 All students and employees of Ulm University can get tested for a COVID-infection at the new rapid test centre in the Mensa (Uni-Süd). The centre is open from Monday to Friday (6:30 a.m.- 1:00 p.m.). Please make an appointment (see below for appointment booking).
Employees may use the testing centre on attendance days at the university during working hours. Taking COVID tests at home or at other test centres cannot be counted as working hours.
Procedure of your rapid test
On Monday, 3 May, the COVID rapid test centre will open in the Mensa (Uni-Süd). Students and employees are offered free antigen rapid tests: Up to 240 people can go through the centre per hour.
After booking an appointment, you will receive a confirmation by e-mail. Please come to the test centre on time and bring your ID card or student/employee ID with you

At the entrance you will receive an individual QR code/link, which you can use later to retrieve your test result

The nasal swab is taken at four test stations by trained staff. Please leave the test centre immediately after the test and wait outside for your result

The test result will be available after an average of 15 minutes - please scan the QR code provided
A positive test result is automatically reported to the Public Health Department. At the same time, you will receive instructions on how to behave: Immediately go into self-isolation and make an appointment for a PCR test with your general practitioner or at the test centre at Ulm University (costs: 79 euros) to confirm the result.
Note that a negative test result is only a snapshot. Please continue to adhere to the distance and hygiene rules: A medical or FFP2 mask must be worn in the buildings of Ulm University, and an FFP2 mask must be worn during examinations. Employees are supposed to work at home whenever possible.
Further information on COVID rapid test centres in Ulm and the surrounding area
Compulsory COVID-testing for on-site courses from 17 May for students: Please present a negative antigen or PCR test. Testing is also mandatory for employees who are involved in on-site teaching.
Compulsory testing before on-site courses
Compulsory testing before on-site courses
Do I need to have a negative rapid test for SARS-CoV-2 in order to participate in a practical course on campus?

As of 17 May 2021, students are required to take a COVID-test in order to participate in practical courses.

If you can provide prove that you have already been fully vaccinated against the coronavirus (2nd vaccination more than 14 days ago) or that you have recovered from a coronavirus infection within the past 6 months, you are not required to take a rapid test prior to a practical course. Teaching staff will check the proof of vaccination or medical certificate of recovery from a coronavirus infection prior to the start of the practice session.

Otherwise, you will need a negative rapid test result that must not be older than 24 hours at the beginning of the course. Again, teaching staff will check test results before the start of the practice session.

Which rapid tests are accepted as proof before practical courses?

The antigen test for the coronavirus must be carried out by a certified third party (e.g. test centre Mensa Süd or another test centre, pharmacy, doctor/GP) and must not be older than 24 hours at the beginning of the course.

What should I do if I have a positive rapid test result for SARS-CoV-2?

If you have a positive rapid test result, you may be acutely infected with SARS-CoV-2. You have the duty to leave campus and to seclude yourself. This means that you are excluded from participating in on-campus events (including exams) at Ulm University. Please contact your doctor immediately. Suspicion of infection can only be eliminated by a negative PCR test.

Further information on what to do in the event of a positive rapid test result can be found at: https://www.uni-ulm.de/en/university/communications/information-about-the-coronavirus/ (Protocol for cases of [suspected] infection)

Do I need a negative rapid test result to be able to take an exam on campus?

Currently, no negative COVID-test or equivalent (full vaccination, recovery from COVID-infection) needs to be presented before examinations. Exceptions: Doctoral and habilitation examinations

When am I prohibited from entering Ulm University?

You are not allowed to enter the University if:

you have had contact with a person infected with SARS-CoV-2 in the last 14 days, and/or
you have typical symptoms of an infection with the coronavirus, namely fever, dry cough, disturbed sense of taste or smell, and/or
you have tested positive for SARS-CoV-2 with a rapid test, and/or
you have tested positive for SARS-CoV-2 with a PCR test.

Please contact your doctor if any of these apply to you. To be allowed back on campus you need a negative PCR test that is not older than 48 h.

Further information on what to do in the event of a suspected infection can be found at: https://www.uni-ulm.de/en/university/communications/information-about-the-coronavirus/ (Protocol for cases of [suspected] infection)
COVID rapid test - appointments