Hotels
We have made room reservations in the below mentioned hotels.
These pre-reservations are typically kept until April 30, 2009, except hotel "Maritim" (April 27).
Please book your room early enough and contact the hotels directly.
Please notice that we get a special price in some hotels. Therefore
please indicate that you will participate at "EWMOVPE Uni Ulm", when booking.
More hotels can be found on the website of Ulm city.
Recommended Hotels
Hotel Mövenpick
Silcherstr. 40
89231 Neu-Ulm



Tel: 0731-80110
Fax: 0731-85967

E-Mail
Homepage

single room:
87,- €

Maritim
Basteistrasse 40
89073 Ulm

Pre-reservation only
until April 27, 2009


Tel: 0731-923-0
Fax: 0731-923-1000

E-Mail
Homepage

single room:
133,- € (incl. BF)
Comfor Hotels
Frauenstr. 51
89073 Ulm



Tel: 0731-9649-0
Fax: 0731-9649-499

E-Mail
Homepage

single room:
82,- € (incl. BF)
Ibis
Neutorstrasse 51
89073 Ulm



Tel: 0731-96470
Fax: 0731-9647123

E-Mail
Homepage

single room:
77,- € (incl. BF)
Hotel am Rathaus
Kronengasse 10
89073 Ulm



Tel: 0731-96849-0
Fax: 0731-96849-49

E-Mail
Homepage

single room:
68,- € (incl. BF)

Intercity
Bahnhofsplatz 1
89073 Ulm




Tel: 0731-96550
Fax: 0731-9655999

E-Mail
Homepage

single room:
71,- € (incl. BF)
Goldenes Rad
Neue Strasse 65
89073 Ulm



Tel: 0731-80018-4
Fax: 0731-80018-88

E-Mail
Homepage

single room:
81,- € (incl. BF)
Ulmer Stuben
Zinglerstrasse 11
89073 Ulm



Tel: 0731-962200
Fax: 0731-9622055

E-Mail
Homepage

single room:
59,50 € (incl. BF)
City Hotel Garni
Ludwigstr. 27
89231 Neu-Ulm



Tel: 0731-97452-0
Fax: 0731-97452-99

E-Mail
Homepage

single room:
72,- € (incl. BF)
Donau Hotel
Augsburger Str. 34-36
89231 Neu Ulm



Tel: 0731-97690
Fax: 0731-9769190

E-Mail
Homepage

single room:
50,- € (incl. BF)
Hotel Römervilla
Parkstr. 1
89231 Neu-Ulm



Tel: 0731-80004-0
Fax: 0731-80004-50

E-Mail
Homepage

single room:
72,- € (incl. BF)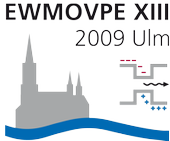 Organization
Institute of Optoelectronics
Contact
Institute of Optoelectronics
Albert-Einstein-Allee 45
89081 Ulm
Tel: +49 (0)731 50 26052
Fax: +49 (0)731 50 26049