Workshop Location
The Workshop will take place in the Edwin-Scharff-Haus, Neu-Ulm, Germany. Neu-Ulm (Bavaria) is the twin city of Ulm, just across the Donau river.
Ulm/Neu-Ulm is located in the south of Germany fairly half-way between Stuttgart and Munich. It can be easily reached by train and car. Next international airports are Stuttgart (nearest) and Munich. For oversea flights Frankfurt may also be an alternative.
We would like to organize transfers from the airport to Ulm if possible. If you are interested, please contact us with your arrival time.
If you like to travel on your own, please check the detailed information on how to get to Ulm.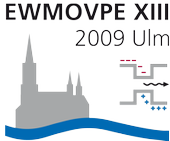 Organization
Institute of Optoelectronics
Contact
Institute of Optoelectronics
Albert-Einstein-Allee 45
89081 Ulm
Tel: +49 (0)731 50 26052
Fax: +49 (0)731 50 26049