Diese Seite wird nicht mehr aktualisiert.
(Stand Januar 2015)
Interessen
Privacy for Vehicle IT-Services and the Vehicle Environment
Privacy-Enhancing-Technologies (PETs)
(In-) Vehicle Identity Management (incl. In-Car Wireless Networks)
Identity-based Privacy Metrics for future Vehicles
Vehicle Connectivity (Backend-Systems)
IP as the future for In-Vehicle Networks
Automotive IT-Security
In-Vehicle Intrusion-Detection-Systems (IDS)
Praktika, Studien- und Abschlussarbeiten
Interesse an einer Diplom-/Master-/Bachelorarbeit oder einer Werkstudententätigkeit im Bereich Automotive IT-Security? Im Speziellen werden Abschlussarbeiten in den Themenfeldern "Privacy", Privacy Impact Assessment und Privacy Metrics im Automobilumfeld angeboten. Bei Interesse oder Fragen einfach kurz melden!
Publikationen
An Integrative Approach for Measuring Privacy Impact of Identifiers in the Automotive Domain
Naim Asaj, Albert Held and Michael Weber
5th IEEE International Conference on Information Privacy, Security, Risk and Trust (PASSAT 2013), Washington D.C., September 2013
ProTACD: A Generic Privacy Process for Vehicle Development
Naim Asaj, Florian Schaub, Michael Müter, Albert Held and Michael Weber
3rd IEEE International Symposium on Security and Privacy in Internet of Things (SPIoT 2013), IEEE TrustCom 2013 workshops, Melbourne, July 2013
Towards an Identity-based Data Model for an Automotive Privacy Process
Naim Asaj, Björn Wiedersheim, Albert Held and Michael Weber
4th IEEE International Conference on Information Privacy, Security, Risk and Trust (PASSAT 2012), Amsterdam, September 2012
Ginger: An Access Control Framework for Telematics Applications
David Herges, Naim Asaj, Bastian Könings, Florian Schaub and Michael Weber
11th IEEE International Conference on Trust, Security and Privacy in Computing and Communications (TrustCom 2012), Liverpool, June 2012
"Apps" im Fahrzeug - Ansätze und deren Sicherheits- und Privacy-Implikationen
Naim Asaj, Stefan Schlott and Albert Held; In Proceedings of the 27. VDI/VW Gemeinschaftstagung Automotive Security, Berlin, October 2011
Datenschutz im Fahrzeug - Übersicht, Aspekte und erste Lösungsansätze
Naim Asaj; Aufsätze, Datenschutz und Datensicherheit (DuD), S. 558-564, August 2011
Entropy-Based Anomaly Detection for In-Vehicle Networks
Michael Müter and Naim Asaj; In Proceedings of the IEEE Intelligent Vehicles Symposium (IV 2011), Baden-Baden, June 2011
Dr. Naim Asaj M.Comp.Sc.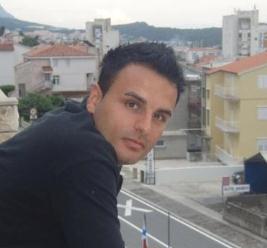 Funktion
ehem. externer Doktorand