Institute of Distributed Systems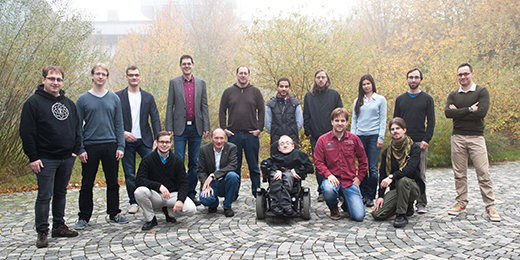 The Institute of Distributed Systems is actively researching scalability, reliability, security and privacy, self-organization, and complexity management issues in distributed systems. We apply our research to a wide range of practical use cases, including cloud computing and vehicular communication networks.
Moreover, we offer lectures and projects related to our research, including computer networks, distributed systems, and security and privacy.
Our Most Recent Publications
Chronograph – A Distributed Processing Platform for Online and Batch Computations on Event-sourced Graphs
Proceedings of the 11th ACM International Conference on Distributed Event-Based Systems
June 2017
A hierarchical scheduling model for dynamic soft-realtime systems
Proc. of the 29th Euromicro Conference on Real-Time Systems (ECRTS)
June 2017
accepted
A Testing Framework Architecture Concept for Automotive Intrusion Detection Systems
Proceedings of Automotive - Safety and Security 2017
May 2017
Consistent Retrospective Snapshots in Distributed Event-sourced Systems
Proceedings of the International Conference on Networked Systems 2017
March 2017
PriCloud: A Distributed File Storage with Financial Incentives
February 2017
Design of a Privacy-Preserving Decentralized File Storage with Financial Incentives
Proceedings of IEEE Security \& Privacy on the Blockchain (IEEE S\&B) (affiliated with EUROCRYPT 2017)
Publisher: IEEE,
2017
Chronograph–A Distributed Platform for Event-Sourced Graph Computing
Proceedings of the Posters and Demos Session of the 17th International Middleware Conference
December 2016
Exploiting Propagation Effects for Authentication and Misbehavior Detection in VANETs
Proceedings of the 2016 IEEE Vehicular Networking Conference (VNC)
Publisher: IEEE,
December 2016
KopperCoin - A Distributed File Storage with Financial Incentives
In Bao, Feng and Chen, Liqun and Deng, Robert H. and Wang, Guojun, editor, Information Security Practice and Experience: 12th International Conference, ISPEC 2016, Proceedings , page 79-93.
Publisher: Springer,
November 2016
ISBN: 978-3-319-49151-6
A Comparison of TCP Congestion Control Algorithms in 10G Networks
Proceedings of the 41st IEEE Conference on Local Computer Networks (LCN) , page 706-714.
November 2016
Setting Up a High-Speed TCP Benchmarking Environment — Lessons Learned
Proceedings of the 41st IEEE Conference on Local Computer Networks (LCN) , page 160-163.
November 2016
A Security Assessment Methodology for Critical Infrastructures
In G. Christos Panayiotou, Georgios Ellinas, Elias Kyriakides and M. Marios Polycarpou, editor, Critical Information Infrastructures Security: 9th International Conference, CRITIS 2014, Limassol, Cyprus, October 13-15, 2014, Revised Selected Papers , page 332-343.
Publisher: Springer International Publishing,
October 2016
ISBN: 978-3-319-31664-2
Mobile Triage Management in Disaster Area Networks Using Decentralized Replication
Proceedings of the Tenth ACM MobiCom Workshop on Challenged Networks , page 7-12.
Publisher: ACM,
October 2016
ISBN: 978-1-4503-4256-8
UDS: a novel and flexible scheduling algorithm for deterministic multithreading
35th Int. Symp. on Reliable Distrib. Sys. - SRDS
September 2016
Enhanced Position Verification for VANETs using Subjective Logic
Proceedings of the 2016 IEEE 84th Vehicular Technology Conference: VTC2016-Fall
Publisher: IEEE,
September 2016
accepted
Specification Mining for Intrusion Detection in Networked Control Systems
25th USENIX Security Symposium (USENIX Security 16) , page 791-806.
August 2016
ISBN: 978-1-931971-32-4
On the Potential of Event Sourcing for Retroactive Actor-based Programming
Proceedings of the 1st Workshop on Programming Models and Languages for Distributed Computing
July 2016
Using Conflict-Free Replicated Data Types for Serverless Mobile Social Applications
Proceedings of the 8th ACM International Workshop on Hot Topics in Planet-scale mObile computing and online Social neTworking , page 49-54.
Publisher: ACM,
July 2016
ISBN: 978-1-4503-4344-2
Tales from the Dark Side: Privacy Dark Strategies and Privacy Dark Patterns

Proceedings on Privacy Enhancing Technologies,

2016

(4):237-254

July 2016
UDS: a unified approach to determinisitic multithreading
36th Int. Conf. on Distrib. Comp. Sys. - ICDCS
June 2016
Physical Layer-Based Message Authentication in VANETs
In Björn Scheuermann, Stefan Dietzel, editor, Fachgespräch Inter-Vehicle Communication 2016 (FG IVC 2016) , page 14-17.
Humboldt-Universität zu Berlin
April 2016
Automotive Ethernet: security opportunity or challenge?
In Michael Meier, Delphine Reinhardt, Steffen Wendzel, editor, Sicherheit 2016. Schutz und Zuverlässigkeit. Konferenzband der 8. Jahrestagung des Fachbereichs Sicherheit der Gesellschaft für Informatik e.V. (GI) Volume P-256 of
Lecture Notes in Informatics (LNI)
, page 45-54.
Gesellschaft für Informatik
Publisher: Köllen Verlag, Bonn
April 2016
ISBN: 978-3-88579-650-3
A resilient in-network aggregation mechanism for VANETs based on dissemination redundancy

Ad Hoc Networks,

37, Part 1

:101 - 109

February 2016

ISSN: 1570-8705
PUCA: A pseudonym scheme with strong privacy guarantees for vehicular ad-hoc networks

Ad Hoc Networks,

37, Part 1

:122 - 132

February 2016

ISSN: 1570-8705
Vertikale Skalierung für aktiv replizierte Dienste in Cloud-Infrastrukturen
Kurzfassung für das Herbsttreffen der GI/VDE/ITG Fachgruppe Betriebssysteme 2016
2016
Click here for an overview of our publications.