Excursion
During the workshop we will organize an excursion. This event is sponsored by one of our industrial partners and is free for you. You can choose between a guided city tour in Ulm and an excursion to the Mercedes Benz Museum in Stuttgart.
Mercedes Benz Museum (Stuttgart)
"Join us on a voyage of discovery through automotive history. From the invention of the automobile to the latest visions for the future - at the Mercedes Benz Museum the development of mobility becomes a tangible experience."
Tuesday, June 9 - 14.00 - 19.00 (about 1h travel by bus)
Guided City Tour Ulm
Tuesday, June 9 - 14.00 - 16.00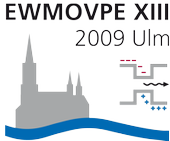 Organization
Institute of Optoelectronics
Contact
Institute of Optoelectronics
Albert-Einstein-Allee 45
89081 Ulm
Tel: +49 (0)731 50 26052
Fax: +49 (0)731 50 26049