Young founders present their start-up at Ulm University's "innolution night"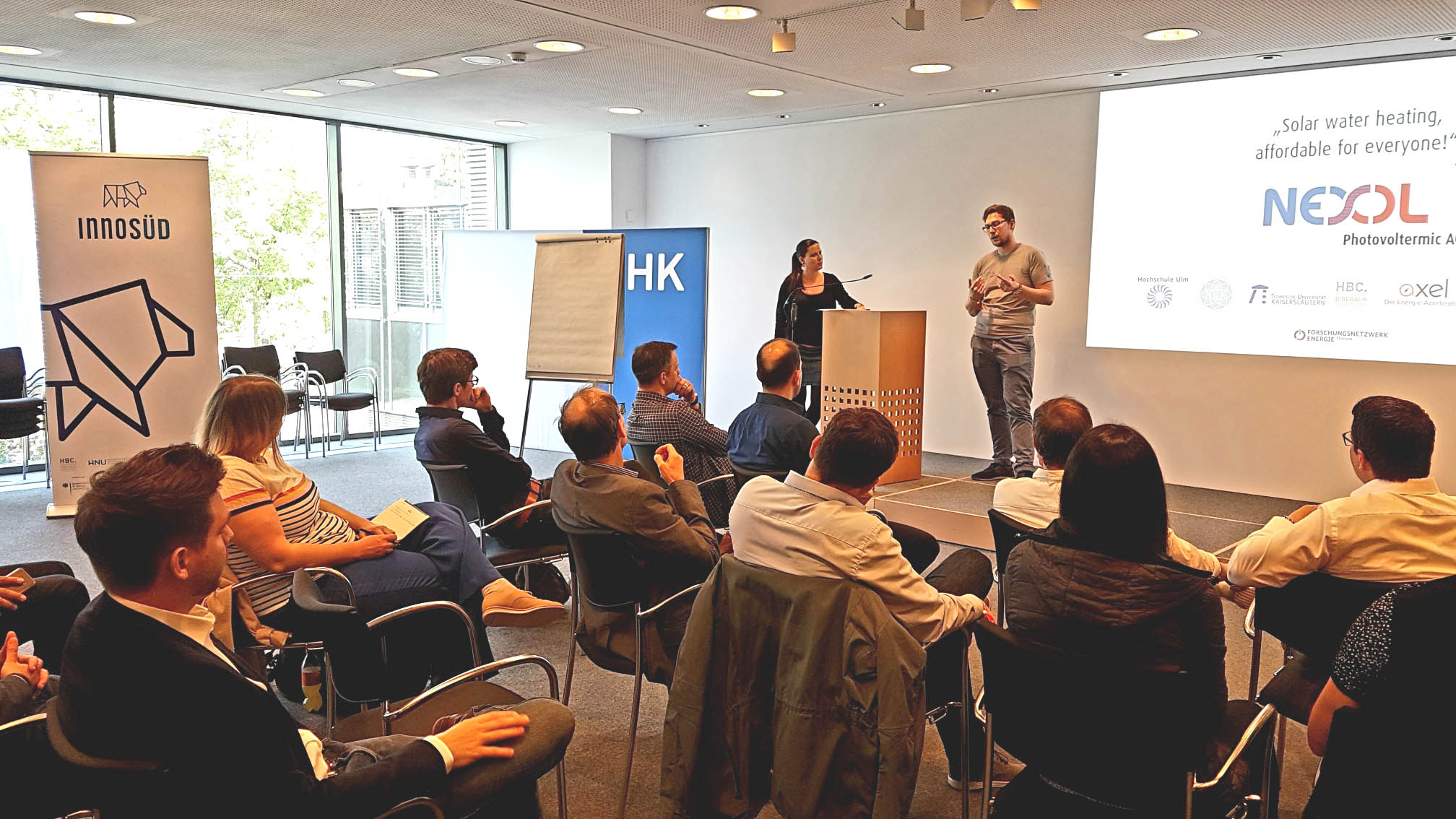 When asked about successful spin-off companies from Ulm University, the companies that most frequently come to mind are the laser diode producer U-L-M Photonics and WiTec GmbH, a company specialising in microscope systems. However, in addition to these long-established businesses with a record of success, new start-ups such as Nexol Photovoltermic AG are also cropping up at the University. The founders of Nexol Photovoltermic are selling a solar energy boiler, developed themselves, which is able to heat water in an energy-saving fashion. Master student Niklas Gemp presented the start-up company at the "innolution night" in May.

Markets for Nexol's innovative solar energy boiler can be found from Malawi to Memmingen. Thanks to its modern, photovoltaic-powered semiconductor heat pump, water can be heated quickly and reliably. The product is thus a low-cost alternative to gas boilers, for example, making it especially interesting for emerging and developing countries. The idea originated in a founding team of students at Ulm University and the Ulm University of Applied Sciences. The team also includes experienced entrepreneurs from the solar industry as well as researchers. "Our overriding goal was to improve the infrastructure in emerging countries by offering reliable products that use renewable energies. The team came up with the idea of developing and marketing an innovative solution for heating water with solar power", explains Niklas Gemp as he reflects on how the idea developed.
Nexol was not the first business to be founded by Gemp, a student in his mid-twenties.

Gemp has already collected experience as a young entrepreneur in the IT industry, and his master's thesis at Ulm University also addresses the financing of start-ups in the field of renewable energies. Nevertheless, the founding phase was challenging: "Many potential investors were sceptical because we also want to sell our product in emerging markets. But, after several pitches, the funding for our start-up was secured", the budding economist remembers.
It was a rocky road all the way from the initial idea in the autumn of 2016 until the product was ready for production. The founders have now developed 30 prototypes of the heat pump in their lab on Olgastraße, and serial production is scheduled to begin in August. It is of particular importance to the new company to produce as sustainably and locally as possible. "Lebenshilfe Donau/Iller has proven to be the perfect partner for serial production. So far, we have been completely satisfied with our collaboration", says Gemp.

According to Niklas Gemp, his economics studies did not suffer due to the founding of a company. The young man, who was born in northern Germany, even recommends to his fellow students that they use the time while they are studying for projects such as this, because "as one gets older, the obligations are just going to increase".
Once he has completed his master's degree, Gemp plans to devote himself full-time to the start-up business for a few years, though he currently cannot imagine "handing down the company". In September, Gemp, who will have just graduated, will be travelling to Malawi in order to become acquainted with markets and potential customers for the solar-powered boiler – from hospital wards to proprietors of remote farms. Niklas Gemp has established contacts within the local start-up scene as well, for instance at the "innolution night", which was held at the Ulm Chamber of Commerce (Industrie und Handelskammer: IHK) in late May. His advice to other young founders is: "It is important to collect a great deal of feedback about your idea and to build up a large network. There are many challenges along an entrepreneur's path, and you don't have to solve them alone".
New spin-off manager
Support for young founders continues to grow at Ulm University. Anyone who has a new start-up idea can receive support through the consulting services offered by the Ulm Founders' Association, and now from Spin-Off Manager Dr Birgit Stelzer as well. Stelzer is a business school graduate with a diplom degree and is employed through the InnoSÜD project, sponsored by the Ulm, Biberach and Neu-Ulm Universities of Applied Sciences as well as Ulm University. Stelzer introduced herself at the "Founders' Lunch" at Ulm University as well as at the "innolution night" at the IHK.