M.Sc. Paul Maximilian Bittner
Discovering ways for synchronising and aligning diverged forks, branches, and code clones in general is the main focus of my work. The key idea is to reduce the effort for developers as much as possible while being transparent and impairing workflows as little as possible. Currently, I am working on a methodology for recording feature-to-code traces during software development that is voluntary for developers.
In general, I'm interested in everything that makes programming easier with a focus on variability management: software product lines, programming language concepts, cool libraries, or frameworks. Until January'20, I was part of the great team at the Institute of Computer Graphics at TU Braunschweig where I also gained a broad background on both computer graphics and vision.
Anything of your interest? Don't hesitate to contact me.
SPLC2020: 24th Systems and Software Product Line Conference (Challenge Solutions Track)
Apart from that, I was subreviewer for TSE, GPCE'21, SPLC ('21, '20), VaMoS'20.
Feature Trace Recording
Links:
Feature trace recording is a semi-automated method for recording feature-to-code mappings during software development. It unlocks evolution as a new source of information for feature location.

Consider a developer Alice editing the pop method of a Stack class in Java as depicted in the image above. Feature-to-code mappings are indicated by corresponding colours. By labeling her edits with the feature she edits, we derive feature mappings for edited source code. We refer to such a label as feature context. It can be left empty when developers do not know the feature they edit. In our example, Alice does not know the feature of the moved line in her second edit and omits the feature context (i.e., sets it to null). From feature contexts we can compute feature mappings for the current code base but also for other variants. Assume there is a second developer, Bob, working on another variant (e.g., branch or fork) of the software. Bob's variant might implement other features than Alice's. Assume Bob's variant implements the blue feature SafeStack but not the orange feature ImmutableStack.
Although Alice made many edits to ImmutableStack, we can still derive feature mappings for Bob's code. When Alice deletes code from ImmutableStack, we can infer that this code does not belong to ImmutableStack anymore. We thus introduce the new feature mapping ¬ImmutableStack for the deleted code that is still present in Bob's variant (highlighted in purple in the image on the right).
Feature trace recording is the first step towards our vision for bridging the gap between clone-and-own and software product lines in our project VariantSync. You may read about it in our ICSE NIER paper or watch our talk on YouTube.
M.Sc. Paul Maximilian Bittner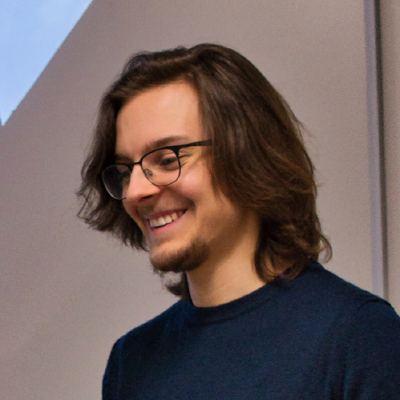 Research Assistant
University Ulm Institute of Software Engineering and Programming Languages Albert-Einstein-Allee 11
Germany