Friedrich Meixner (geb. 1989) studierte von 2009-2015 Psychologie an der Universität Ulm. In seiner Masterarbeit beschäftigte er sich mit der Veränderung emotionaler Abgrenzungsfähigkeit im Verlauf romantischer Paarbeziehungen. Seit Oktober 2015 ist Friedrich Meixner als wissenschaftlicher Mitarbeiter und Doktorand in der Abteilung für Angewandte Emotions- und Motivationspsychologie beschäftigt.

Seit Oktober 2017 engagiert sich Friedrich Meixner außerdem als Studienlotse im Fachbereich Psychologie.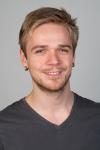 Friedrich Meixner
Wissenschaftlicher Mitarbeiter
Affektive Reaktionen auf körperliche Aktivität in Abhängigkeit der Persönlichkeit
Wirkmechanismen sportlicher Aktivität
Entwicklung von Optimismus und Mental Toughness in Leistungs- und Freizeitsport
Veränderung von Wahrnehmung und Erleben durch dyadische Beziehungen: Genetische, individuelle und soziale Einflussfaktoren
Neurophysiologische Verfahren (EEG)
Biopsychologische Verfahren (EKG, IKG)
Mobiles Assessment
Reaktionszeitbasierte Experimente
Genetik
Sommersemester 2018:
Empirisches Praktikum, Station: Elektrophysiologische Messungen - Grundlagen und Anwendung
Wintersemester 2017/2018:
Studienlotse: Supervision des Mentoriumsprogramms
Sommersemester 2017:
Empirisches Praktikum, Station: Wireless EEG
Wintersemester 2016/2017:
Projektseminar: Einflussfaktoren und Modulation der Self/Other-Dichotomie
Sommersemester 2016:
Seminar Allgemeine Psychologie II: Emotion und Kognition IV (Selbst und Bewusstsein)
Wintersemester 2015/2016:
Empirisches Praktikum: Genetik der Verliebtheit
Meixner, F., & Herbert, C. (2018). Whose emotion is it? Measuring self-other discrimination in romantic relationships during an emotional evaluation paradigm. PloS one, 13(9), e0204106.
Meixner, F., & Herbert, C. (2017) Thinking about close friends influences emotional evaluation. Poster presented at the DGPPF 2017, Trier. Gewinner des Nachwuchspreises der Deutschen Gesellschaft für Positiv-Psychologische Forschung.

Meixner, F., & Herbert, C. (2017) Gender and passionate love influence the differentiation of self- and other-related emotional stimuli in romantic relationships. Poster presented at the MVE conference 2017, Ulm.

Meixner, F., & Herbert, C. (2016) Passionate love and differences on the OXTR polymorphism influence the ability to discriminate between self-and other-referenced emotions. Poster presented at the ESCAN 2016, Porto.
Meixner, F. & Herbert, C. (2015). Aus zwei mach eins – Die Einschränkung emotionaler Abgrenzungsfähigkeit in einer romantischen Beziehung. Poster presented at the 25th anniversary of Faculty of Eng. Sc., Comp. Sc, and Psych., University of Ulm.
Meixner, F., Pfattheicher, S. & Keller, J. (2013) Induktion Sozialer Präsenz durch einen subtilen Hinweis auf Beobachtung. Poster presented at the TeaP 2013, Mannheim.